As anticipation builds around the summit between US President Donald Trump and North Korean leader Kim Jong Un, restaurants and bars in Singapore are joining the hype by rolling out special menu items.
Nasi lemak, one of the country's most distinctive dishes, typically features fragrant rice cooked in coconut milk, and served with fried chicken, sunny-side up egg, fried anchovies and roasted peanuts.
However, the popular local dish undergoes a twist at Harmony Nasi Lemak, as the fried chicken is swapped out with US dry-aged beef and garnished with kimchi - a Korean staple made from fermented cabbages or radishes and flavoured with seasonings like chilli powder, scallions and ginger.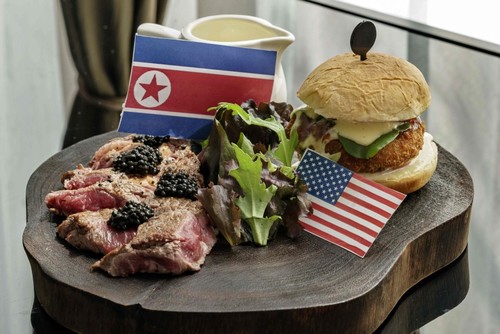 "This could be a once-in-a-lifetime thing for us, so we wanted to leverage on it," said Zach Wen, the restaurant's spokesman, in explaining the latest addition to the menu.
"We wish that the summit will be very successful one," he added, stressing the meeting's importance not just for Korea but for the whole region.
Meanwhile, Mexican restaurant Lucha Loco is serving the "Rocket Man Taco" and the "El Trumpo" tacos, named after Kim and Trump respectively.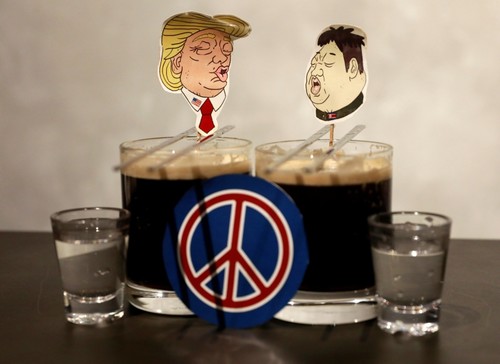 The former features Korean fried chicken, pickled white radish and spicy dressing as a nod to the North Korean leader, while the latter promises a beef patty, melted cheese and chipotle sauce as a tribute to the American president.
For those in search of tipple, tapas restaurant and bar Hopheads in central Singapore is offering a specially-concocted drink in commemoration of the summit.
The "Bromance" is a mix of Diet coke, reportedly Donald Trump's favourite drink, Asahi black beer, a shot of tequila, and a dash of soju - a colourless, distilled alcoholic beverage that Koreans consider to be their national drink.
"We try to combine the two drinks from both (Trump and Kim)," Hopheads manager Carlo Ibanez told the dpa. "It takes two to make a bromance."