Rescuers braced for a long and difficult evacuation for 13 members of a Thai youth football team found alive in a cave nine days after they went missing, as food and medicine was shuttled to them through muddy waters on Tuesday.
The 12 young boys, aged 11-16, and their 25-year-old coach were discovered rake thin and hungry on a mound of mud surrounded by water late Monday, ending the agonizing search that captivated a nation.
But the focus quickly shifted to the tricky task of how to evacuate them safely from the still-flooded caverns.
Much-needed food and medical supplies -- including high-calorie gels and paracetamol -- reached them Tuesday as rescuers prepared for a prolonged extraction operation.
A top Thai official said Tuesday that heavy rains forecast for the coming days could worsen floods in the cave where 12 boys and their soccer coach were located after an exhaustive search, forcing authorities to speed up their extraction by having them dive their way out.
Interior Minister Anupong Paojinda, a member of the country's ruling military junta, said Tuesday that the boys may need to swim out using diving equipment ahead of bad weather forecast for later in the week. He said the boys would be brought out via the same complicated route through which their rescuers entered.
While efforts to pump out the floodwaters would continue, Anupong said it's clear some areas of the sprawling cave cannot be drained and that in order to get out, the boys may need to use diving gear while being guided by two professional divers each. He conceded that if something went awry, it could be disastrous.
"Diving is not easy. For people who have never done it, it will be difficult, unlike diving in a swimming pool, because the cave's features have small channels," he said. "If something happens midway, it could be life-threatening."
Video released early Tuesday by the Thai navy showed the boys in their soccer uniforms sitting on a dry area inside the Tham Luang Nang Non cave above the water as a spotlight from a rescuer illuminated their faces.
Chiang Rai provincial Gov. Narongsak Osatanakorn said the health of the boys and coach were checked using a field assessment in which red is critical condition, yellow is serious and green is stable.
"We found that most of the boys are in green condition," he said. "Maybe some of the boys have injuries or light injuries and would be categorized as yellow condition. But no one is in red condition."
Cave rescue experts have said it could be safer to simply supply them where they are for now, rather than attempting to have the boys dive out. That could take as long as months, however, given that Thailand's rainy season typically lasts through October.
In a Facebook post on Tuesday afternoon the Thai Navy SEAL team said they were using a cave chamber as an "operations center" to meticulously plan the evacuation alongside foreign expert divers who have been instrumental to the rescue bid.
As the first footage of the kids spread across social media, jubilation erupted across a country which has been glued to each twist of the massive rescue operation.
"We called this 'mission impossible' because it rained every day... but with our determination and equipment we fought nature," Chiang Rai governor Narongsak Osottanakorn said Tuesday.
The boys were discovered at about 10:00 p.m. (1500 GMT) Monday by British divers some 400 meters (1,300 feet) from where they were believed to be stranded several kilometers inside the cave.
Video posted on the Thai Navy SEAL Facebook page, shows one of the boys asking the rescuers to "go outside."
In response the British diver says: "No, no not today... many, many people are coming... we are the first."
The harrowing task of getting the boys out is complicated by the fact that they are in a weak state and are not experienced divers.
The rugged and flooded kilometers-long course toward the entrance takes a healthy SEAL diver six hours.
If diving proves impossible, there is an outside chance a hole can be drilled into the cave to evacuate them or they will have to wait for waters to recede and walk out.
Relatives led the outpouring of joy at the dramatic discovery of the boys perched on the muddy bank.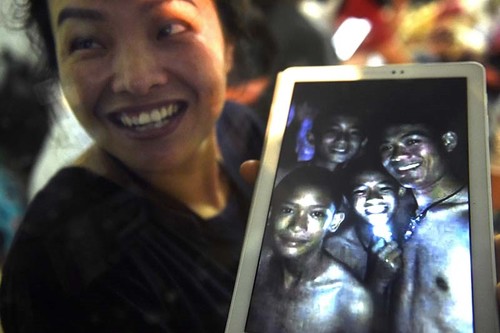 "I'm so relieved, though I still don't have the chance to see him... I want to tell him I'm still here waiting," Kieng Khamleu, said of her son Pornchai Khamleung inside the cave.
Another parent said he could hardly believe the good news.
"It's unimaginable. I've been waiting for 10 days, I never imagined this day would come," the father of one of the boys said.
Diving teams prepared telephone lines to lay in the cave to set up phone calls to the boys, the governor said.
Rescuers found their bicycles, football boots and backpacks near the cave's opening, and spotted handprints and footprints further in -- leading them to the spot they were eventually found.
In the five-minute navy video, the boys are seen wearing their soccer uniforms and are calm, curious and polite. They are also keen to get some food.
After an initial exchange in which a rescuer ascertains that all 13 are present, one of the boys asks what day it is, and a rescuer replies: "Monday. Monday. You have been here — 10 days."
The rescuer tells them "you are very strong," but soon the traditional reserve of Thai children toward adults breaks a bit, and one tells another in Thai, "Tell them we are hungry."
"We haven't eaten," a boy says in Thai, then breaks into English: "We have to eat, eat, eat!" A fellow boy tells him they already said this, and then the rescuer assures them that "Navy SEALs will come tomorrow, with food and doctors and everything." At the end of the video a boy asks in English, "Where do you come from?" The rescue diver replies, "England, UK."
Narongsak said Tuesday that the missing were given high-protein liquid food, painkillers and antibiotics. He said doctors had advised giving the medicine as a preventative measure.
He said officials had met and agreed on the need to "ensure 100 percent safety for the boys when we bring them out."
"We worked so hard to find them and we will not lose them," he said.
Joining the British are other cave experts from around the world and teams from the U.S., Australia, China and elsewhere.
Tham Luang cave is one of Thailand's longest, winding 10 kilometers (6 miles) and is also one of the toughest to navigate -- especially in the wet months.
A sign outside the entrance warns visitors not to enter during the rainy season from July to November.