One of Japan's busiest airports remained closed indefinitely after the strongest typhoon to hit Japan in at least 25 years flooded a runway and other facilities while damaging other infrastructure and causing at least 11 deaths and 300 injuries as it swept across part of Japan's main island.
More than 400,000 households in western and central Japan were without power Wednesday, a day after Typhoon Jebi struck with sustained winds of 160 kilometers per hour (100 miles per hour) at landfall. Chief Cabinet Secretary Yoshihide Suga said at least 11 people were confirmed dead and about 300 people were injured.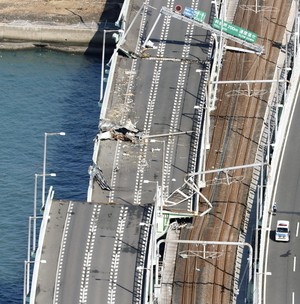 A tanker that became unmoored by the typhoon's pounding waves and wind slammed into a bridge linking offshore Kansai International Airport to the mainland, damaging the bridge and the ship and stranded 3,000 passengers overnight at the airport. Under sunny skies Wednesday morning, they left by boat or were transported by buses across an intact road on the damaged bridge.
The airport is built on two artificial islands in Osaka Bay, and the high seas flooded one of the runways, cargo storage and other facilities, said the Ministry of Land, Infrastructure, Transport and Tourism. One passenger was slightly injured by shards from a window shattered by the storm.
Airport officials could not say when the airport would resume operations. Flooding has largely subsided, but assessments were still being done on possible damage to equipment key to flight operations and repairs of the damaged bridge.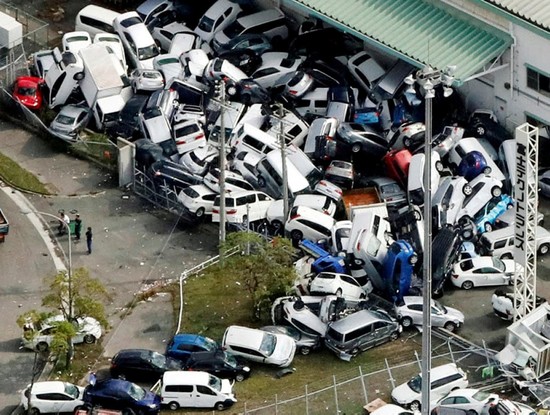 The airport is a gateway for Asian tourists visiting Osaka, Kyoto and Kobe. A closure of the only international airport serving one of Japan's key business and commercial areas has triggered concerns about its impact on Japan's tourism and economy.
Japan has long had a reputation for transportation that runs like clockwork. But even that couldn't hold up to the fury of Typhoon Jebi, whose 160-kilometer (100-mile) per-hour winds destroyed buildings, cut off power to more than 400,000 households and left 11 people dead and 300 injured.
The airport served 28 million passengers last year, and that number is expected to grow as Japan opens up to tourism in recent years to keep its economy going. It serves Osaka as well as the port city of Kobe and the ancient capital of Kyoto, all popular destinations for tourists.
Kansai airport is critical for business as well, exporting 5.6 trillion yen ($50 billion) worth of goods, mostly computer chips, electronics parts and other machinery, primarily to Asian destinations, such as China and South Korea, but also to the U.S. and Europe, according to Osaka Customs.
It also handles nearly 4 trillion yen ($36 billion) worth of imports, mostly medical goods, every year.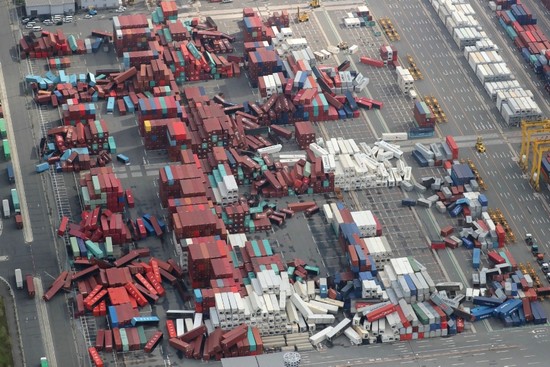 Other airports in the vicinity offer only domestic flights. Businesses seeking alternate routes and tourists in a rush to get home must take a train or use highways to get to other international airports, such as Narita in Tokyo, or Fukuoka on the southwestern island of Kyushu.
Yamaji Kota of Toshiba Corp.'s memory business said the company generally relied on Kansai airport to send memory chips to assembly plants in China and Taiwan, but because of the typhoon, it was switching to other airports.
Carlos Urbina, a Silicon Valley software engineer who was planning to fly out of Kansai airport to San Francisco via Vancouver on Saturday, was thinking about changing his plans.
He enjoyed visiting Japan with his wife and was saddened to see the storm damage, although he felt lucky he was not at the airport.
"It looks pretty bad," he said by telephone from Tokyo.
Shilei Zheng, a Chinese student, said that China Southern Airline changed her flight to Kansai on Wednesday to a later one to Tokyo for free, but she still had to cancel her hotel reservations and amend her itinerary.
The passengers who had been stranded overnight appeared relieved but exhausted and said they spent an uneasy night in the dark.
Hideko Senoo, a 51-year-old homemaker who was planning a family trip to India, said the terminal was hot and dark after losing power, and she could not even buy drinks at vending machines after food at convenience stores were all sold out. "We could not use vending machines or access to wireless local network to get information, and we didn't even know about this boat service," she told Kyodo News.
Another passenger, Miki Yamada, a 25-year-old office worker planning a trip to Thailand with her friend, said she spent the night at an airport cafeteria, Kyodo said. "It was a rather scary night, as we were so isolated."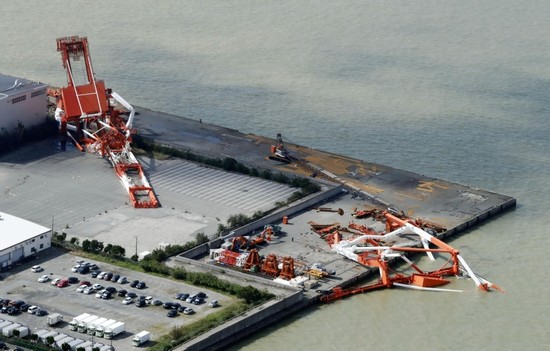 Factories in the region, including automaker Daihatsu Motor Co. and electronics giant Panasonic, as well as major beverage maker Kirin Co. suspended production at most of its factories in Osaka and nearby prefectures on Tuesday, though most of them were expected to resume operation Wednesday, Kyodo News agency reported.
The Universal Studios Japan theme park in Osaka closed for a second day Wednesday but said in a news release it would reopen Thursday.
The deaths included a man in his 70s who was blown to the ground from his apartment in Osaka prefecture. Police said five others died elsewhere in the prefecture after being hit by flying objects or falling from their apartments. In nearby Shiga prefecture, a 71-year-old man died when a storage building collapsed on him, and a man in his 70s died after falling from a roof in Mie, officials said.
In nearby Nishinomiya in Hyogo prefecture, about 100 cars at a seaside dealership burned after their electrical systems were shorted out by sea water, fire officials and news reports said.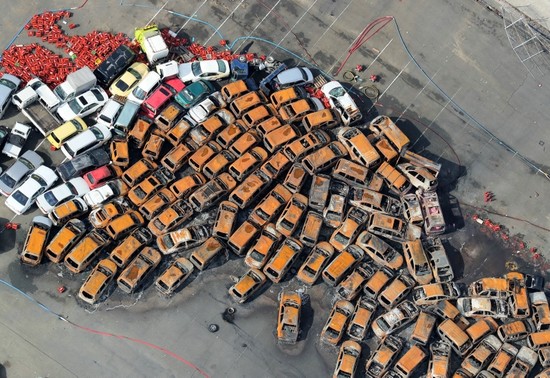 The season's 21st typhoon was downgraded to an extra-tropical cyclone over the Tatar Strait near Russia at around 9 am, the Meteorological Agency said, after dumping torrential rains on the northern island of Hokkaido overnight, toppling trees and utility poles.
Jebi made landfall around the southern part of Tokushima prefecture shortly after Tuesday noon, according to the agency.
Jebi was the latest in a series of weather-related disasters to hit the country in recent months.
In early July, torrential rains pummeled western Japan, triggering landslides and floods that left 226 people dead and 10 missing. It was the country's deadliest weather-related disaster in more than three decades.
An intense heatwave that enveloped the country immediately afterwards killed more than 130 people, as temperatures soared above 40 degrees Celsius in some places.