Typhoon Mangkhut barreled into southern China on Sunday after lashing the northern Philippines with strong winds and heavy rain that left about 100 dead from landslides and drownings.
Nearly half a million people had been evacuated from seven cities in China's Guangdong province, the gambling enclave of Macau closed casinos for the first time and the Hong Kong Observatory warned people to stay away from the Victoria Harbour landmark, where storm surges battered the sandbag-reinforced waterfront.
Mangkhut made landfall in the city of Taishan in Guangdong province at 5 p.m. local time, packing wind speeds of 162 kilometers (100 miles) per hour. State television broadcaster CGTN reported that surging waves flooded a seaside hotel in the city of Shenzhen.
Authorities in southern China had issued a red alert, the most severe warning, as the national meteorological center said the densely populated region would face a "severe test caused by wind and rain" and urged officials to prepare for possible disasters.
On Sunday morning, the typhoon packed sustained winds of 155 kilometers (96 miles) per hour and gusts of up to 190 kph (118 mph). The Hong Kong Observatory said although Mangkhut had weakened slightly, its extensive, intense rainbands were bringing heavy downfall and frequent squalls.
Hundreds of flights were canceled. All high-speed and some normal rail services in Guangdong and Hainan provinces were also halted, the China Railway Guangzhou Group Co. said.
In Hong Kong, a video posted online by residents showed the top corner of an old building break and fall off while in another video, a tall building swayed as strong winds blew.
The storm also broke windows, felled trees, tore bamboo scaffolding off buildings under construction and flooded areas with sometimes waist-high waters, according to the South China Morning Post.
The paper said the heavy rains brought storm surges of 3 meters (10 feet) around Hong Kong.
Hong Kong Security Minister John Lee Ka-chiu urged residents to prepare for the worst.
"Because Mangkhut will bring winds and rains of extraordinary speeds, scope and severity, our preparation and response efforts will be greater than in the past," Lee said. "Each department must have a sense of crisis, make a comprehensive assessment and plan, and prepare for the worst."
Hong Kong's Cathay Pacific said all of its flights would be canceled between 2:30 a.m. Sunday and 4 a.m. Monday. The city of Shenzhen also canceled all flights between Sunday and early Monday morning. Hainan Airlines canceled 234 flights in the cities of Haikou, Sanya, Guangzhou, Shenzhen and Zhuhai scheduled this weekend.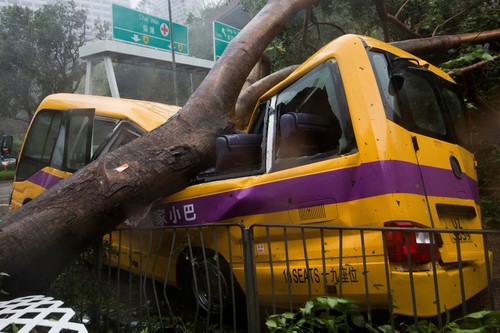 In Macau, next door to Hong Kong, casinos were ordered to close from 11 p.m. Saturday, the first time such action was taken in the city, the South China Morning Post reported. Macau suffered catastrophic flooding during Typhoon Hato last year, leading to accusations of corruption and incompetence at its meteorological office.
In Macau's inner harbor district on Sunday, the water level reached 1.5 meters (5 feet) and was expected to rise further. The district was one of the most affected by floods from Typhoon Hato, which left 10 people dead.
In Fujian province and other parts of southern China, tens of thousands of fishing boats returned to port and construction work came to a stop.
Approximately 100 people in the Philippines are feared dead as a result of the typhoon, including at least 40 people trapped in a bunkhouse buried in a landslide in a northern province, officials said Sunday.
The bunkhouse was a shelter at an old mining site in the town of Itogon, nearly 200 kilometers (124 miles) north of Manila, which "went missing" during a landslide, said Itogon Mayor Victorio Palangdan.
Between 40 and 50 people were thought to be inside the bunkhouse when the landslide occurred and another 32 people were reported dead in separate incidents in Itogon, he added.
"I can't begin to accept this, but it looks like the casualties here are going to go up to at least 100," he said.
The government earlier confirmed 28 deaths in landslides and other accidents in areas outside of Itogon when Mangkhut swept through for some 20 hours on Saturday.
Palangdan said the area where the bunkhouse was located was "dangerous because there was a big tunnel mined" by a private corporation decades ago, blaming mining for the landslides that hit the town of nearly 60,000 people.
"No more mining should be done in this municipality," he said.
Mangkhut blew out of the Philippines on Saturday evening after pummeling the northern region of Luzon with heavy rains and fierce winds.
The typhoon, the strongest to hit the Philippines so far this year, also triggered floods and knocked out electricity in seven provinces, affecting more than 4 million people.
Among the confirmed dead were a family of six killed when their house in Baguio City was buried in a landslide, according to Francis Tolentino, a presidential adviser assigned to oversee government relief efforts.
Another family of four were killed in the province of Nueva Vizcaya when their house was also buried in a landslide, while a man died in nearby Kalinga province after a rock fell on him, Tolentino added.
President Rodrigo Duterte inspected damage from the typhoon in a fly-by over Cagayan province, 382 kilometers (237 miles) north of Manila, where Mangkhut made landfall over Baggao town early Saturday.
He condoled with the families of those killed in the typhoon.
"I share the grief of those who have lost their loved ones," he said in the briefing. "Those are what we call unforeseen events."
Duterte, who dispatched several cabinet members to areas that would be hit by Mangkhut ahead of its landfall, said it was good that his officials were there from the start.
Foreign aid has begun to trickle in for victims of the typhoon, with Australia pledging to provide more than $572,300 worth of emergency supplies, such as sleeping mats, blankets and hygiene kits for up to 25,000 people.
Australia said it was also deploying humanitarian experts, including a disaster risk reduction specialist, to the Philippines.
The United States Agency for International Development and the United Nations World Food Programme were coordinating with the Philippines' social welfare department to send at least 1,000 metric tons of rice.
The Philippines is hit by an average of 20 cyclones every year, causing floods, landslides and other accidents.
One of the strongest in recent memory, Typhoon Haiyan, hit the country in November 2013, killing more than 6,300 people and displacing more than 4 million.