A Turkish-Australian minister serving in the southeastern state of Victoria announced Tuesday his resignation from the cabinet to give more time to his family, health and electoral district. However, another Turkish-Australian colleague, Adem Kubilay Somyürek, will join the cabinet, the prime minister announced Tuesday.
John Hamdi Eren, the minister of sports, tourism and veterans' affairs of the ruling Labour Party, announced his resignation in a written statement only three days after being re-elected in the local elections on Nov. 24.
Eren ran for the state parliament in Lara district of Victoria, gaining more votes this round than in the previous election.
"I chose to resign from my duties in the cabinet in order to focus on my responsibilities in representing the people of Lara, my family and my health," Eren said.

Eren also underlined the fact that the success he had in Australia after migrating to the country with his family when he was six years old can serve as an example of the opportunities that are provided to immigrants by Australia.
He said that he will continue to work hard as a member of the Labour Party led by Prime Minister Daniel Andrews.
Eren suffered a heart attack in 2016 during his term as a minister and a stent was placed in his heart.
He has been the Labour Party's sports, health and veterans' affairs minister in Victoria state since 2014, when the party won the elections. He was first elected to the state parliament in 2002.
Somyürek, a Turkish-origin politician and former small business minister who was elected to the state parliament in Sunday's elections, was announced as one of the new cabinet members on Tuesday. Somyürek's assigned position is set to be announced later in the week.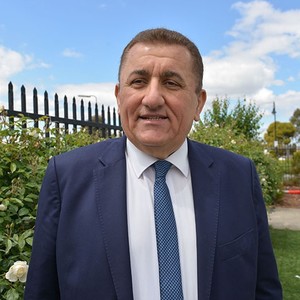 Daniel Andrews, Victoria premier and head of the Labour Party, won 52 of the 88 seats against the opposition Liberal Party in last week's state elections and announced the names of four new ministers to be assigned to his new cabinet.
The new cabinet will include 11 women and 11 men, Andrews announced.
With the assignment of Somyürek, the Australian Turkish community will be represented by three lawmakers and one minister, as in the last four years of the Victorian Parliament.
Somyürek was elected as a Labor Party lawmaker for Dandenong in the 2002 elections. He was forced to resign from the cabinet as the small business minister in July 2015 following bullying allegations made by a staff member.
He was born in Turkey's Aegean Izmir province in 1967, is married and has two children.
Another Turkish-origin lawmaker, Natalie Süleyman, was also elected to the state parliament in Victoria in the local elections held Sunday.
Australia is home to a sizeable Turkish and Turkish Cypriot community.