Turkey and Serbia; two neighbors with no physical borders. Sharing a common history and culture, the two countries are even closer today with the recently opened Yunus Emre Institute in the very heart of the Serbian capital.
Yunus Emre Institute, which was named after the famous Turkish poet, has taught Turkish to 45,000 people all over the world since it was founded in 2009. Yunus Emre Institute's centers are found in 36 countries and function as cultural embassies to promote Turkish culture and language.
The center is at a five minutes' walk from the Republic Square, the epicenter of Belgrade. Director of the institute, Assoc. Dr. Selim Aslantaş spoke to Daily Sabah about the center's activities and Turkish language learning opportunities in the Serbian capital.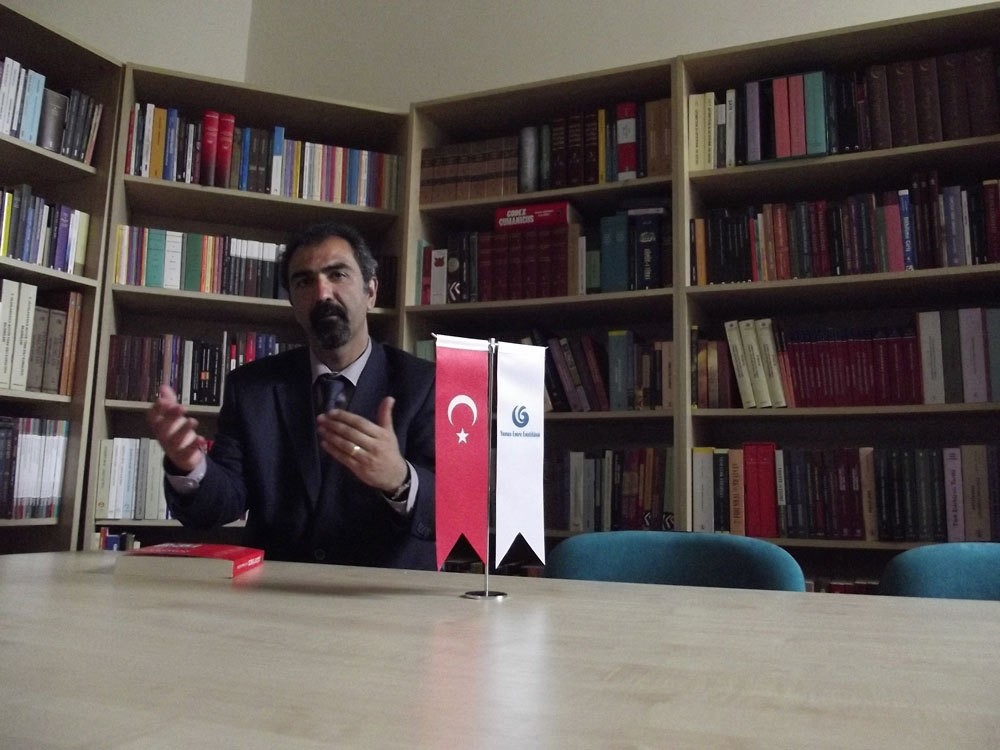 Assoc. Dr. Selim Aslantaş

How did it all start in Belgrade, when did the institute open?
We started educational activities in Belgrade in May 2015 but our institute was officially opened on December 28, 2015 with the attendance of then-Prime Minister Ahmet Davutoğlu. Our institute is very close to the heart of Belgrade, the Republic Square. At the beginning, we had 7-8 students but now we are teaching Turkish to 40 students. One of our banks in Turkey, Halkbank opened branches here and we have also started teaching their personnel. We have around 70 students from Halkbank so in total we have over 110 students. I consider this a big success because in just four months we have been able to reach this number.
How do you evaluate Serbs' interest towards Turkish language?
There is a great interest towards Turkish in Belgrade. An interesting point is, Serbs desire to learn Turkish because of its economical potential, they think Turkish will be beneficial for their business lives. There are many students who think they will find a Turkish-related job in Serbia or in Turkey. In addition to this, I can say that not only the youth but also middle-aged people are interested in learning our language. Furthermore, Turkish TV series are a big factor for their growing interest towards the language.
What nationalities are Yunus Emre Institute's (YEE) students here?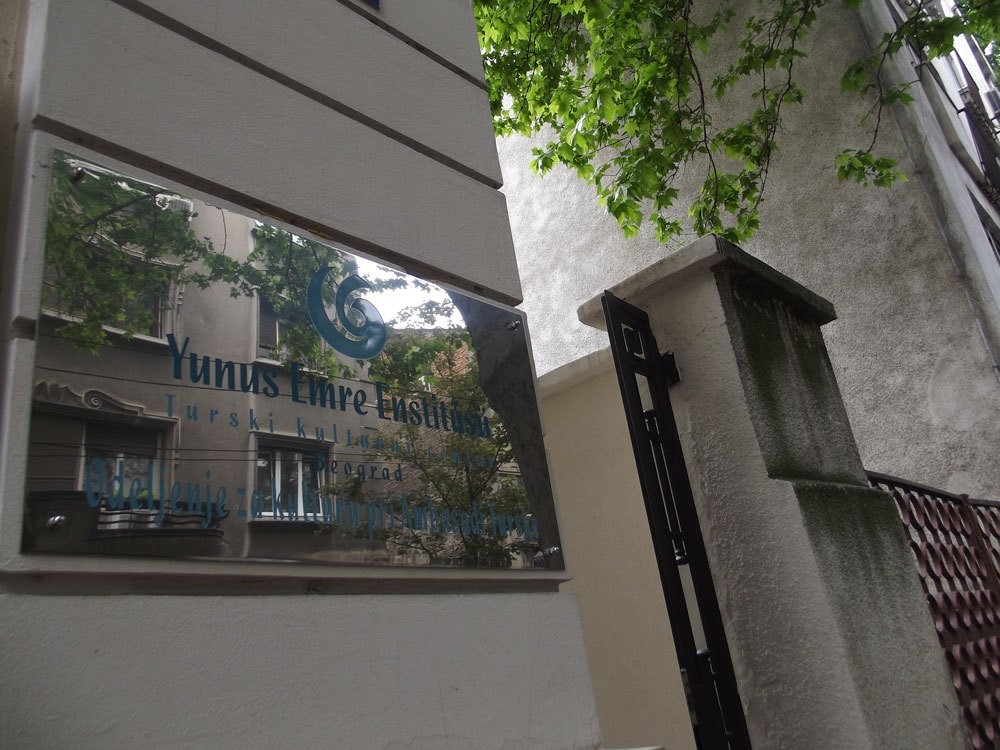 We have Serbian, Bosniak, Albanian students in the institute. In fact, we do not have any prejudgments towards any particular group of people here. I have personally studied on Serbian history; I also speak Serbian. In particular, our philosophy here is based on our national poet Yunus Emre's words: "Come, let us be friends for once, let us make life easy on us." That's Yunus Emre Institute's philosophy in here and in other countries. I would also like to add that we have been embraced by the people here in Belgrade.
How do you evaluate the importance of Turkish language in the Balkans?
Turkey has developed in the last 15 years, economically, socially and so on. These kinds of institutes should be regarded as the Goethe Institute of Germany, institutes that only the countries with big goals and strategies have. A country should have enough power to expand its cultural activities abroad. We have not opened a factory here; we are a cultural institution so we do not make big profits. Turkey has to be economically powerful enough to support Yunus Emre Institutes all over the world. From this aspect, Turkey has opened many Yunus Emre Institutes in the world in a short time. Especially in Balkans, Yunus Emre Institute has many branches. This is because of our historical ties with the region.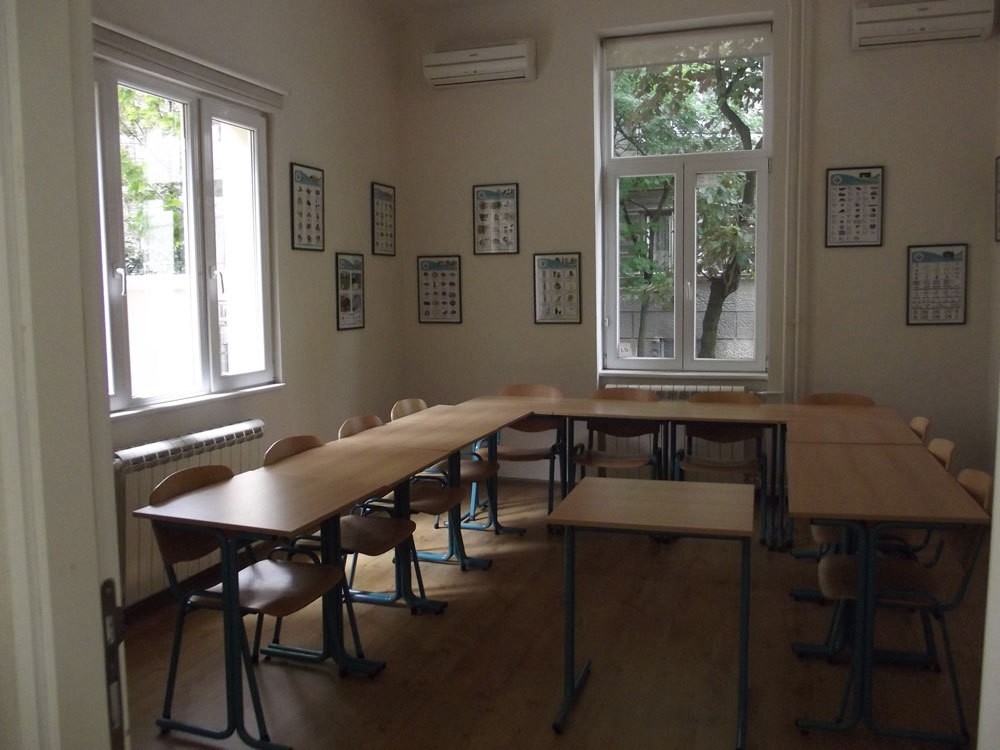 One of the classrooms of the center
Even though the Ottoman Empire no longer exists; we have kin here, we have relatives here. Accordingly, Turkish has a great importance in the Balkans. For example, you learn Turkish in Sarajevo and then you can communicate with your Turkish-origin relatives in Novi Pazar or Turkey much easily. In parallel with Turkey's economical development, our institute grew bigger. Personally, I think that our President Recep Tayyip Erdoğan is the person who has struggled the most for Turkey's economical development and our institute. Language teaching all over the world requires capital; so Turkey should continue to strengthen its economy. We operate under the orders of President Erdoğan and the head of our institute, Prof. Dr. Şeref Ateş. I personally think that we have achieved success. We are not yet as big as Goethe Institute of Germany; but they have started language teaching 60 years ago. What we have and they do not is dynamism. I hope our dynamism will lead to a better future. In our historical building here, we also have cultural activities. We do not only teach Turkish, we also let foreigners get to know more of Turkish culture.
Do you believe that Turkish language has gained more interest in the Balkans in accordance with Turkey's active role in the region?
This is more related to politics so our ambassador here will give proper information about it but please let me explain the cultural side of it. Think of it this way: every Serb that knows Turkish is a natural representative of Turkey. Because you overcome the barrier if you know the language; for example, I solve problems here much easier by talking Serbian to locals.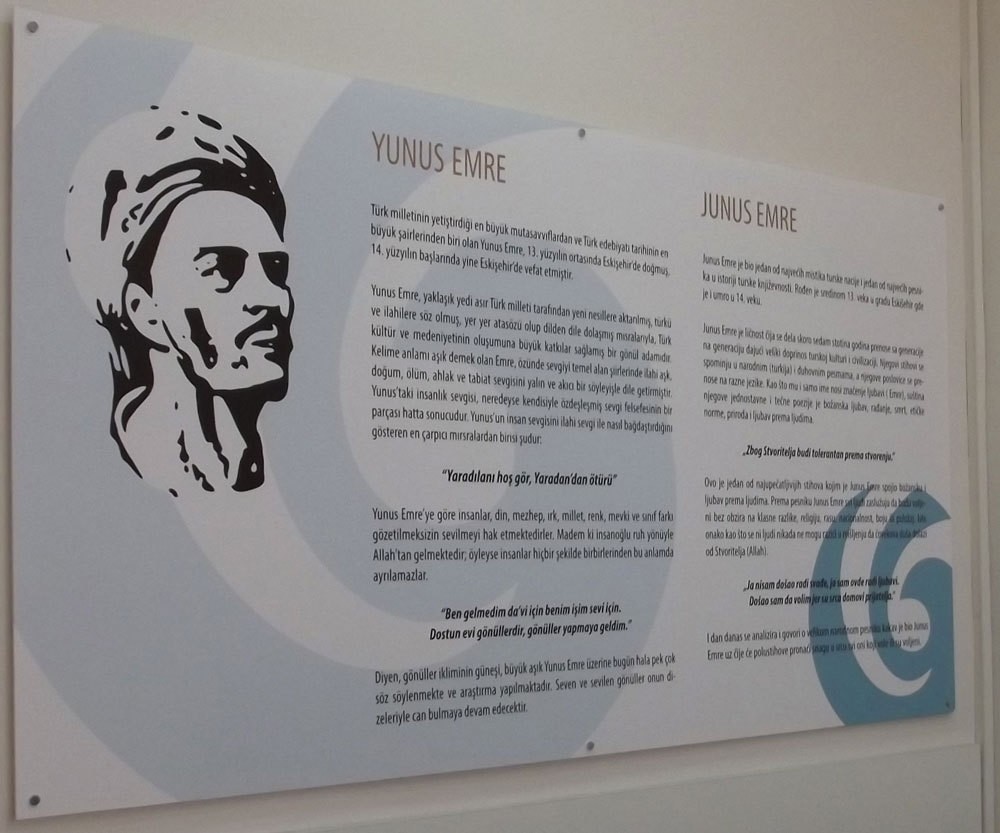 A signboard in the institute with the biography and sayings of Yunus Emre
It is the same for us, if a foreigner speaks just a word from Turkish, he or she will be shown great respect in Turkey. To admit, I would like to say that interest towards our language is more in Bosnia but here it is also growing day by day, which is advantageous for Turkey. Because our country wants peace in Balkans and in a region with people who know each other's culture and language, there will be less disaccords and conflicts.
How do you believe Serbians approach Turkey in general?
They are very friendly towards our country and people, especially the ones who have been in Turkey.
Personally, I can say that I have never got to know a Serb that disliked our country. I usually talk with the locals from every walk of life and I can say frankly that I have never known a single person that has a bad view of our country. Especially the ones who come to Turkey for the holidays are very warm towards our country. As Turks and Serbs, we are also close to each other culturally. This similarity bonds the two people tighter. Serbs used to have a pretty cold stance against our nation in history but that has changed. In the international symposium which took place on May 25-26, our partner was Belgrade Institute of History.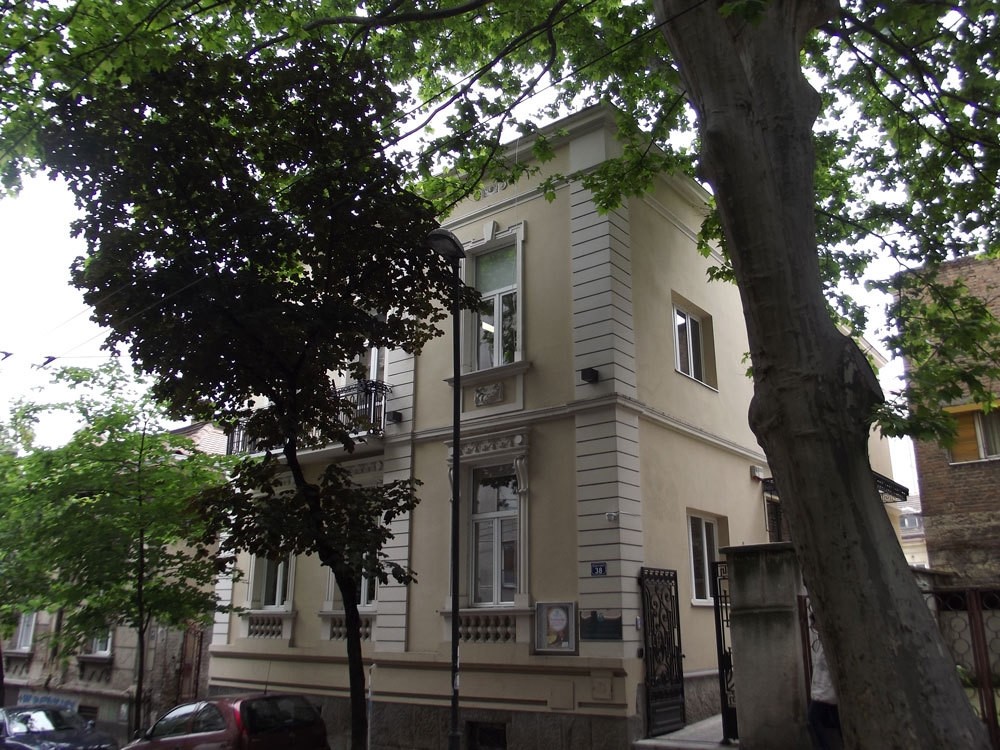 The symposium was based on the structure of state and people in the Balkans before and during the first years of the Ottoman Empire. Yunus Emre Institute has financially supported this symposium. It is an honor that we can collaborate with our foreign partners on a historical matter; and I can frankly say that there is nothing to be ashamed of in our history. Naturally, no state is perfect; but the Ottoman Empire has ever struggled to secure the justice in its territory. Prudent Serbian historians also agree with me on this matter. Consequently, the Serbs' view of Turkey changes day by day in a good manner. As you know, this change happens politically too, as the two countries are in close cooperation.
Does YEE offer special programs for Turkish language learners, such as events and cultural activities?
Yes sure. We have students in Belgrade and Novi Sad. We provide our successful students with free Turkey tours for summer school. In Turkey, our students get the chance to speak Turkish in a native environment. As Yunus Emre Institute, we cover all their expenses during their visit, plane tickets, accommodation and so on. On their tour, they do not only learn Turkish, but also our culture. We also organize film days here; we let our students know more about Turkish cinema. We also organize gatherings in our backyard.


Our native Turkish teachers and Serbian teachers who speak Turkish as a foreign language – which is also needed for language learning – provide our students with a friendly atmosphere.
Is YEE in cooperation with any educational institutions such as the University of Belgrade?
We are in close cooperation with the Turkology department of University of Belgrade. We are collaborating with the professors of the department. I would like to thank our ambassador, Mehmet Kemal Bozay for his heartfelt efforts to have the permits to set up our institute here in Belgrade. Mr. Bozay also struggles to develop our relations with Serbian educational institutions, which is an advantage for us.
Do you believe that YEE conducts soft diplomacy and helps Turkey strengthen bonds with its strategic and regional partners?
I strongly agree with that. Strong countries invest in cultural activities. You do not usually achieve fast enough with cultural investments; but the good side of it is that the result you get with it is permanent. If I am to explain better, Institut Français helps the French spread their language and culture, or Goethe Institut lets the German promote their country and makes people want to learn German language. These cultural investments leave a permanent influence and impression on people.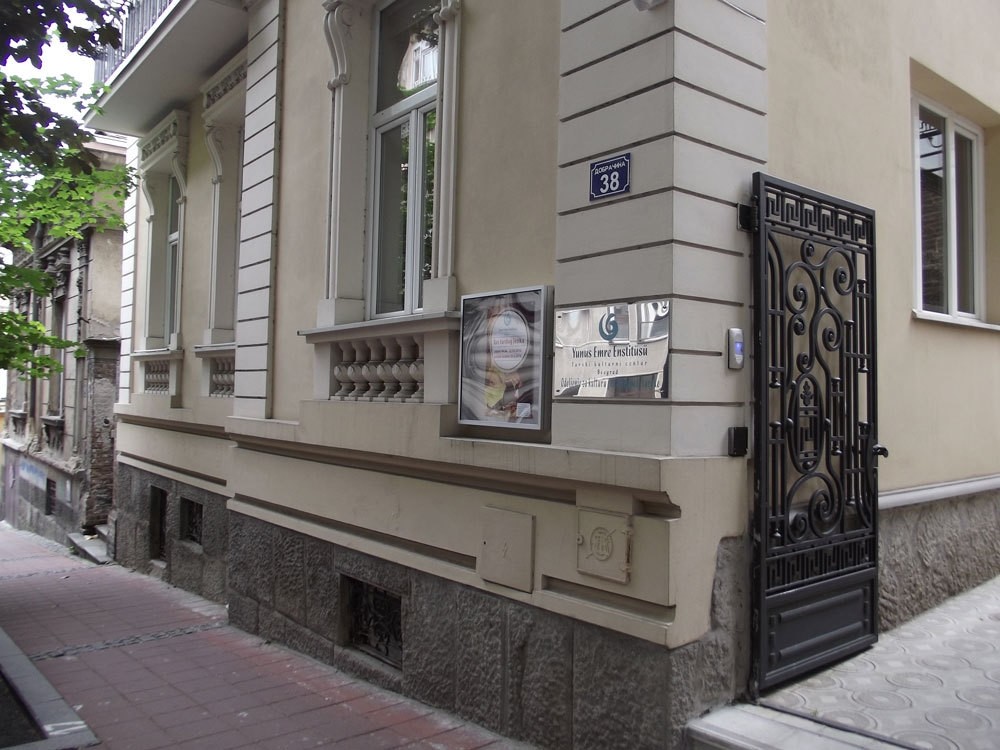 I consider our institute a big investment which helps foreigners know more about Turkey, its culture and language. In addition to Yunus Emre Institute, TİKA (Turkish International Cooperation and Development Agency) and our Prime Ministry's YTB (Presidency for Turks Abroad and Related Communities) also help strengthen Turkey's image as a soft power. We now have 45 branches around the world; the last one was opened in the Croatian capital Zagreb with the attendance of our President Recep Tayyip Erdoğan. We plan to have 100 branches by 2020.
Do you believe the cultural relations between the two countries have developed more given that the visa requirements were mutually halted?
For example, just walk around in Knez Mihajlova Avenue, and see how many people are speaking Turkish. Many Turkish tourists come to Belgrade every year. Our country is not a poor, underdeveloped country anymore. We may not be as developed as Germany, but our people in general have sufficient financial situations, and they want to see Europe. Our people usually choose countries not requiring a visa. As Belgrade is a beautiful city and no visa is needed to come here, it is a favorite destination for our people. In return, Serbians visit our country regularly. Serbians usually come to our Aegean coasts for holiday.
Does YEE plan to expand to other cities in Serbia or in the region?
Yes, we particularly aim to have a branch in Novi Pazar because of our historical ties with the area. Hopefully, if we have the required permits from the Serbian authorities, we will open a branch in the Muslim-majority Novi Pazar where demand to learn Turkish is very high. Sandžak Muslims in the city are awaiting a Yunus Emre Institute in their city, so our main focus is Novi Pazar.
Can you tell us about YEE's future plans in Belgrade and Balkans?
As Yunus Emre, we are part of Turkey's public diplomacy and soft power. Accordingly, Turkey should be more important and powerful in the region in order for our efforts to become permanently effective in Balkans. We have a saying in Turkish: One swallow does not make a summer. So, we are trying hard to have required permits to open more branches in other cities. We also bring our artists to the Balkans and organize exhibitions, which help strengthen our image in the local media.
In the long run, this will be beneficial for our country's image.
Is there anything you would like to add?
I would like to frankly say that, we put our heart and soul into our efforts to let foreigners learn our culture and language. It is important for our institute to have wide media coverage, which encourages us to work harder. I can say that I wish Yunus Emre Institute will have more place in Turkish media. I would like to thank you and Daily Sabah for your interest in our institute. Lastly, I want to say that I may be assigned to another branch anytime, but our institute in Belgrade will continue its existence, which is a natural consequence of Turkey's focus on cultural investments.