Thousands of migrants placed in improvised tent shelters near the border of Bosnia-Herzegovina and Croatia face harsh winter conditions with snow already falling in the region. Hundreds of migrants stay in makeshift camps with no heating or facilities, revealing desperate humanitarian conditions, especially in the northwestern towns of Bihac and Velika Kladusa, near the Croatian border. Some are fleeing wars in their home countries in the Middle East, Africa or Asia. Others have been driven away by poverty, lack of freedom or hope for the future. After their long journeys, many migrants don't have winter shoes, warm socks, caps or gloves. They wrap themselves tightly in blankets, leaving their faces barely visible. At lunchtime, they line up for warm meals provided by aid groups. They eat among garbage-strewn, grim-looking tents made of nylon, ropes and cardboard.
Red Cross officials earlier voiced concern about the worsening conditions for thousands of migrants stranded in Bosnia and many say the government is failing to adequately protect the rights of refugees.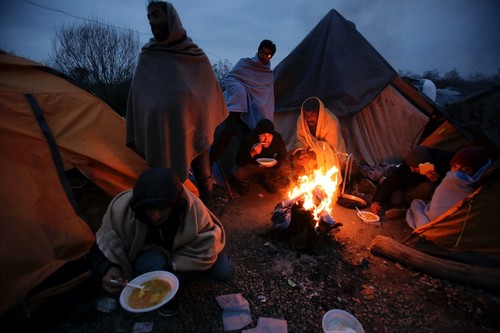 Migrants at a camp in Velika Kladusa, Bosnia, close to the Croatian border.
Last month, authorities unveiled two new facilities, one in the northwest and the other near Sarajevo. Together, they double the total number of available beds for migrants to around 1,700. That still leaves more than 1,000 others in fragile conditions that could turn into a "humanitarian tragedy" when the first snow falls, the U.N. refugee agency has warned. Up to 200 migrants arrive daily in the Bihac area, with tensions rising as some locals came out to protest the influx. Police announced that they would no longer allow migrants into that northwest zone, sending at least 700 back to Sarajevo.
With only two official asylum and refugee centers, the small country of 3.5 million people, which aspires to be an EU member, is hard-pressed to cope with the migrants. The Balkan region has been the focus of migration-policy debates. Three years ago, the Balkan route was one of the main corridors for the more than 1 million migrants who reached Western Europe. Even though the route has all but been shut down since early 2016 through coordinated border closure measures, thousands of migrants still manage to pass through.
Hundreds of thousands of migrants who streamed northwards through the Balkans to EU territory in 2015 largely bypassed Bosnia-Herzegovina. But the ex-Yugoslav republic now finds itself struggling to accommodate about 5,000 people intent on making their way via neighboring Croatia to affluent EU countries further north. To curb migrants entering the impoverished country en route to EU territory, Bosnia's security minister, in June, called for legislative changes to enable border deployments of the army while accusing the EU of failing to manage the crisis. More than 9,000 people from Asia and North Africa have entered Bosnia from Serbia and Montenegro since the beginning of 2018, including 3,000 over the past month, and a similar number have managed to cross into EU member Croatia.