A top U.S. coach is in the Gaza Strip to help set up the territory's first female wheelchair basketball team. "I think for Gaza this is a very unique thing," said the trainer, Jess Markt. "I think there are not so many opportunities for women to play sports here, and particularly for disabled women."
Markt, 40, was a track athlete until 21 years ago when he suffered a severed spinal cord in a car accident. Three years later, he began playing basketball and in recent years he has coached wheelchair teams in Afghanistan, India and Cambodia.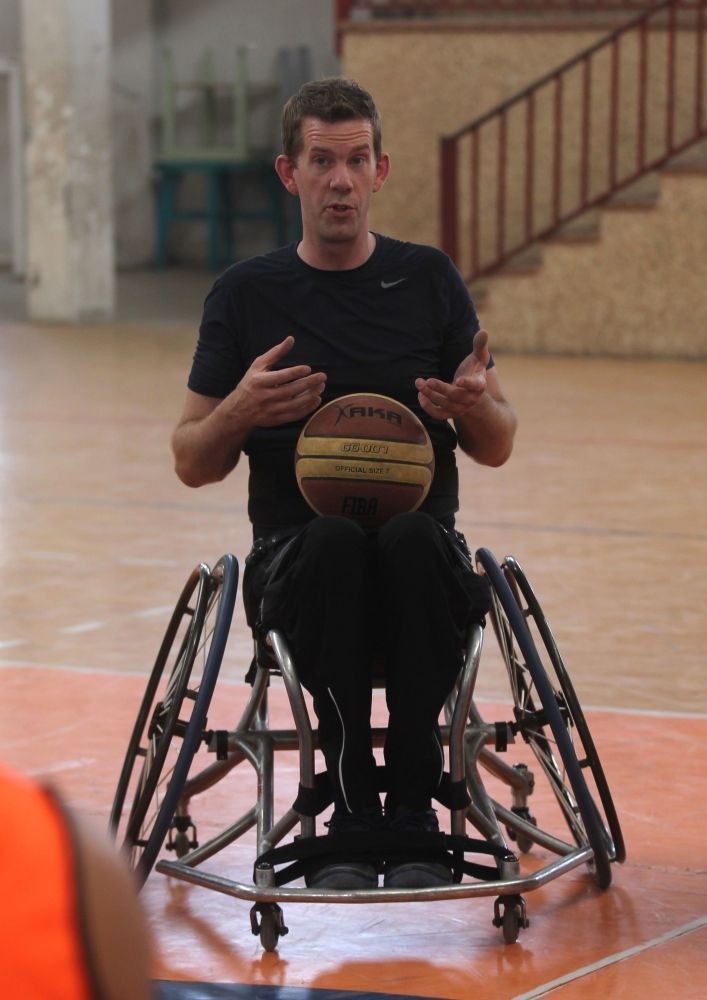 Jess Markt
In 2015, the International Committee of the Red Cross brought Markt to Gaza to train local referees and coaches. Now, he is back to train players and organize tournaments between wheelchair teams.
For nearly a decade, Gaza has been subject to an Israeli-Egyptian blockade. The perpetual state of blockade and Israeli's military attacks, along with substandard health care, has added to the tens of thousands of disabled Gazans.
In the last three years, there has been "a revolution" of basketball among disabled men, according to Kamel Abu El-Hassan, the head of the Palestinian Paralympic Committee. Eight clubs have formed male basketball teams and Markt is coaching and advising them in his second visit to Gaza.
The success of these teams helped the Paralympic Committee to persuade women and girls to form their own team. Abu El-Hassan said Markt's visit is a significant new step toward forming a women's team.
On Saturday, 15 women and girls in wheelchairs clustered around Markt, listening to the instructions with smiles on their faces. They rolled their wheelchairs briskly in the closed sports hall of the Palestinian Red Crescent Society after Markt blew his whistle, but they had difficulties catching the bouncing balls.
Mona Khattab, 47, is one of the first female basketball players in Gaza. She says Markt taught them the rules of the game, which they did not "know 100 percent," and showed them techniques for playing.
She said that most basketball courts in Gaza are not designed for wheelchairs, and many courts are open to the sun. The players' wheelchairs are also heavier than those used by basketball teams overseas.
"With our will and power we challenge the game using these chairs," she said. "In the international matches, the chairs are light as air. Here, our arms and muscles are sore."
Markt said the women just need a chance to play on a regular basis.
"As long as they are encouraged to play every week, they will quickly become stronger and faster. Then they will move from being very beginning players to skilled players," he said.