Istanbul heavyweights Fenerbahçe beat Greece's Olympiacos 80-64 late Sunday, winning the Turkish Airlines Euroleague cup for Turkey for the first time.
The match took place in Sinan Erdem Dome in Istanbul. Giants screens were erected in fan zones throughout Turkey, and thousands gathered in central areas for the festive event.
Fenerbahçe dominated Olympiacos throughout the game, never allowing the Greek giants to get ahead or tie the game after the first two minutes of the first quarter. The Istanbul-based club became the first ever Turkish team to be crowned EuroLeague champions. With a win against Panathinaikos, the Yellow Canaries also became the first ever Turkish team to play in a Final Four on its home soil.
Fenerbahçe led the first quarter 26-18 and was up 39-34 after the first half. The third quarter was the breaking point for the game, as Fenerbahçe led by twelve, 60-48. Head coach Zeljko Obradovic and his players never looked back at the fourth quarter.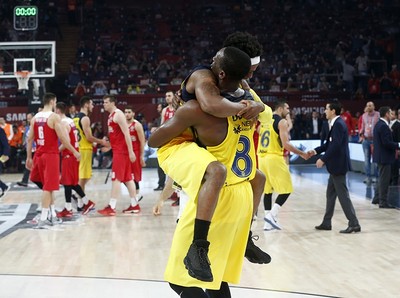 Fenerbahçe's decisive win against Olympiacos was made possible with Ekpe Udoh's successful blocks and defensive rebounds, Bobby Dixon's skillful playing and Bogdan Bogdanovic's three pointers.
Udoh, who finished the match with 10 points, 9 rebounds, 4 assists and 5 blocks, was named the Final Four's Most Valuable Player (MVP).
Khem Birch's 14 points was not enough for Olympiacos, and the team had to settle for the silver medal.
Fenerbahçe advanced to the Euroleague final after defeating Real Madrid 84-75, while Olympiacos eliminated CSKA Moscow Friday evening to proceed to final in Final Four.
During the bronze-medal match earlier in the day, CSKA Moscow defeated Real Madrid 94-70 to finish the 2016-2017 Turkish Airlines EuroLeague season in third place.
Fenerbahçe's head coach and players have many times expressed their gratitude towards their fans. In thier post-game interviews, head coach Obradovic and center Udoh both noted the importance of fan support.

"Thanks to the fans for creating an amazing atmosphere. Their support is very special for us... They help us and are always supporting us." the coach said. "It always feels great to win in front of your fans," Udoh added. "It was worth it. Here we are. We're right there. We're ready."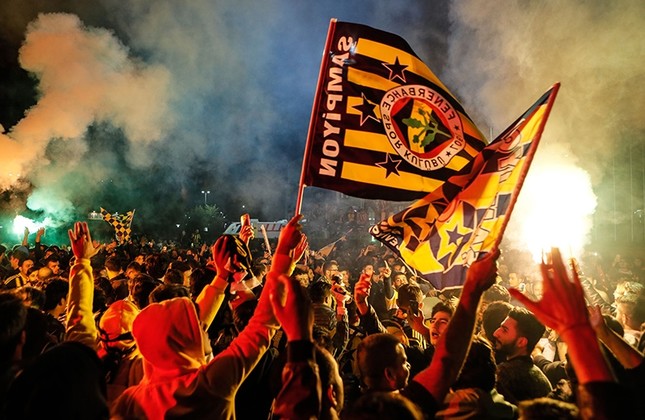 Following the game, hundreds of thousands people took to the streets to rejoice the victory throughout Turkey, with Bağdat Street and Yoğurtçu Park in Istanbul's Kadıköy district serving as the center of celebrations.