Istanbul basketball heavyweights Fenerbahçe were crowned the second best in Europe late Sunday, after Real Madrid clinched its 10th Euroleague title by overpowering last season's champions 85-80.
The Yellow Canaries, despite playing neck-and-neck against the Spanish giants, came short by five points at the end of the match and were awarded silver medals, supported by 12,000 fervent Turkish fans in the Belgrade Arena.
Led by French guard Fabien Causeur and 19-year-old Slovenian Luka Doncic, who was named the season's most valuable player after Friday's 92-83 semifinal win over CSKA Moscow, Real bested Fenerbahçe with iron-clad defending.
Causeur netted 17 points for Real and Doncic, widely expected to be among the top picks at next month's NBA draft in New York, added 15.
The titanic tussle shifted Real's way in the third quarter when they carved out a 63-55 lead and never looked back, although Fenerbahçe missed a chance to force overtime.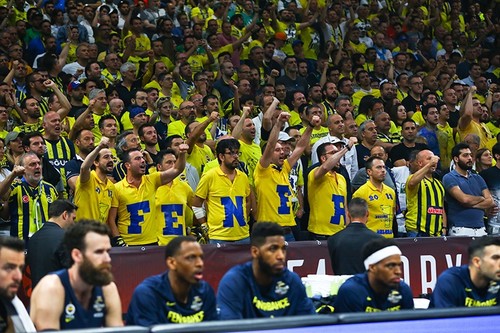 Their late fightback slashed the deficit to 81-78 in the final minute, but Real's Tray Tompkins tipped in a vital offensive rebound to put the game beyond Fenerbahçe.
Italy forward Nicolo Melli stood out for Fenerbahçe with a game-high 28 points but his incredible individual display was not enough to save the Turkish side.
Real's guards stifled Fenerbahçe's usually lethal backcourt offense, while their towering center Walter Tavares outplayed his rival Jan Vesely under the boards.
Fenerbahçe's Serbian coach Zeljko Obradovic, who was also chasing a record 10th Euroleague title with a fifth different club, rued his team's poor shooting.
"We missed some incredibly easy shots from close range and our defense was also not at the required level," he said.
"But credit to Real, they fully deserved their win and all we can do is congratulate them. Real had a lot of problems with injuries throughout the season but they came here in great shape and enjoyed a perfect tournament as its dark horses."
"Everyone's talking about the individual awards but this was a team effort and it put the icing on the cake of a very tough season," Doncic, who was also named the Final Four's youngest most valuable player, told reporters.
"Win or lose, we always stick together as a unit and that's the key to success. I am very proud of my team mates and honored to play for Real. We grew as a team through a season ravaged by injuries," added Doncic, who remained tight-lipped about a possible summer move to the NBA.