"What would it mean to be born Stalin's daughter, to carry the weight of that name for a lifetime and never be free of it?" This is the first question that "Stalin's Daughter: The Extraordinary and Tumultuous Life of Svetlana Alliluyeva," the latest book by Rosemary Sullivan, an award-winning author and poet, asks its readers. Published by Harper Collins earlier this month, the illustrated book is the outcome of thorough research. Sullivan painstakingly studied the archives of the Soviet government, CIA and KGB, the main security agency of the Soviet Union, which operated from 1954 to 1991.
The Canadian author also interviewed Svetlana's daughter for her book. "Stalin's Daughter" is a painful biography of a woman, who from her own words, was "a political prisoner of her father's name." Born on Feb. 28 in 1926, Svetlana Alliluyeva was the daughter of Nadiezhda Alliluyeva, the second wife of Joseph Stalin, who turned the Soviet Union into a supreme power and won a war against the Nazis. She was the youngest child and only daughter of the former Soviet Union leader. Spending most of her earlier years in the Kremlin Palace, Svetlana was perfectly protected by the Communist Party from her dictator father's brutal orders on Soviet citizens. She might have escaped from mass starvation and murder, but lost her most beloved families including her mother, two brothers, aunts and uncles. Her suffering even continued after his father's death in 1953.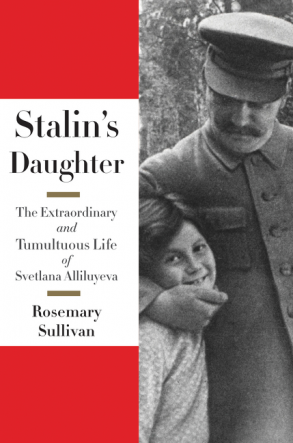 When she learned more about Stalin's cruel regime, she left everything behind, even her children, and requested asylum in the U.S. fourteen years later. Svetlana's life was never got on track as she continued to live a disastrous life and died in poverty in Wisconsin in 2011, aged 85.
Publishers Weekly, a weekly news magazine on international book publishing said, "Sullivan masterfully employs interviews, Alliluyeva's own letters, and the contents of CIA, KGB, and Soviet archives to stitch together a coherent narrative of her fractured life ... A head-spinning journey as Alliluyeva attempts to escape her father's shadow without ever fully comprehending the man who cast it." A professor emeritus at the University of Toronto, Sullivan generally writes on poetry, short fiction and biography. She received the Lorne Pierce Medal given by the Royal Society of Canada for her contributions in the field of literature. Some of her other books are "Villa Air-Bel," "Labyrinth of Desire," "The Bone Ladder" and "The Space A Name Makes."