Widely respected as the Turkish writer who brought a most unique slice of Parisian literary life to Istanbul, Merve Pehlivan is a modest personality in the emerging Istanbul arts scene where bookish literati meet performing artists. She radiates an enviable confidence while conversing warmly about the philosophy of Spoken Word Istanbul (SWI), the community she founded and now continues to lead as the host of a multilingual open-mic stage of free expression in poetry, song, music, comedy, storytelling, theater, improvization, and beyond.
After racism and sexism, every performance of emotion is freed from the struggles of global urbanization and encouraged with all of the genuine wholesomeness of grassroots creativity. Up to eighty expressive and absorptive souls meet weekly for the SWI nights held at Arsen Lüpen in Taksim every Tuesday from 20:30 to 22:30.
Pehlivan has been lauded for reviving the Ottoman tradition of the itinerant storyteller known as the meddah, as for gathering together the latest intercultural fusions of contemporary performance art. In June, she began cultivating the inner life of the SWI arts community by organizing her first writers' retreat in Datça, a district in the Aegean coastal region of Muğla.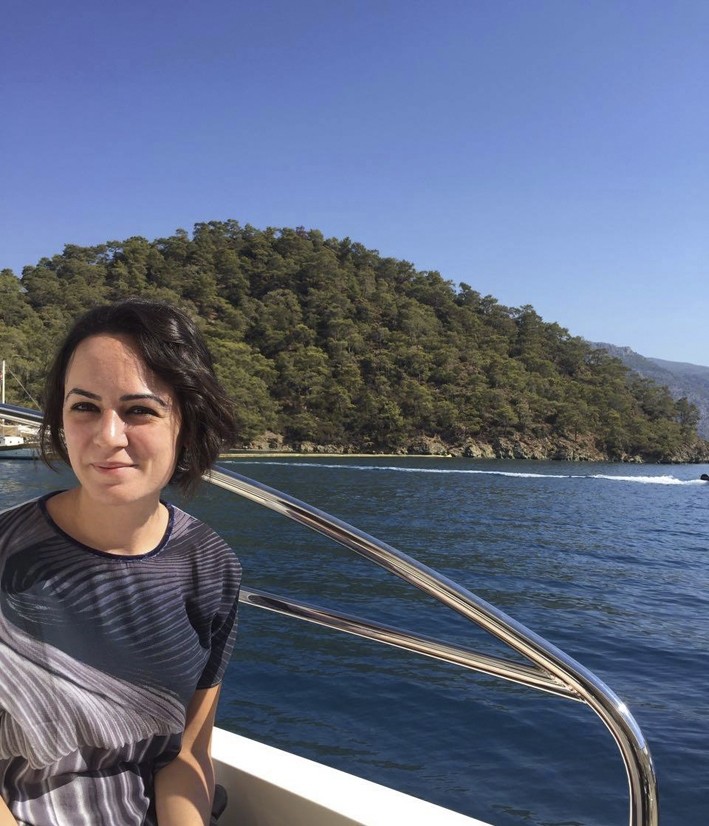 Merve Pehlivan has been lauded for reviving the Ottoman tradition of the itinerant storyteller known as the meddah, as for gathering together the latest intercultural fusions of contemporary performance art. In June, she began cultivating the inner life of the SWI arts community by organizing her first writers' retreat in Datça, a district in the Aegean coastal region of Muğla.
From the 24th to the 30th of October, the SWI community will again welcome as many as eight select writers for a second retreat, to bask in writerly solace at Koop Suites, a single-story boutique hotel surrounded by edible gardens in the historical village core. The secluded bards will look out towards the island of Rhodes, reflect back on the Anatolian countryside and reimagine a new landscape of storytelling.
"All of us in the first retreat were people we already knew, but this time I think it will be a little different," says Pehlivan, considering her experience as coordinator and writer at the first Datça retreat, when most retreaters were part of the core SWI community from Arsen Lüpen. "What was really nice in the retreat, and what keeps being nice at Spoken Word [Istanbul] each week is that all of us come from different artistic backgrounds and literary interests. The original work we share is very different from all of us."
During the first retreat, Pehlivan worked on her short stories alongside fellow writers working in the genres of memoir, novel, theater, and science fiction. Similarly, every Tuesday at Spoken Word Istanbul, listeners and performers hear and express everything from Italian rap, to erotica, stand-up comedy, and even simple anecdotes. Unlike the Spoken Word Paris collective that originally inspired Pehlivan, the Spoken Word Istanbul community expression is not limited to themed evenings. After publicizing the June retreat with The Guide Istanbul, Yabangee.com, and on flyers in coffee shops and bars around Istanbul, international applicants showed interest.
"What we did, it was really nice because it was the first retreat so we had the first meeting and talked about what we would want to do and kind of decided together," says Pehlivan, describing her direct involvement as a writer in the organic and bottom-up approach to vitalizing the literary community she has cultivated. "We got together at around six to seven each day and we sent each other each others' work by four p.m. so that we would read beforehand all other persons' work and then come together and discuss."
Listening to hours of fellow writers discuss each others' work is invaluable to the literary process, infamous for its solitude, and especially important in a society bent on consumer production. Creativity in-progress is less appealing than public achievement, which is why even a performance community of such spontaneous and literate craftspeople as SWI must at times turn a cheek to the stage and clasp a pen, stare at a blank space and enter the void of the mind.
"If we had been a group of more than ten it wouldn't work, it wouldn't be that efficient. We would love to have just one prominent name, someone who has done a lot of work in storytelling or in a certain genre, but what was really nice with our first retreat was that none of us were professionals, none of us were established writers and we all could learn from each other," says Pehlivan, whose humility is outstanding with respect to her origins from conservative Turkish Muslim tradition to founding SWI after years of performing regularly for Spoken Word Paris as a polyglot English-language writer, ultimately contributing to a global network from London to Stockholm to New York. "We'll see how many people respond this time, and we'll see how it goes. This is not a strict program. We don't have a mentor. We don't have a professional writer who assigns us work to do each day. We do not have a regime. It's kind of in continuity with what we do each week at Spoken Word [Istanbul] in the sense that we like to share with each other our work and learn from each other."
As is true for intellectuals and artists mired within the dominant cultures in which they first grow and learn so cultural diversity and international spaces become sanctuaries for individuals to step outside of the social boundaries in which they are normally fixated to create afresh. The only stipulation of the Datça writers' retreat of SWI is to become more open, and to share original stories and unheard language within newly-found spaces of listening.
"I was there to challenge myself. Datça is a precious, undiscovered gem. It's long and complicated to reach, but that's why it's so beautiful. Writing along the beach after a jump into the crystal clear water was amazing," says Elenora Masi, an Italian writer and formerly a regular SWI performer who retreated to Datça in June to work on her poems translated into English, as with a chapter of her unpublished second novel and a short story set in Amsterdam and Istanbul. "We were afraid to be few, but this let us get closer and closer as persons and colleagues, spending lots of time in detailed analysis of our written pieces and writing style."
Unlike the SWI nights, the Datça retreat is for writers, not stand-up comedians, not musicians, in order to generate the rigorous feedback that is all too rare during an open-mic. SWI is largely a stage for English-speaking expats, yet Pehlivan embodies the craft of forming literary community with the recent development of Spoken Word Türkçe, the exclusively Turkish-language Spoken Word event that is arguably most important as Turkish people experience an unprecedented need for newly refreshed open forums in the public exchange of intellectual and emotional expression.
"We give people space to write at a really nice hotel on a hilltop, and a vast garden and a lot of places to sit and write on one's own. It's away from the town. It's away from the city. It's a really nice place to focus on writing. Solitary work, that's what we promise, and at the same time we promise a cohesive way of improving oneself with the rest of the group," says Pehlivan, speaking from personal experience. "In the first retreat, I did a lot of work on my short story which really helped, because each day I felt more inspired and worked on the feedback from the previous day, and came up with something new. It was very nice to have continuity, because someone would refer to the comments on the first day and kind of link the ideas together. It really helps to have not a single session but several sessions. You see the pace of your development. I'm in the phase of still the final polish-ups and see where it goes next."
**Applications for the second Datça Writers' Retreat with Spoken Word Istanbul will close October 9th, with rates ranging from 135 to 290 TL per night according to room type and number of guests, the retreat also offers flexible terms of stay. More info: spokenwordistanbul@gmail.com.