Organized by the TÜYAP Fair and Convention Center and the Turkish Publishers' Association, the 35th International Istanbul Book Fair will open its doors to book lovers between Nov. 12 and Nov. 20 at the TÜYAP Fair and Congress Center in Büyükçekmece.
Hosting 800 publishing houses and nongovernmental organizations (NGOs) from both Turkey and abroad, the fair will feature Germany as this year's honorary guest as well as 300 events that include talks, panel discussions, poem recitations and children's events for the nine-day duration of the fair.
A total of 28 German publishing houses will attend the Istanbul Book Fair, hosting 40 events over the first four days of the fair that will be held at the honorary guest's booth and in fair halls.
Germany will host important names in contemporary German literature with the motto, "Worte Bewegen" (Power of words), hosting a colorful and multicultural program including performances centered around football, literature, poetic recitation and children's workshops.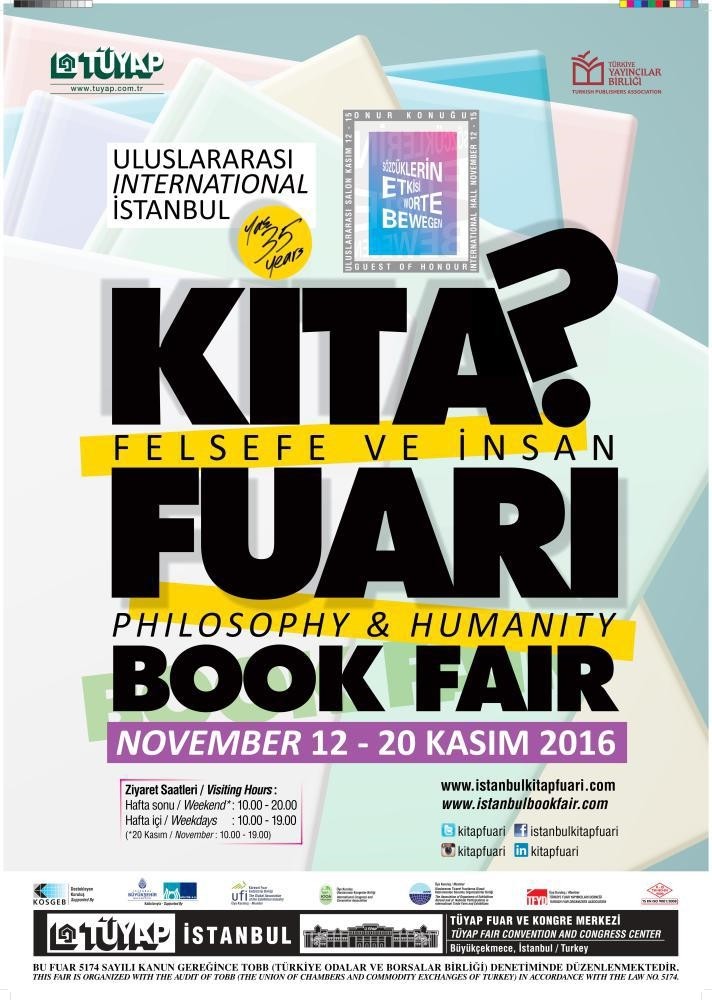 Peter Schneider, Ilija Trojanow, Achim Wagner, Moritz Rinke, Canan Topçu, Matthias Göritz, Finn-Ole Heinrich, Olga Grjasnowa, Esmahan Aykol, Tobias Hülswitt, Jan Von Holleben, Judith Kuckart and Silke Scheuermann will be among those who will participate in talks.
In addition to cultural events, publishers from Turkey and Germany will meet on Nov. 14, for a panel discussion on "Trends in Publishing in Germany," "Children's Publishing," the "Future of Reading" and "Independent Publishing."
Germany's booth which will be located in the International Hall will be open to visitors from Nov. 12-15. Book lovers will be able to find German literature in a bookstore which will be located in Hall Number 2.
As an honorary guest, Germany will be holding events in three different areas: including the conference hall, the German National Booth located in Hall Number 1and a venue area in the same hall.
The Istanbul Book Fair, which was first held with the participation of 28 publishing houses by TÜYAP in 1982, will host 800 participants and more than half a million visitors. The fair will celebrate its 35th year and the entire years' projections on its publishing life and culture in the "35 Years Panel Discussions."
In these discussions, there will be events such as "35 years of the TÜYAP Book Fair and its Contributions to Publishing," "Contributions of the City Fair to Urban Cultural Policies," the "Progress of Children's and Youth Literature," the "Istanbul Book Fair for Authorship and Fairs as a Platform to Meet with Readers."
'Philosophy and the human'
In addition to the events that will be held by the publishing houses this year, the Philosophical Society of Turkey and TÜYAP will host events for children and youth as part of the theme of the fair. The program will include workshops and talks on the "Rightto Education," "Differences" and "Critical Reading and Thinking."
As part of the philosophy theme, Brigitte Labbé and Oscar Brenifier, both children's authors, will be among the guests at the fair. Labbé will hold two different workshops and talks for children and parents on Nov. 18-19, while Oscar Brenifier will hold a talk on philosophy with children on Nov. 13.
International guests at TÜYAP
The Istanbul Book Fair will host 37 international guests as part of the events, as well as autograph sessions. Dan Hancox, who is known with his book, "The Village Against the World in Turkey," will be the part of a talk with the Mayor of Ovacık Mehmet Maçoğlu. Philosopher and writer Wilhelm Schmid will discuss his most recent book with Tanıl Bora on Nov. 12 and later with Betül Çotuksöken on "Philosophy and the Human" on Nov. 13. Political scientist Thomas Schmidinger will be the speaker at a panel discussion
organized by Yordam Kitap on Nov. 20. Authors from Pegasus Publishers, including Eduardo Spohr from Brazil and thriller authors Paul Cleave and Wulf Dorn, will meet with book lovers in autograph sessions on Nov. 19-20. Shaman Durek, who is known with books on healing, will meet with book lovers in a talk by Mona Kitap on Nov. 19.
Exhibitions at Fair
The exhibition by TÜYAP titled, "Ioanna Kuçuradi: On Pursuit of Humanity and Precious with Determination and Hope," will include works, slices of life and a photo album of Prof. Dr. Ioanna Kuçuradi. The exhibition can be viewed in the upstairs lounge area at the fair.
Another exhibition titled, "Photography Exhibition of Mustafa Kemal Atatürk" will consist of photographs from the unpublished archives of researcher Atilla Oral. The exhibition can be visited at Hall Number 5.
The main theme of the fair will be "Philosophy and the Human," with Prof. Dr. Ioanna Kuçuradi as the honorary author. Meanwhile, the International Istanbul Art Fair will be held simultaneously with the Istanbul Book Fair.
Entry to the fair is free of charge for students, teachers, the retired and disabled, while the standard ticket fee is TL 5 ($1.50).