Sitting atop of Zeyrek Hill, the third of Istanbul's famed seven hills, Istanbul Kitapçısı is a recently opened bookstore in the heart of Turkey's most populous city that offers books, souvenirs and a cozy cup of coffee to visitors.
Istanbul Kitapçısı is quickly becoming a favorite spot among Istanbulites, not only for booklovers but also for literature gurus and photography enthusiasts. The Istanbul Metropolitan Municipality (İBB) Culture, Inc. has opened the new branch of Istanbul Kitapçısı next to the Zeyrek Mosque on this historic hill which overlooks the city, fusing coffee and reading together in a warm atmosphere where visitors can enjoy a breath-taking view of Golden Horn while reading a good book.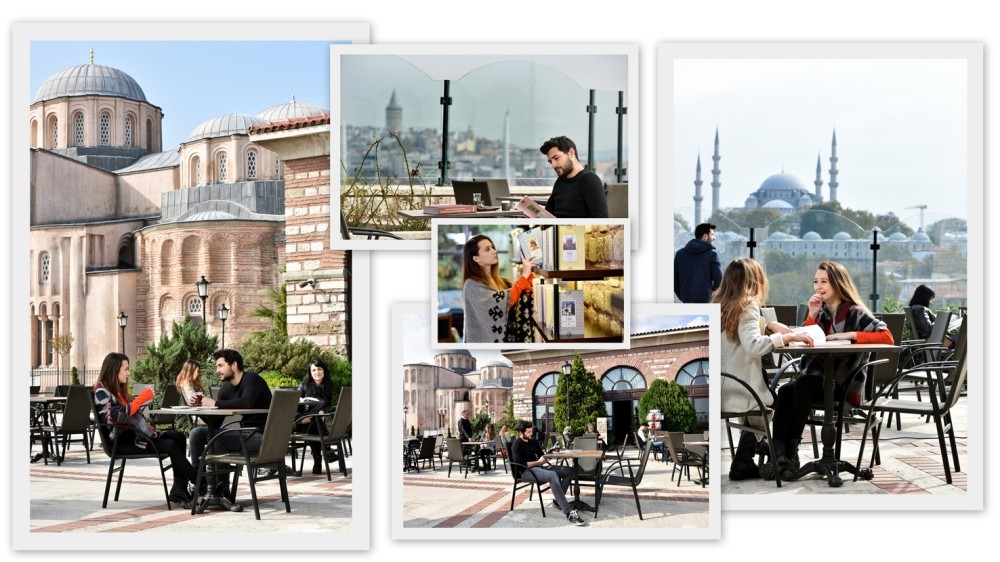 The bookstore also boasts fantastic views of the Süleymaniye Mosque, Galata Tower and of course the Bosporus. In addition to books about the city of Istanbul, it is also possible to find Hediyem Istanbul products at Istanbul Kitapçısı's new location in Zeyrek.
Having already become one of the most widely preferred places to visit among Istanbulites, Zeyrek Istanbul Kitapçısı was designed with history in mind, featuring unique, Ottoman-inspired textures, mystical interior designing and dense content.
Here, you can shop for your favorite new book or simply enjoy lively conversation with literature lovers of all ages, encountering readers from age 80 to as young as 20.
The store also attracts as many photographers as it does book lovers. From the observation terrace, which is in the yard of the store, it is possible to see the Golden Horn and Galata Tower on the left, the Süleymaniye Mosque in the center, and the Şehzade Mosque and Valens Aqueduct on the right.
The monastery, in which the Zeyrek Istanbul Kitapçısı is situated in, used to serve as a part of the Pantocrator Monastery during the Byzantine era. Dating back to the 12th century, the building is considered one of the holiest and the most important structures after the Hagia Sophia. The Empress Irene, her husband Emperor Yannis and their son Emperor Manuel I are buried in the monastery, which was devoted to Christ Pantocrator (Jesus as the Almighty) by Empress Irene.
After the conquest of Constantinople by Mehmed the Conqueror, the church in the monastery was turned into a mosque and the part, in which Zeyrek Istanbul Kitapçısı is located, was turned into a madrasah (educational institution). Molla Zeyrek Mehmet Efendi was appointed as the head 'mudarris' to the madrasah, which is the first madrasah established by Mehmed the Conqueror after the conquest of Istanbul.
The historical building, which was part of the monastery during the Byzantine era and served as the first madrasah of Istanbul after the conquest for hundreds of years, was used as a barn for a period of time because of a lack of maintenance.
Zeyrek Istanbul Kitapçısı will be included in the open-air museum after the renovation in Zeyrek Mosque is completed.