France-based director and photographer Muammer Yılmaz from Giresun, and his German friend, Milan Bihlmann, realized the dreams of 18 African people through the book they penned after hitchhiking 47,000 kilometers (29,200 miles) through 19 countries.
Speaking to Anadolu Agency (AA), Yılmaz and Bihlmann explained how they set out with a love a travel and no money. Born in France, Yılmaz has extensively traveled, visiting Turkey every year, thanks to his passion of exploring new places and meeting people around the world. Together, the two travelers decided to tour without money to prove that there are beautiful and hospitable people all around the world.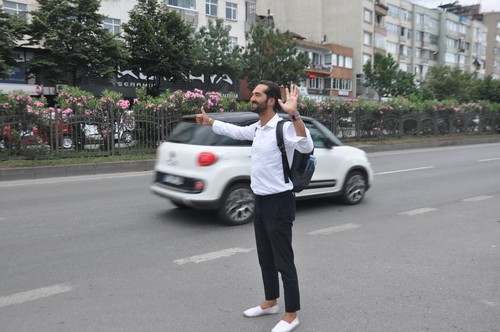 Together with his German friend, Muammer Yılmaz decided to tour without money to prove that there are beautiful and hospitable people all around the world.
Three years ago, they traveled to 19 countries covering more than 47,000 kilometers with the help of thousands of people. On how they managed to survive without funds, Yılmaz stated that it was pretty difficult as they didn't have any reservations, no one knew them and they didn't know where to stay or eat. "While it was exciting to experience new things, a new country, people, lives, cuisines, of course it was hard that everything was so uncertain. But we were glad to be introduced to new things and thousands helped us. Our families were doubtful at first, but our followers kept growing. Many were telling our story. When we set out, our families became more understanding. We shared everything on social media and soon our followers reached 17,000. A photo we posted was seen by 50,000 people, which was a shock to us," Yılmaz said. The whole world soon became obsessed with their journey, making them a media craze. As their lives changed, the realization that their experiences could be used to help people soon became evident.
They have now shared their memories in a book written in French. With a second edition already printed, the publication's revenue goes to help people in Africa. Yılmaz noted that the book has become more popular than they could have imagined and will soon be printed in English. He also hopes a Turkish version will be out soon. The friends insisted all of the book's revenue go to charity as a tribute to the many people who selflessly demonstrated warm hospitality during their world tour. In the end, they traveled to Africa to make dreams come true. "We took our bags and traveled sometimes on planes and sometimes hitchhiking. We asked everyone we met about their dreams on this 8,000-kilometer-long journey through seven countries. We replaced a leaky roof. We planted trees and purchased plane tickets for young people who wanted to travel," Yılmaz noted.
They prepared an 80-minute documentary showcasing each dream they fulfilled in Africa. Yılmaz noted that the viewers will also set out on a journey through the film. "We are trying to send good messages. Our documentary is being shown in France and has gained a lot of attention. People couldn't speak after they watched the documentary, they cried and we cried with them. The videos from our world tour will be broadcasted as a series in France as well," said Yılmaz.