The 37th International Istanbul Book Fair has attracted large interest, with some 611,444 visitors participating this year.
The fair, organized around the theme of "Surround the Life with Literature," was held from Nov. 10-18 at TÜYAP Fair Congress and Convention Center in Istanbul's Büyükçekmece district.
Staff of the publishing firms that attended the fair said the book type which attracted the most interest was novels, especially detective stories and crime fiction, though interest in world classics and history has been on the rise in recent years.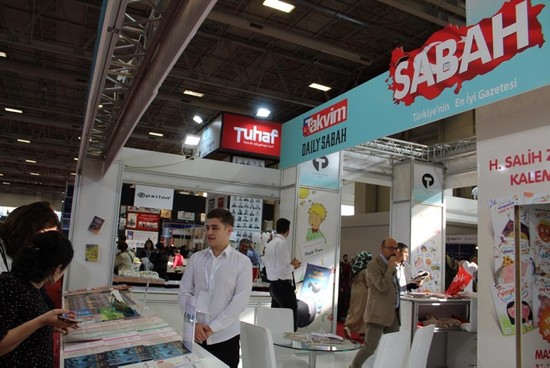 Turkuvaz Books, the publishing arm of Daily Sabah's parent Turkuvaz Media Group, also had a significant presence in the fair.
Tarkan Sorgun, sales and marketing director of Turkuvaz Books, said that Turkish and international classics and children's book topped this year's sales, which increased by some 75 percent compared to the last year.
"Halit Ziya Uşaklıgil's 'Aşk-ı Memnu' (Forbidden Love), Muallim Naci's 'Ömer'in Çocukluğu' (Ömer's Childhood) and Stefan Zweig's Chess were among the best-selling books in the fair," Sorgun said.
Ömer Seyfettin's 'Asilzadeler' (The Noblemen), Jack London's classics "The Call of the Wild" and "White Fang," Fyodor Dostoyevsky's "White Nights," Samad Behrengi's "The Little Black Fish," Antoine de Saint-Exupéry's "The Little Prince," Tevfik Fikret's "Şermin" and Mustafa Akar's "Gezegenin Tamahkar Çocukları" (The Esurient Children of the Planet) were other top-selling books of Turkuvaz during the event.
Publishing Director of Doğan Books Cem Erciyes said: "Detective novels always sell well. However, it should be said that in Turkey, the veterans of literature and the writers whom readers have followed for a long time always come first in the fairs. We saw similar results this year."
İletişim Publishing editor Kıvanç Koçak said readers were choosing world literature classics, with the works of Fyodor Dostoyevsky and Leo Tolstoy topping sales charts.
Although novels are the most attention-grabbing books, especially among young adults, interest in books with more serious themes has been increasing. Sales representative for Timaş Publishing Mücahit Arlı said, "Apart from (novels), personal development and history books are also drawing interest."
Books on Turkish and Ottoman history and Sufism drew particular interest, according to Ahmet Bozkurt, editor-in-chief of İnkılap Kitabevi.
The annual fair, which this year included 800 local and foreign publishing houses and NGOs, offered 300 cultural activities consisting of panels, talks, poetry recitations, book signings and children workshops throughout the nine days.