Concerned by the panic caused by Tuesday's terrorist attack in Istanbul's Sultanahmet district, which is one of the most important tourist destinations in the city, tourism agencies have initiated an online campaign, aiming to prevent tour cancellations. Tourism professionals are emailing their customers individually, saying that they do not need to worry about security in the city. However, they do not expect that the sector will experience major losses during the winter, which they call a dead season.
There are nearly 7,000 hotels in Sultanahmet and surrounding districts. Nevzat Keçik, the owner of three hotels in Sultanahmet, said they emailed hundreds of their customers, including tour companies and individual tourists, to explain that this attack was a local and individual incident like the recent shootings in Paris. Stressing that tourism agencies are developing strategies to mitigate the impacts of the attack, Keçik said, "We are working like tourism messengers."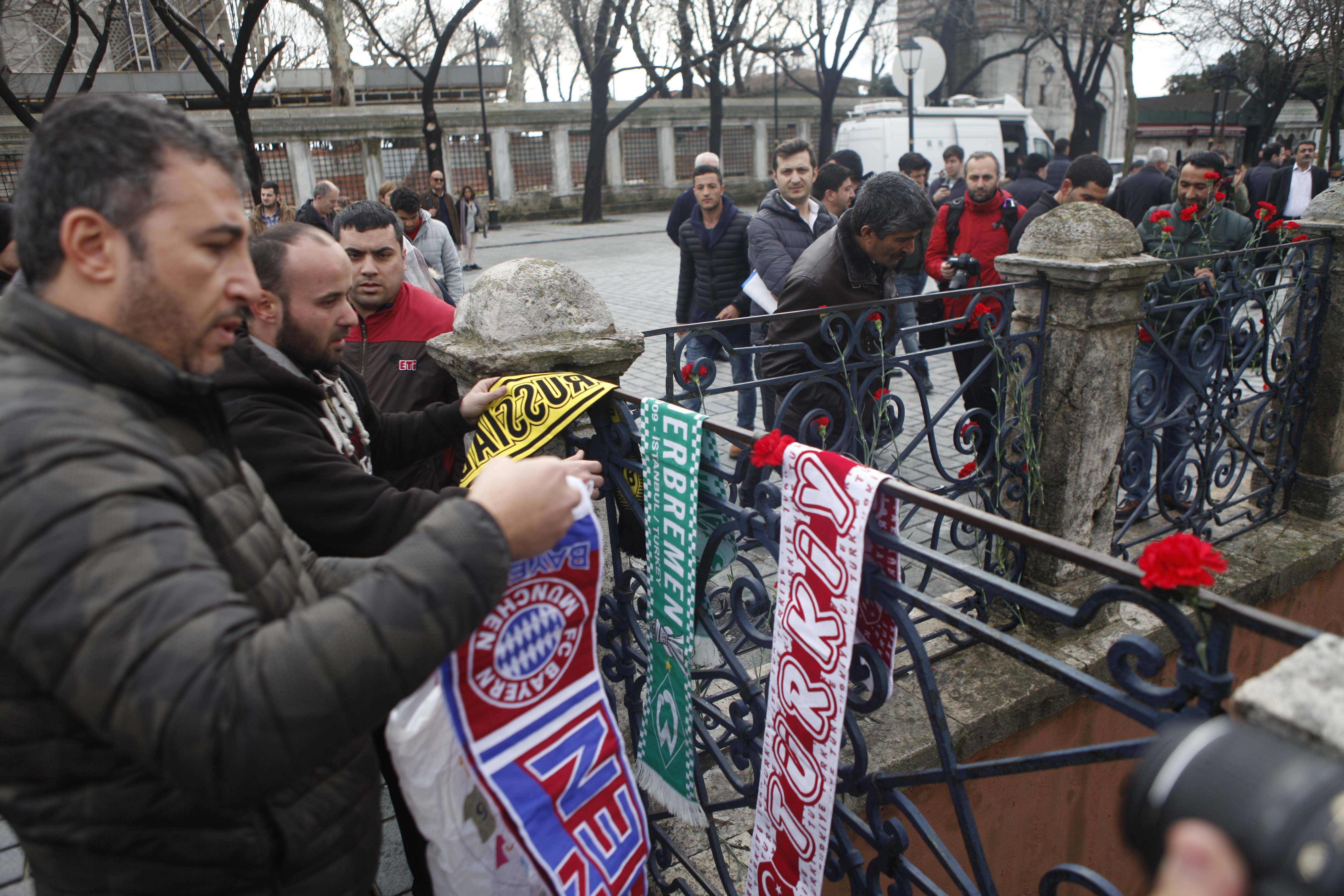 Locals tied scarfs of German football clubs over the fence of the Obelisk of Theodosius in the memory of the German nationals.

Murat Uzgen, an operations officer at Marcopolo, a tourism company operating in Sultanahmet, said the company strives to act with equanimity. Referring to similar incidents that Turkey has undergone in the past, Uzgen said Turkey would not have difficulty overcoming this attack. He stressed that the attack, which was aimed at a group of foreign tourists, will have broader repercussions abroad and suggested that the most appropriate act is to be calm in this period despite everything.
Yaşar Yavuz, the president of the Sultanahmet Tourism Professionals Association, said hotel reservations would plummet 40 percent by March, as the sector experiences stagnation during the winter. He rejected the rumors that German tourists who are scheduled to visit Turkey in March have cancelled their reservations, saying that such claims stem from the absence of early bookings, as tourists prefer to book hotels one month before their visit. Stressing that the attack will obviously have a negative impact on the tourism sector, Yavuz suggested it would be wrong to add fuel to the fire. He said security measures have been greatly tightened in the district, which is a significant detail for tourists.
The fact that German and European tourists constituted the majority among the victims of the bombing has raised questions among potential tourists and others. Tourism specialists question whether the attack was aimed at European tourists. According to Provincial Directorate of Tourism data, 1.3 million German tourists visited Turkey last year. Considering this, tourism agencies have turned their focus toward Germany following the tension between Turkey and Russia.
Although the explosion caused a short-time joggle in markets, it did not have a permanent impact. The Borsa Istanbul 100 (BIST 100) index, which stood above 71,500 points prior to the bomb attack, dropped to 70,500 points on Tuesday. However, it recovered with purchases in the second trading session and ended the day at 71,740 points, achieving a 0.97 percent rise. Also, even though the dollar reached a daily peak against the lira due to the attack, it dropped below TL 3.03.
Culture and Tourism Minister Mahir Ünal said the objective of the explosion was to spread fear. He called on tourists to come to Istanbul in safety without fearing and sacrificing their freedom to prevent terrorist acts from achieving their goals. "Turkey is your home and a country where your safety will never be in danger," he said.
Turkish Touristic Hotels and Investors Association (TUROB) President Timur Bayındır condemned the heinous attack, which targeted stability and national unity, adding that this attack certainly aimed to instigate chaos in the Islamic world and a clash of civilizations.