Toshiba shares dived to a more than 36-year low on Friday after the scandal-hit firm widened its annual loss forecast to a whopping $6.0 billion, while a strong yen dragged the Nikkei into the red.
The company's gaping shortfall was announced after markets closed on Thursday and the firm's stock plummeted more than 11 percent to 176.3 yen Friday, its lowest close since late 1979.
One of Japan's best-known firms, Toshiba -- which makes everything from rice cookers to nuclear reactors -- has taken huge charges in the wake of an embarrassing profit-padding scandal, and it also blamed the global economic slowdown for weak sales.
Bucking the downtrend, Sharp soared 10.00 percent to 176 yen as Japan's Kyodo News reported the embattled firm could announce Friday it has agreed to a bailout from Foxconn parent company Hon Hai Precision.
Sharp's volatile stock skyrocketed more than 25 percent at one stage Thursday on news that the electronics company -- which has teetered on the edge of bankruptcy for years -- was mulling rival rescue offers, including one from the Taiwan-based giant.
But the strong yen dragged the overall market lower, with Tokyo's benchmark Nikkei 225 index falling 1.32 percent, or 225.40 points, to close at 16,819.59. The broader Topix index of all first-section shares lost 1.43 percent, or 19.84 points, to 1,368.97.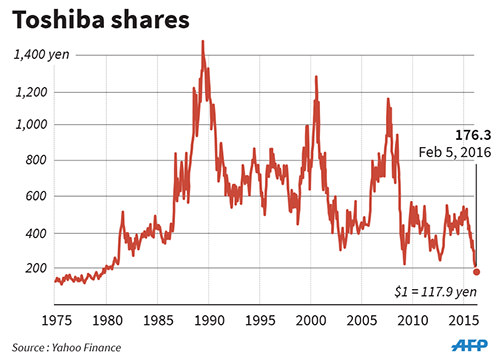 The greenback was up slightly at 116.80 yen from 116.74 yen Thursday in New York. But it is still sharply down from levels above 121 yen seen earlier in the week.
A stronger yen hurts Japanese exporters' profitability and tends to knock demand for their shares.
The yen dived last week after the Bank of Japan said it would adopt a negative interest rate policy, which stoked a brief global equities rally.
"The Bank of Japan has done what they should, but what they could do had its limits," Juichi Wako, a senior strategist at Nomura Holdings, told Bloomberg News.
"Until now, the view on the US economy was that it was recovering, but the pace wasn't as fast as hoped. Now there's some concern in the market that it may actually be contracting."
Investors will keep a close eye on US jobs figures later Friday, after a disappointing services sector report this week aggravated worries about the world's top economy.
In other Tokyo trading, Toyota dropped 1.88 percent to 6,625 yen, shortly before reporting its latest quarterly earnings after the markets closed on Friday.
Banking giant Mitsubishi UFJ finished down 3.51 percent at 538.2 yen, while Uniqlo operator Fast Retailing, a market heavyweight, shed 2.28 percent to 34,590 yen.
Japan's two biggest airlines each declined more than two percent after saying they are changing routes for some flights as North Korea plans to launch what it says will be a satellite-bearing rocket later this month.
Japan Airlines lost 2.37 percent to 4,076 yen, while rival All Nippon Airways slipped 2.81 percent to 317.7 yen.