Construction of the Yavuz Sultan Selim Bridge, which began in May 29, 2013, now unites the Asian and European sides of the Bosporus for the third time, as the last 9-meter segment was installed today. The bridge cost nearly $3 billion and is a critical section of the Northern Marmara Motorway.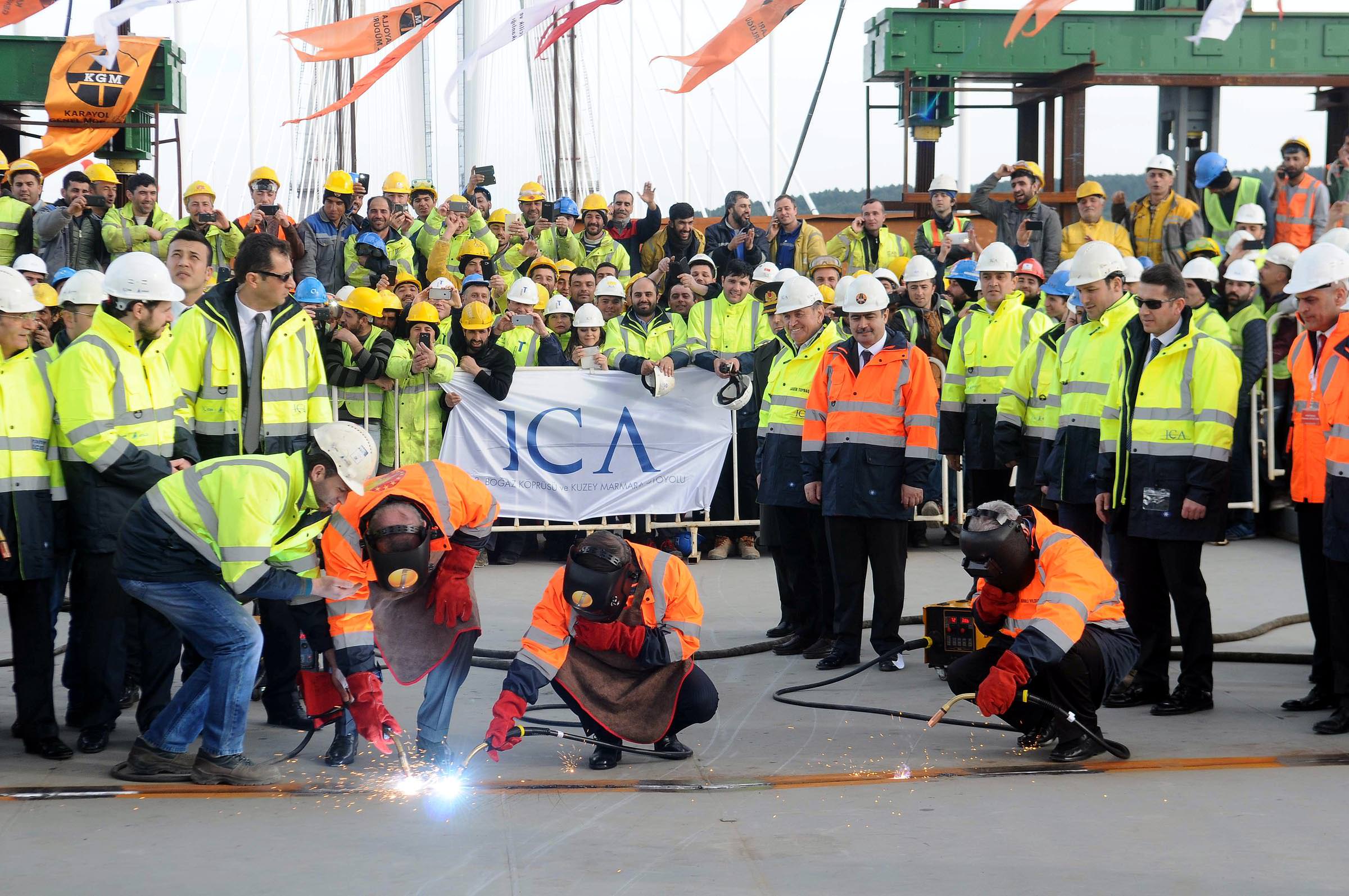 President Recep Tayyip Erdoğan, Prime Minister Ahmet Davutoğlu, Transport and Communication Manager Binali Yıldırım and Environment and Urbanism Minister Fatma Güldemet Sarı attended to the ceremony held for the installment of the last bridge deck. Erdoğan, Davutoğlu and Yıldırım made the final weld on the deck. Following the ceremony, Erdoğan drove through the bridge with his official car.
May 2015 saw the enclosure of the suspension cables, and a construction record was broken in the last month with the installation of 10 steel aprons covering a distance of 238 meters. The bridge should open in July or August, along with the surrounding highways.
The opening of the bridge was delayed several times last year due to technical complications, but in February, Prime Minister Davutoğlu pledged that the inauguration would take place this summer "barring an extraordinary situation." "About 88 percent of the project is complete, and both the bridge and the roads connected to it will hopefully be opened as soon as possible," Davutoğlu said.
Thousands of employees and engineers are working nonstop so that the bridge can become operational by August. The bridge is expected to alleviate traffic volume on the existing Bosporus bridges and will help to ensure safe traffic flow in the city.
More than 6,500 workers and engineers have worked diligently on the construction of the Yavuz Sultan Selim Bridge. The total length of the bridge is 2,164 meters. The bridge, which stretches 1,408 meters over the Bosporus, has eight lanes of highway and two lanes of railway. It will be the longest suspension bridge in the world that includes a rail system. The height of the tower in the village of Garipçe on the European side is 322 meters and the tower in the Poyrazköy district on the Asian side is 318 meters high. The bridge will have the highest abutments in the world.
The rail system crossing the bridge will run from Edirne to İzmit, will be integrated into the Marmaray and Istanbul Metro and will also connect Istanbul Atatürk International Airport, Sabiha Gökçen International Airport and the third airport, also currently under construction.