The second Global SatShow, a two-day business development platform for the world satellite market, ended yesterday at Istanbul Haliç Congress Center. On the first day of the event, Mars One CEO Bas Lansdorp noted that in centuries to come, the 21st century will be remembered for people who left the world to establish a colony on Mars.
Lansdorp delivered the keynote address at the session "Address: Colony Street, No: 2025, Mars." This session assessed how the first four-person group to be sent to Mars in 2027 would be set up, the cost of setting up a colony on Mars, and possible scenarios. The Mars One project aims to establish a human settlement on Mars; however, no human has ever gone as far as Mars. The most significant conclusion on the Mars One mission is that the crew is actually going to stay and live on Mars with the intention to remain there for the rest of their lives.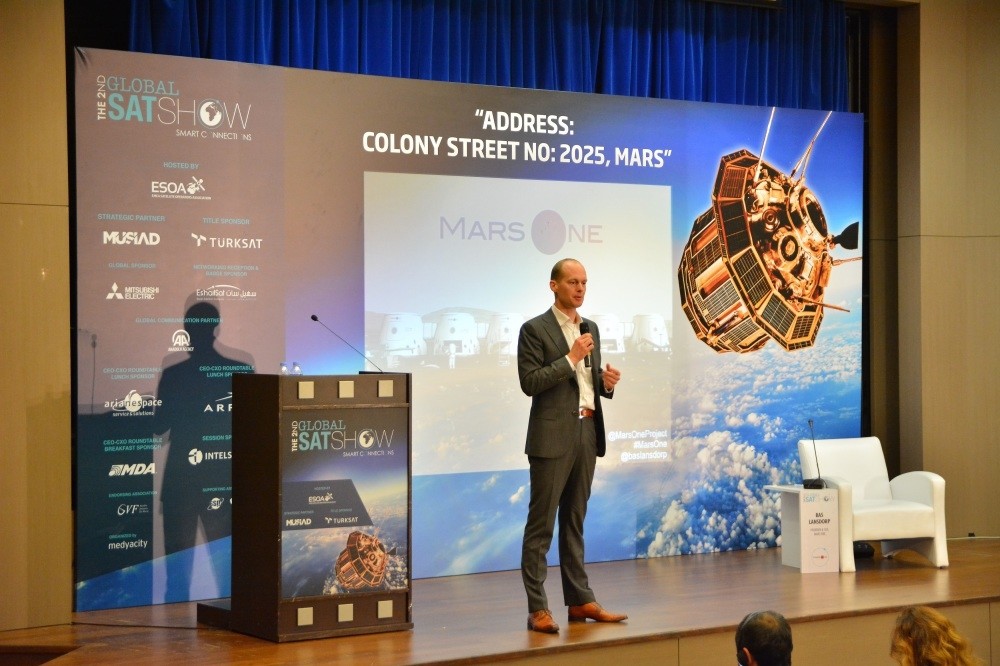 Mars One Project's CEO Bas Lansdorp delivers a speech at the 2nd Global Satshow in Istanbul.
Acknowledging that one of the most interesting stages of the project is financing, Lansdorp noted that this was one of the most asked questions all over the world. "Every kilo you send to Mars is 100 thousand euros," he said, adding, "the cost of establishing the first colony will be $6 billion." In line with this, he said that from a financial point of view, it is an undertaking that about 40 billionaires could easily meet. At this stage, we have found a partner for the sponsorship and publishing rights worth $4.5 billion." He also added they are receiving support from around 100 countries around the world. "All inventions, from producing plants with less water and less light, to energy production, will be feasible projects around the world and we will continue to finance our ongoing projects on Mars with intellectual property rights," he said.
Speaking to Daily Sabah, Lansdorp said that the first group of four people to go to Mars, to be chosen from among six groups, will learn of their departure and be chosen on the day of the mission. When asked about the training and particularly about the psychological readiness of the candidates, Lansdorp said that hundreds of selected people are to be trained in subjects such as health, engineering, plant production, et cetera, and that they themselves were trained to effectively manage these people's emotional and psychological processes.
In addition, Lansdorp said that they give huge importance to teamwork, and that they are trying to improve candidates' ability to perform as a team. In line with this, "We are testing the endurance of the candidates under the most difficult conditions. After 10 years of training in all these areas, we are aiming for these people to become fully fit for life on Mars," he said. Stating that not everyone is suitable for this mission, he said that for this program they consider the best candidate a person for whom a trip to Mars is a dream come true. Lansdorp also indicated that once the rocket engines start there is no way back, and that the people will know that they will never see their friends or family ever again.
During his speech at the session, recalling that the first project will come into being in 2020, Lansdorp said, "This will be a demo project. Solar panels will be installed and we will try to produce water there. In 2022 we will settle on the surface. We will get enough water and go into the construction phase. In 2024 life support units will go. Eventually, in 2027, the first team, knowing that they will never see the world again, will go to Mars," he said. He also indicated that the trip from earth to Mars will last around seven months.
"When we think about it, going to Mars on a one-way journey seems a bit creepy, but when we think of the people who migrated from Europe to America 100 years ago, they also went and left everything behind. Also, when we think of the correspondence by letter 100 years ago, we had to send a 20-month letter and wait 20 months for a response, and it was very likely to disappear on the road. Today, however, you can write from Mars to the world with WhatsApp. The video call can be a bit annoying because it is delayed by three minutes, but if you think about how much communication and transportation has improved in the last century, it all comes from being so scary."
Lansdorp concluded by saying that no one had taken them seriously when they decided to bring the Mars One Project to life five and a half years ago. "A few years ago, 200,000 people applied for the Mars One project on our website, which is a huge number of applications, and indicates that this could be the most popular business of all time," he said.