President Recep Tayyip Erdoğan paid an official visit to Kuwait on Tuesday with aims to strengthen ties between Turkey and Kuwait, holding official talks with Kuwaiti Emir Sheikh Sabah al-Ahmad al-Jaber al-Sabah. The two leaders focused on economic relations amid aims to boost trade and investment figures in both countries, which have followed a rising trend in recent years. The two leaders showed their determination to further develop economic ties by attending the groundbreaking ceremony at the Kuwait International Airport project, which will be undertaken by Turkey's Limak construction company, marking the largest tender ever won by a Turkish company abroad.
Addressing high-level officials from both Turkey and Kuwait on Tuesday, President Erdoğan drew attention to the necessity of maintaining close cooperation with Kuwait for the stability of the region. Speaking about the positive future of economic ties between Turkey and Kuwait, which is one of the most prosperous countries in the region, President Erdoğan urged Kuwaiti business figures to invest in Turkey.
The groundbreaking ceremony in Kuwait City was attended by various Kuwaiti ministers and investors along with Turkey's Energy Minister Berat Albayrak, Economy Minister Nihat Zeybekci and Foreign Affairs Minister Mevlüt Çavuşoğlu, as well as Ahmet Arslan, the minister for transport, maritime and communications.
Beginning his remarks by praising Kuwaiti Emir al-Sabah, Erdoğan expressed his appreciation for the country during the groundbreaking ceremony of the airport project, saying: "I believe that this project will be a new symbol of the brotherhood and friendship between Turkey and Kuwait and I am hopeful that the project will be beneficial for our region." Continuing by criticizing Syria's Assad regime for the cruelty it has shown its own people, the Turkish president praised Emir al-Sabah for his "leadership, wisdom and visionary" stance. "We [Turkey] value our dear brother, his excellency Emir Sheikh al-Sabah, for his leadership, wisdom and the visionary stance he has displayed as the leader of Kuwait. As long as such leaders exist in our region, we can strive toward the future with a much more hopeful outlook," Erdoğan added.
Emphasizing the importance of enhancing political and economic relations along with humanitarian relations with Kuwait, President Erdoğan stressed that the two countries must act in the scope of support and mutual benefit for both sides. "We aim to keep our political, economic, trade and diplomatic relations with the Gulf states, especially Kuwait, at the highest level. In efforts to maintain peace and prosperity in the region, we must enhance our cooperation and keep the channels of communication open," he said.
Stating that Turkey also aims to enhance economic ties with the Gulf Cooperation Countries (GCC), Erdoğan said: "It is crucial to note that Turkey's trade volume with council-member countries reached $17.5 billion in the year 2016. However, when we consider the potential trade volume, last year's numbers are not enough." The president went on to say, "Turkish companies have undertaken projects worth $51 billion in the region over the last 14 years." Erdoğan further noted that the free trade agreement between Turkey and the Gulf states will open "new horizons" for Turkey, inviting Kuwaiti investors to Turkey while vowing to provide the means necessary to facilitate these investments with ease.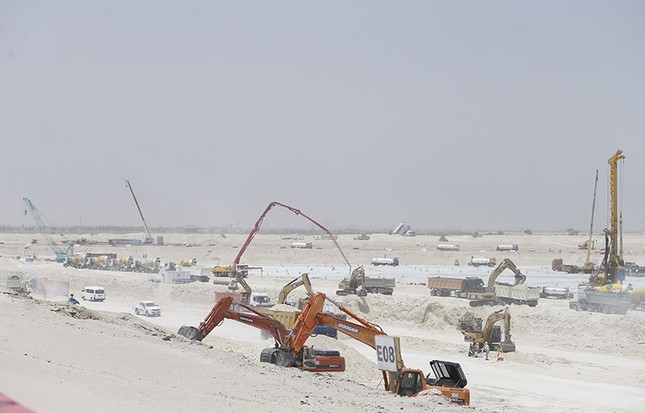 Echoing the president's remarks, Limak Holding chairman Nihat Özdemir addressed the attendees of Tuesday's groundbreaking ceremony, saying, "This project is more than a construction project. It is a link between the two countries, Kuwait and Turkey, between two economies, between two societies. As a result of this linkage, new technology is currently being introduced and transferred, new jobs are being created in Kuwait and planned local procurement in the country will be well into the hundreds of millions of dollars, all while we continue training and equipping Kuwaiti men and women for the future through various educational and empowering initiatives that we are pursuing in Kuwait today."
The new passenger terminal in Kuwait is currently being constructed by Turkey-based Limak Construction and will have the capacity to handle 25 million passengers per year while accommodating all aircraft types with 51 terminal gates. Though the project's timeline has a six-year completion date, Özdemir announced that the project will be completed in four years.
Speaking exclusively to Daily Sabah, Limak Holding vice chairman Sezai Bacaksız said the total budget for the project is being covered by the Kuwaiti government, noting that the government's support is paving the way for further projects for Turkish companies in the Gulf states: "We are honored to undertake such a great project as we believe that it will significantly contribute to strengthening economic ties between the two countries. This major airport project will be a bridge between the two countries, one that will break new ground for further technology trade and innovative cooperation," Bacaksız added.
Furthermore, the president of Kuwait's Directorate General for Civil Aviation, Sheikh Salman Sabah al-Salem al-Humoud al-Sabah, described the project as highly significant, saying, "[It] will contribute to the development of the country's economy and tourism while enhancing Kuwait's status globally by keeping up with the continuous developments of air traffic and offering investment opportunities to the private sector that guarantee financial returns to the state's treasury and create job opportunities for Kuwait's youth across a wide spectrum of specialties."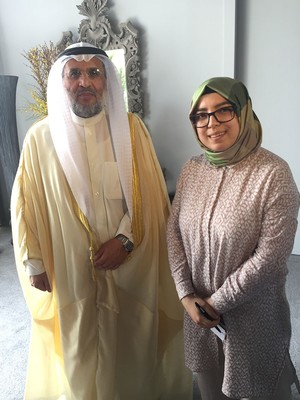 Speaking exclusively to Daily Sabah, Kuwait's Minister of Public Works Abdulrahman al-Mutawaa said, "It is important for Kuwait because as you can see, the infrastructure of the country is undergoing tremendous development and we have seen significant growth in our population while the Kuwaiti people and the movement of people coming to Kuwait continues to expand. Therefore, the current airport is insufficient and has compelled us to launch this project which is a strategic one in the context of Kuwait's future." Reiterating the points of Kuwait's 2035 goals, al-Mutawaa said the airport project is the largest project to result from efforts to attain these goals, noting: "I sincerely believe that this project will deeply contribute to relations between the two countries."