A delegation consisting of a number of Turkish brands are set to take their places at the India Retail Forum (IRF), which will be organized by the International Retail Property Market MAPIC, Sept. 19-20 in Mumbai, India. To discover the unique and significant Indian market, Turkish brands are expected to hold one-on-one meetings with investors and producers inside and outside the fair. During the two-and-a-half day long fair, Turkish retail giants are also expected to seek considerable, large-scale cooperation in India to help them understand the dynamics of the Indian market. Investments by Indian investors are also expected to be attracted to Turkey thanks to the organization.
Stating that India, with a population nearing 1.3 billion, is among the target markets of their brands, United Brands Association (BMD) head Sinan Öncel said India stood out as one of the leading countries arousing curiosity in surveys they conducted among their members as part of their abroad expansion activities.
"In line with the expectations of our members, we are organizing a trade tour to India in cooperation with our Economy Ministry and the Istanbul Apparel Exporters' Association (İHKİB). Our brands that will join the tour include AVVA, Colin's, Collezione, Dufi, Kiğılı, Damat Tween, Mavi, Tuğba and Network. During the tour from Sept. 18-22, we will have an opportunity to hold one-on-one meetings with investors and producers in Mumbai. Also, we will strive to discover the Indian market by visiting the IRF Mapic India Fair organized with the participation of 400 retailers and 100 investors. The tour will mainly focus on getting to know the market. Thanks to this organization, we might also attract Indian investors to Turkey, while opening stores in India," said Öncel.
Number of stores to reach 4,500 by 2020
Underscoring that their brands mark significant economic operations both inside and outside the country, Öncel said that some 99 BMD have more than 2,700 stores in about 110 countries.
"We aim to increase this number to 3,000 by the end of the year and 4,500 by 2020. Our brands that expand abroad develop emotional bonds with the people of the countries they embark on. Therefore, we call our brands "economic special forces" of the Turkish economy and retail sector and believe that they will achieve greater successes in the near future," he added.
15-16 pct growth expected in organized retail in 2017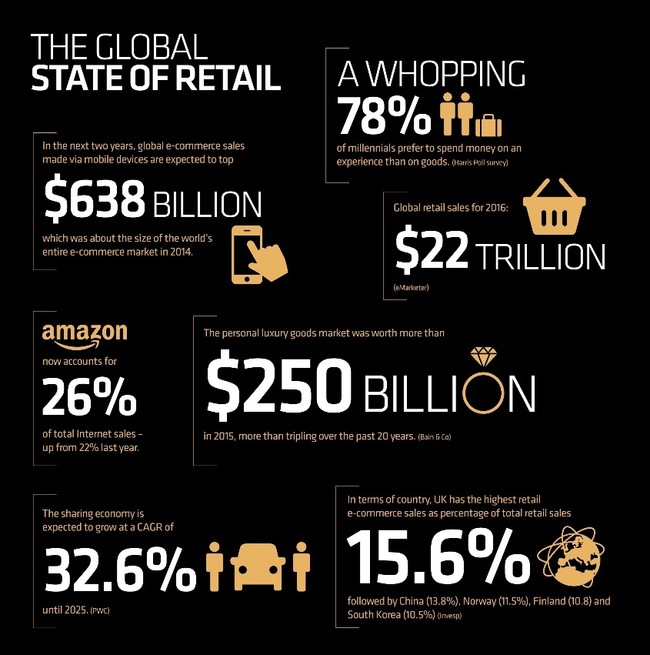 Moreover, the overall retail sector in Turkey closed 2016 with a turnover of TL 670 billion (around $ 194.95 billion). The share of organized retail in this turnover is around TL 220 billion.
Indicating that they focused on growing in a cautious way and opening more retail stores abroad during the first half of this year, Öncel said: "Over the past years, organized retail has been growing at a pace that is four times faster than overall growth in t
he Turkish economy. We expect around 15-16 percent growth this year."
He added that they endeavor to manage growth by focusing on productivity. Through this lens, he said, they prioritized closing down their unproductive stores as part of the four main agenda topics they agreed upon. "Our second priority in this scope is avoiding repeating old mistakes in future investments. Third, we concentrated on export activities to a greater extent this year. And last, we determined to focus on innovations that strengthen the brand, create a difference and have a potential to bring profits," he added.
Turkey's leading 412 brands gather under BMD
The BMD was established in September 2001 with the participation of Turkey's leading brands mostly from the ready-to-wear sector. Over the past 16 years, the BMD has diversified sectorial distribution within the association by incorporating shoe, communications, optics, furniture, home textile, cosmetics and accessory firms. The BMD currently has 412 brands under its roof. BMD member brands employ more than 400,000 people across Turkey in more than 380 malls and 70,000 street stores.
Trade tour to Mumbai, India

Indicating that they are heading to MAPIC India this year with a delegation consisting of a number of Turkish brands to examine the unique and significant Indian market, Yonca Aközer, general manager of Alkaş, a consultancy company that develops fair projects, particularly for retail and real estate sectors, said: "During our tour organized in cooperation with İHKİB and BMD, we will have meetings both inside and outside the fair. Our retail brands attending this trade tour include Avva, Colin's, Collezione, Network, Kiğılı, Damat, Tuğba Deri, Dufy and Mavi Jeans."
Aközer added that during the trade tour that will last two-and-a-half days, each Turkish brand attending the fair would introduce themselves with a 5-minute presentation. "MAPIC India is a significant fair that enjoys the participation of nearly 2,000 brands, both local and international, which helps us understand the dynamics of the Indian market," she said.
Indicating that the Alkaş company has been representing Turkey at the MAPIC Fair, an international retail estate show held in Cannes, France, for 23 years, since 2008, Aközer said that MAPIC started to enjoy growing interest as Turkish brands' ambitions to expand abroad increased.
"Master franchise firms, shopping mall investors and retailers from 70 countries attend the fair. Each year, a stand named Turkish Brands is set up in the fair in which we organize representations of our brands and b2b meetings. To take its success one step further, MAPIC Fair also conducts special works in several countries. Mapic India is one of the leading examples of this," said Aközer.
Underscoring that they will hold meetings with some large-scale and considerable corporations of India, such as Tata Group, Arvind, Shoppers Stop, Raymond and RJ Corp, during the tour, Aközer said: "We are planning to have a seminar addressing our participants on the first day of the event to help them achieve better brand positioning and understanding of the market. In this seminar, our embassy's commercial affairs office and a number of law, logistics and consulting firms will provide the audience with important clues about doing business in India. Along with the b2b meetings, seminars and presentations as part of the tour, we will also visit some leading retail streets and malls in Mumbai, including Linking Road, Lower Parel and Inorbit Mall."
She also emphasized that they have tried to organize a well-rounded trip to get to know the Indian market and take smarter steps in this respect, saying that MAPIC India portrays the dimensions of the Indian market and that they believe that they will be among the most important delegations in the fair with their Turkish brands.
"As already known, we have been setting up a stand entitled "Turkish Brands" in the MAPIC Fair for the last five years with our brands that wish to expand abroad or already have this experience. We will also be in the fair this year Nov. 15-17," said Aközer.
Led by İHKİB and BMD, the fair is to host a number of Turkish brands, including Colin's, Altınyıldız, Aymarka and Kiğılı.
She also marked that they are also planning the participation of strong brands like Damat and Avva and that the prominent concept of this year's MAPIC is Food & Beverage, saying they believe that their brands in this sector that plan to expand abroad will also attend the fair.
"We believe that the success we achieved with our ready-to-wear sector will grow with the food & beverage sector. Each year, we represent Turkey in MAPIC with around 300 Turkish businessmen. We think that we will reach the same level of attendance in the event this year with food and beverage firms and ready-to-wear and shopping mall investors," she added.
Furthermore, stating that the "Innovation" section of MAPIC, which has been organized for the last three years, showcases technology firms that offer products or services in the retail sector, Aközer said it is of utmost importance for their attending brands to visit this section. "With the new technologies showcased, conferences and professionals coming from around 70 countries, MAPIC is a significant fair enabling brands to catch up with new trends in the retail and shopping mall sectors," she added.