The Women Influence Forum (WIF), held for the first time this year, saw 30 influential women from 18 countries gather to show that women have the power to change the world for the better.
The forum was held as a side project of the World Communication Forum (WCF) held in Davos every year.
Opening with the motto "Women CAN make a difference", the event took place at the famous Ritz Hotel, where Coco Chanel lived for 35 years, in Paris on September 20.
Speaking on the platform were entrepreneurs, artists, representatives of non-governmental organizations, academicians and businesswomen aiming to inspire others to become creators, professionals, entrepreneurs, mothers, muses or citizens – just like them.
Representing Turkey, communications consultant and a member of the Board of Directors of Women Entrepreneurs' Association (KAGİDER) in Turkey Seçil Şendağ gave a speech at the session titled "Becoming a Citizen," in which she pointed out the importance of steering the business world towards social benefit-oriented strategies.
Şendağ also expressed that there are plans to make the forum an annual meeting and hold next year's one in Turkey.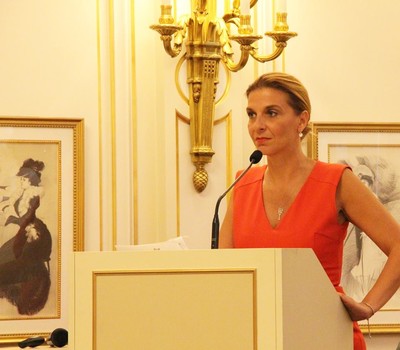 In her speech, she also gave two great examples of influential people and companies that gave back to the community and made a difference in Turkey and the world, and called on others to follow suit.
One of them was the story of Hamdi Ulukaya, founder of world famous yogurt brand Chobani, who by signing "The Giving Pledge" in 2015 devoted much of his wealth to finding a solution to the global refugee crisis and set up the Tent Foundation to mobilize the business world to help the displaced.
Chobani, Fortune magazine, which was the owner of Ulukaya in the past days, selected one of the 50 companies that changed the world. We are trying to represent this understanding of Turkey as loud Şendağ said they hoped Chobani, who was included in Fortune's companies that changed the world list, inspires small and large companies, leaders and individuals alike in Turkey.
She also touched upon the story of Chef Ebru Baybara Demir who pioneered a project for women with little or no income and refugees living in the region. Ebru, who runs a restaurant in southeastern Mardin province, became the first Turkish chef to be a finalist in the Basque Culinary World Prize.
Yanina Dubeykovskaya, founder of WIF and General Director of WCFDavos, said that the forum's inspiration came from Coco Chanel herself, and said that after coming across the French fashion designer and businesswoman's story, she discovered that there were other areas where women could also amplify this female influence and entrepreneurship.