A major Middle Eastern satellite network, Middle East Broadcasting Center (MBC), now believed to be majority-owned by Saudi Arabia, has reportedly decided on March 1 to stop airing Turkish soap operas. The news hit the wires during DISCOP Dubai, an entertainment content market and co-production forum where Turkish series producers and content sellers were also in attendance. Although MBC has provided no official statement to their Turkish partners, the license holders immediately started thinking about alternative solutions as they want to sustain their relations with viewers in the region. Many have opposed the decision on their social media accounts, saying they will continue to watch Turkish TV series.
"There is a decision to remove all Turkish drama off several TV outlets in the region," MBC spokesman Mazen Hayek told The Associated Press (AP) yesterday. "I can't confirm who took the decision."
Hayek declined to say whether the decision came from MBC's management or from outside of the broadcaster.
Ziyad Varol, the licensing and digital manager at ATV, a part of Turkey's Turkuvaz Media Group, and his team told Daily Sabah that the Turkish delegation heard of MBC's decision on the final day of the DISCOP Dubai Fair. He confirmed that MBC has not yet delivered any official statement to Turkish producers and that the decision was reportedly submitted by the Saudi royal court.
Upon hearing the decision, sector representatives in Turkey immediately started discussing alternative solutions to offer TV series to their audiences in the region. Varol said that a meeting will be held this week and the issue will be discussed at a committee meeting at the Turkish Exporters' Assembly.
"Turkish content reaches audiences no matter what – we see the numbers on YouTube and see amazing demand," Varol said, adding that loyal audiences in the Middle East somehow find a way to watch Turkish TV series.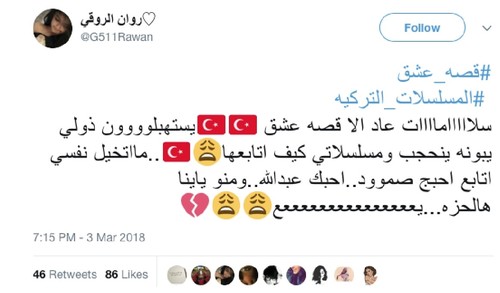 This Twitter user opposes the MBC decision asking how she's going to follow her favorite Turkish shows.
Varol said: "Apart from the commercial aspect of exporting Turkish TV series to the Middle East and broadcasting on regional channels, we want to retain our relationship with audiences and we will seek alternative ways to protect that bond."
The demand in the Middle East for Turkish contents is clear in reactions to the decision on social media. Many opposed the decision, saying that politics and entertainment should be separated and that they will continue to watch Turkish shows.
The Middle Eastern market has seen such protest decisions since Egyptian political crisis that ended in a coup in 2013, which Turkey opposed. Several Egyptian TV channels launched a boycott of Turkish dramas after Ankara's protest of the coup. Varol also said that Turkish television has experienced such protests from the United Arab Emirates (UAE) and Egypt before.
MBC made an investment in Turkey's entertainment industry and established O3 Media, a Turkish subsidiary of MBC owned O3 Production Services whose productions like "Vatanım Sensin" (Wounded Love) air on MBC channels in the UAE and elsewhere in the region. Therefore, the decision is said to create a difficult situation for O3 Media productions broadcasted in the UAE.
Dubai should refrain from political tension
In an exchange with Daily Sabah, officials in Dubai stressed Dubai's importance as an international finance and trade center that offers many opportunities for Turkish businesses and others from around the world. Highlighting the Emirate's character as a free trade zone that feeds media, trade and finance, the officials drew attention to the unique position of Dubai as an independent and separate city from political debates and conflicts.
Dubai must not get engaged in any politically strained relations because it has always protected its status as a more independent international center of business, the sources said. They also said that the decision is related to the recent change in administration at MBC.
The sources in Dubai also said that Turkish TV series greatly contribute to the promotion of Turkish culture as viewers learn Turkish and try Turkish food they see on the series.
The viewership of Turkish productions also supports Turkish tourism as Middle Eastern audiences then visit Turkish cities, particularly Istanbul, as they are the settings for the series. Real estate has also benefited from the popularity of the TV series, which have led Middle Eastern viewers to buy houses in the country.
The National, a state-aligned English-language newspaper in Abu Dhabi, first reported MBC's decision in its Monday edition.
Reports of MBC's decision came after its chairman, Waleed al-Ibrahim, was released from being detained at the Ritz Carlton hotel in Riyadh following a mass arrest in November by Saudi authorities. However, Reuters reported that Saudi authorities plan to take ownership of a majority stake in the MBC Group as they move to seize assets from those caught up in an anti-corruption probe, sources close to the matter said in early Feb. Officials plan to transfer ownership of 60 percent of the regional broadcaster while leaving the remaining 40 percent in the hands of Ibrahim, two sources told Reuters.
MBC operates in Dubai Media City, a free zone where foreign outlets have offices and face little government oversight in the UAE, a federation of seven emirates on the Arabian Peninsula. Its free-to-watch entertainment channels offer a mix of syndicated programming both local and international, as well as Hollywood films.
MBC spokesman Hayek said Ibrahim retains a 40-percent stake and has "nominal management control" of the network. Hayek said he could not confirm who holds the other 60 percent of the company.