Strikes by German public sector workers and French airline staff forced the cancellation of hundreds of flights in Europe Tuesday as unions demand better pay. Germany's biggest carrier Lufthansa was forced to cancel 800 out of 1,600 scheduled flights, including 58 long-haul flights. Yesterday's "warning strike" hit Germany's biggest airport Frankfurt as well as other regional hubs such as Munich, Cologne and Bremen. Other airports such as Hamburg, Leipzig and Hanover were hit with knock-on effects. Half of the flights at Munich were delayed or canceled according to the union Verdi, the German news agency dpa reported.
Beyond airports, local transport, kindergartens, rubbish collection and hospitals were also affected, as civil servants walked out to demand a 6.0-percent pay raise for the 2.3 million people working for Germany's federal, state and local governments.
Given the country's economic strength, "when if not now should there be significant pay increases for workers, including those in the public sector?" asked Verdi leader Frank Bsirske in an appearance at Frankfurt airport.
"We're determined to achieve this."
But the ADV airport operators' association accused unions of "lacking all proportionality", with the strike disrupting tens of thousands of journeys - 90,000 at Lufthansa alone - and costs they said would run into the millions. Travellers had plenty of notice of upsets to their plans, avoiding scenes of chaos at Frankfurt airport, but some could not avoid travelling yesterday. Sybille Metzler, who was due to travel to Amsterdam for a meeting, turned up at the hub despite warnings from the operator that her flight had been cancelled.
"I knew, but I wanted to see if I can still get there, because it won't work with the train," the 41-year-old management accountant told AFP. Some passengers who faced disruption were understanding of the walkout.
"It's fair enough. Hope they get it," said Ashley Gillham, 40, a manager in the auto sector, of the strikers' pay demands - despite having to switch to rail for part of his journey from New Zealand via Frankfurt to Mallorca.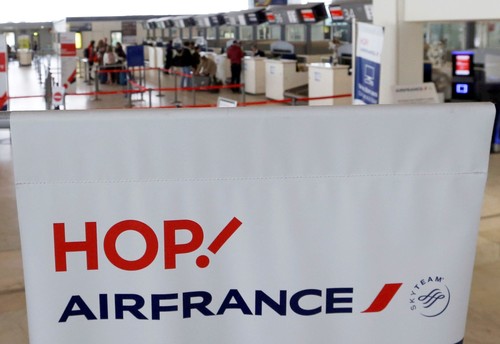 Passengers arrive at the Air France check-in at Bordeaux-Merignac airport, as Air France pilots, cabin and ground crews unions call for a strike over salaries in Merignac near Bordeaux.
In unrelated industrial action in France, air traffic was also severely disrupted as the country's biggest airline Air France was forced to cancel one in four flights, in the sixth round of strikes launched by its employees since February. Around 65 percent of long-haul flights will depart as planned, the carrier said, with higher proportions on schedule among medium- and short-haul services from Paris and other French airports, according to AFP.
The group said the strikes between February 22 and April 11 were estimated to cost the company 170 million euros ($210 million). Several Air France unions have called four further days of industrial action in April as they also seek a 6.0-percent pay raise. Managers say the company is not growing solidly enough to justify such salary boosts, which they reckon would cost 240 million euros per year. Air France's labour woes come at the same time as disruption for French state rail operator SNCF. Workers are staging repeated walkouts in protest at the French government's plan to reform the company and change the special status its employees enjoy.