Turkish startups received investments worth $18.9 million in the first quarter of 2018, market intelligence and analytics platform startups.watch has revealed.
According to startups.watch's first quarter report for 2018, around 43 percent of the investments came from foreign funds, while some 15 percent came from different institutions. With different organizations joining in, bigger investments along with seed investments picked up the pace. Investments in Insider and Foriba were the main drivers behind the upward first-quarter data.
Sector-wise, service-based software, marketing, finance and regulatory technologies drew the highest amount of investment. Tech enterprise Foriba played a leading role during this period.
In the first quarter of 2018, institutions accounted for 15 percent of early investments. Accordingly, Türk Telekom's venture capital company TT Ventures invested in Doctor Turkey. E-Vend, which focus on vending and payment systems, received investment from Macgal Otomat. Garaj Sepeti was another enterprise that received corporate investment funds from Finberg. Startups that received foreign investments in 2017 also included iyzico, Zebramo, ototrink, OtelZ, Biletall, Reengen, KolayIK, Marketyo, Orthero, Evtiko and Insider.
Different DNA
Hasan Aslanoba, the founder of Turkey's largest and most experienced angel investor, Aslanoba Capital, said "The DNAs of technology and internet enterprises are different from conventional businesses. They must have the character and ability to get organized for fast growth. Because of mobile and internet technology, everyone has become data consumer. Thanks to artificial intelligence (AI) applications are also becoming more capable. We can also see how cryptocurrency and blockchain may deeply affect not only the lives of people but also countries."
Digital Age
Aslanoba said that companies and institutions should invest more in technology enterprises in order to survive in the digital age.
"I see tech giants like Google and Amazon positioned horizontally while tech startups are positioned vertically. If you think of technology companies as brain power, traditional companies are more like muscles in a body. If traditional enterprises do not quickly adapt to transformation with venture capital funds and programs they will be left behind in the digital revolution," Aslanoba said.
Seed investments decrease
The number of seed investments fell from $6.8 million to $3.7 million in the first quarter of 2018. However, interest in advanced investments allowed the decline to be limited. In fact, the transformation of seed investments into advanced entrepreneurship can be viewed as a positive development for angel investors.
TL 80 billion invoices per month
Koray Bahar, the founder of Foriba which works on regulatory and finance technologies, said they managed almost 70 percent of the digital invoices in Turkey. He added that every month they mediate electronic invoice worth TL 80 billion ($19.53 billion).
He said that Foriba has more than 7,000 clients in Turkey, including major conglomerates and support more than 350 international companies for electronic invoices in Turkey.
"Before getting the first investment from Revo, the company had just 30 people. Back then we were targeting only major institutions. We would write codes in the morning, prepare proposals at noon and go meet customers in the afternoon," Bahar said.
"But the channel structure is something different. Venture capital fund Revo and Turkey's Turkcell experience was very important for us. We benefited much from their experience as they created a channel that could reach smaller clients online."
Human resources are changing
Expertera, which received investment worth TL 17.1 million from Etiya, is a platform that meets the flexible working needs of employees along with any talent and expertise deficit.
Stating that they were the only company in this field in Turkey, Expertera founder Alp Sezginsoy said each company may not have enough experts on each issue and the cost of having some particular expertise can be quite high.
"Expert employees also want to switch to flexible working methods. We are trying to create a platform that brings both sides together," he said.Etiya CEO Aslan Doğan highlighted that not only technology but also human resources were undergoing significant changes.
"We talk about technology, but the workforce or human resources culture is very important. We believed in Expertera's business model and teamwork. We previously created three different enterprises in Etiya. We continue to support those enterprises by completely removing them from the company," Doğan said.
"Enterprises appreciate the value of the customers most. At Etiya, the training provided through working with entrepreneurs ensures that our employees enjoy this culture, which is very valuable."
$120 million data center
İnanç Erol, the founder of NGN, which built a 45,000-square-meter data center in Turkey with an investment of $120 million, recently answered some questions about the sector in a panel.
"Building a world-class data center in Turkey was an important decision. It was also a very important process to persuade the Russian investors. We struggled for a couple of years. In the end, our partners are aware of Turkey's potential," Erol noted.
"We were able to build a data center with the help of some world-class technology companies. We want to set up business models to support technology enterprises in this regard," he added.
Eren Baydemir, the founder of Team SQL that develops solutions to make it easier to do business through the database, said that increasingly complex databases made it easier to work platform-independent.
"It is much more important now to offer choices to institutions than to products. We make it easier for each institution to access the database. So, we make it easy to do business with data," Baydemir said.
Domestic smart bike
Cycling culture is unfortunately not very common in Turkey. Cities and streets have given into cars. Bizero, a part of Türk Telekom's enterprise acceleration program, Pilot, is realizing the sharing economy that will enable the spread of the bicycle culture.
Bizero was developed by Mehmet Akıncılar, a fourth-year student at the Department of Physics at Boğaziçi University, to solve his own problem and grow a healthy culture of smart, electric bicycles for cities like Istanbul.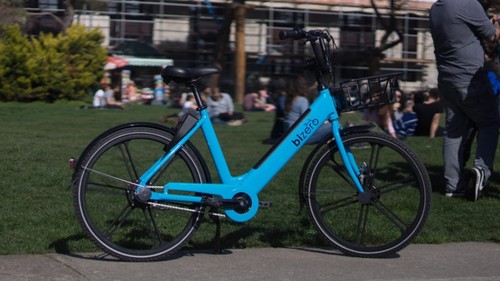 Bizero II stands out as the new model, with some outstanding features like smart GPS lock, run-flat tire, and E-ABS brakes. With these features, almost everyone can easily build bike rental services. The enterprise is supported by a number of universities, municipalities and a number of nongovernmental organizations.
After all, this program looks to improve the city life that has given to cars. It is very easy to use Bizero, which developed a GPS-based virtual station structure to prevent bikes from getting stolen. Users can rent bicycles by adding credit and debit cards in the system at stations.
Crocodile model
The fact that Sequoia Capital, one of the world's largest venture capital funds, invested in Insider is a very positive development not only for Turkey but also for all enterprises in the region.
Hande Çilingir, one of the founding partners of Insider, talked about the importance of investing in innovative technologies.
"We must continue to be innovative. We should grow fast as a startup and we will use this investment to do so. So far, we have reached 16 countries. We are now focusing on China and the U.S. So, our work is not easy. We go to every country with something we call the crocodile model," Çilingir said. "Our friend who is responsible for growth goes to the country we are looking to get into, stays in cheap motels, sets up a team, and goes to a new country by making the first sales. We are six founding partners. I would recommend it to anyone. It is nice to share responsibility. Now we will go to China and the U.S. with a similar model."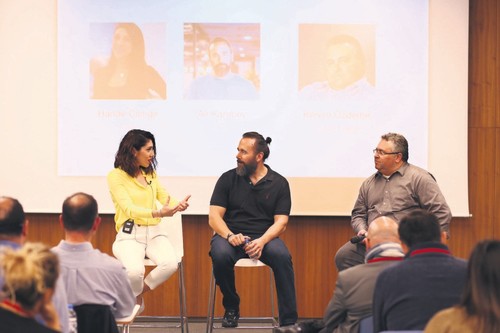 Healthy Growth
Ali Karabey, one of the 212 venture capital partners among Insider investors, pointed out the importance of healthy growth, recalling that they have invested in 12 enterprises.
"When making the investment, we look at the founding team of the enterprise, who invested before and whether it has a potential for rapid growth in the global market. You cannot always make the right decision," Karabey said.
"For example, I did not see this potential in the first interview. However, Hasan Aslanoba acted first and made the investment. There are many enterprises that go down while trying to grow fast. For us it is very important for the enterprise to show healthy growth by protecting its own culture. Insider is the most successful venture in that regard."