The International Football Economy Forum, organized by Daily Sabah's sister newspaper Sabah, in Istanbul brought together some of local and global football's leading figures on a single platform to discuss how the Turkish football league could be transformed into a global brand. Addressing the forum, the chairman of the Clubs Union Foundation and president of the Beşiktaş football club, Fikret Orman, said the football economy is growing at an incredible pace. "The aim is to make Turkey's Spor Toto Super League the country's biggest global brand," he said. He pointed out that the biggest clubs in Europe now see the Middle East and the Far East as major markets.
"We have done some work as the union. The most important thing is to increase [the league's] global brand value. As its brand value increases, it will be an incredible contribution to Turkish football. Our aim is to push forward Turkey's football, the Super League in particular, in the growing global football economy," Clubs Union Foundation Head Orman said.
Orman said when the international audience of the domestic football league expands, there will be an opportunity to bring more quality players at a more affordable price.
A broader international audience will also increase player transfers from Turkey to Europe and vice versa, Orman said.
"Just like Cenk Tosun's transfer, we will have a chance to send more of our players abroad. The revenues will increase. These are all related to the ability to reach more viewers abroad. Let me put it this way, the overseas broadcasting rights of the British Premier League is double that of the Turkish Super League's general broadcasting rights," he said.
"The union places great importance on marketing," Orman said, suggesting that more international games should be organized in Turkey.
"We could hold Turkey Cup and TFF Super Cup final matches abroad. But more advertising and promotion campaigns are needed. More communication should be established with the target markets. Investments should be made in global social media accounts," he said.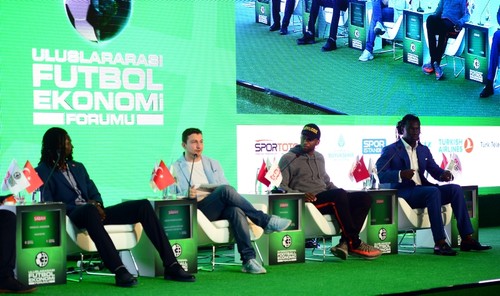 Delivering the opening speech at the event, Turkish Football Federation (TFF) Chairman Yıldırım Demirören said that football is an ever-growing industry. He added that the economic size of the European football currently stands at $14 billion, while the Turkish football has an economic value of 700 million euros.
Demirören said the TFF's budget has grown from TL 143 million ($34.23 million) a decade ago to TL 669 million. With 15 brand sponsors and suppliers, the sponsor revenues of the federation exceed TL 150 million.
The broadcasting revenues of the Turkish football league also jumped to nearly TL 2 billion, which was TL 185 million ten years ago, Demirören said.
TFF chairman also elaborated on the problems that were instigated by the growth in the industry and emphasized that the debt of the Turkish football industry has become a serious question.
"The total debt of 18 football clubs in the Turkish Super League has hit TL 7 billion while the debt of the biggest four clubs has reached TL 6 billion," he said.
He added that while the revenues stood around TL 3.3 billion the expenses were recorded at TL 4.5 billion, which corresponds to an annual loss of TL 1.2 billion. The liabilities of the clubs to foreign players stand around 924 million euros, the TFF head said. But he explained a new regulation that will impose a limit on the net debt in proportion to the clubs' revenues.
Demirören also remarked that the aim is to boost Turkish Super League's broadcasting revenues to $1 billion from its current $600 million.
The TFF's first vice president and UEFA executive committee member, Servet Yardımcı, said that Turkey's chances of hosting 2024 UEFA European Football Championship (EURO 2024) were quite high.
Noting that the federation carried out a detailed study on the host candidacy file, Yardımcı said they have done a tremendous amount of work and handed a 2,000-page bid book to UEFA last week.
"UEFA is examining the dossier right now and paying attention to the economic potential," Yardımcı said, informing that the candidacy will be voted in Nyon, Switzerland on Sept, 27.
"I think our chances of hosting EURO 2024 are high because our file is full, and we know how much we want to hold the championship," he said.
Yardımcı argued that Turkey has an advantage in candidacy since it serves as a bridge between Europe and Asia. He also said that since Turkey is the gateway to the Middle East and Africa, the championship will attract more audience and raise commercial expectation and excitement.
"The championship will be played in 10 stadiums, eight of which are ready. We will make changes some to the Atatürk Olympic Stadium, where the opening and final matches will be played if we become the host. We are planning to build a 65,000-capacity stadium in Ankara," he added.
"Turkey is Europe's sixth largest economy. The top five countries have hosted it, but we have not succeeded yet. It is our time. We are a very strong candidate against Germany. I think we will get our chance to host the championship," Yardımcı noted.
Elaborating on the financial gains of hosting the tournament, Yardımcı said $610 was spent per person, suggesting that in EURO 2024, 51 games will be played in one month, which will lead to a much bigger gain.
Pointing out that the prestige is also very important, Yardımcı said in EURO 2016 held in France, 2.5 million people watched the games, nearly 700,000 tourists followed the championship, and 2 billion euros in revenue were generated with a cost of around 600,000 to 700,000 euros. "The result is a profit of 1-1.5 million euros. I think we will have a lot more in revenue with our geographical advantages and new sponsors," he said.