With its outstanding stone mansions engraved and weaved like crochet and, the historic and multicultural southeastern province of Mardin has been a stage for film, TV series, video clips and documentaries.
Dubbed an open air museum, Mardin is home to different religions, language and culture. It has a fascinating heritage and has been a shining star of tourism in the past two years after counterterrorism operations brought security back to the historic city.
The center of eclectic mix, Mardin has become a favorite destination for producers who want to shoot movies, TV series and documentaries in the city. Harboring numerous historic sites belonging to various civilizations, the city has become a natural film stage thanks to the high demand of directors.
Mardin has been home to Sumerians, Acadians, Babylonians, Hittites, Assyrians, Urartians, Romans, Abbasids, Seljukians, the Ottomans and many others in the past and presents the heritage of 25 civilizations, making a name for itself in the movie sector.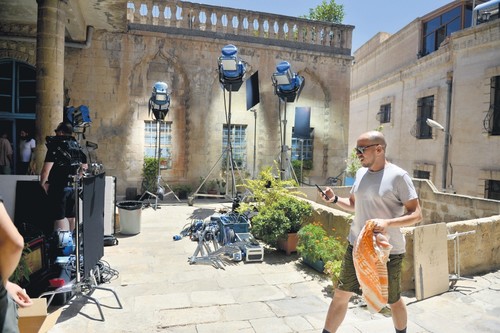 Mardin Governor Mustafa Yaman stressed that Mardin, the city of cultures and civilizations, is an inspiring city for artists.
Yaman highlighted that the city governance supports directors, artists, photographers and producers.
"Particularly in the past year, artists have shot their video clips in Mardin. National and international companies prefer the city's sites for catalogue shooting. In the past year, many TV series were shot here in Mardin and the city is again hosting movie and TV series sets," Yaman said.
Mardin Province Culture and Tourism Manager Alaaddin Aydın emphasized that Mardin has met the world of art and enjoys the interest of local and foreign producers.
Aydın stated that a great number of local and foreign producers have applied to obtain permission to shoot movies and novellas in the city.
"Mardin is a natural film stage and an unparalleled treasure for the movie industry with it unique architecture and culture. Therefore, its manors and streets attract producers. The peace brought in after the counterterrorism operations has been an important instigator for the rise in demand," Aydın said.
Mete Akkuş, the director of "Bir Dilek Tut" (Make One Wish) also said that he started shooting his film with a crew of 50 people. Pointing to the significance of Mardin's values, Akkuş said, "The city provides unbelievably good photographic scenes. Where else can we find a place that harmonizes history and various cultures?"
Akkuş said that his movie features Mardin without the limits of conventional taboos. "Anyone who sees the movie will have more willingness to see the city," he said.
Altan Erkekli, one of the actors in the movie, said the city is a unique place and a symbol of the harmonious cohabitation of different cultures, civilizations and religions. The actors and actresses of the movie believe that this unique quality of the city is what makes movies and the city valuable.
A number of high-rated TV series and films have been shot so far in Mardin. One of the most popular series shot in Mardin is private broadcaster ATV's TV series "Sıla" which tells the story of a young woman who was adopted by a wealthy urban family in Istanbul from her biological parents in Mardin.
Sıla was first broadcast in 2008 and has so far been exported to 97 countries, including the U.S., Afghanistan, Argentina, the United Arab Emirates, Cuba, Croatia, Bosnia-Herzegovina, Latvia, Venezuela and Mexico.
Another high-rated ATV TV series that was shot in 2005 in Mardin is "Aşka Sürgün" (Love in Exile). It portrays a family of eastern origins living in the west and their journey of self-discovery with two people forced to marry to fulfill their destiny. The series has so far been broadcast in Central Asian countries, the Balkans and Middle Eastern countries.
"Bir Bulut Olsam" (Beyond the Clouds), which aired on a Turkish TV channels in 2009, was shot in a historic Assyrian mansion and attracted widespread international attention. It told the story of a young woman who was married to her cousin who failed to win her love.
In an academic survey, İsmail Kervankıran and Mustafa Çuhadar analyzed the impacts of movies and TV series on the regional economy and people. The people surveyed as part of the research stated the contribution of movies and TV series helped in the promotion of Mardin province and the development of tourism in the city.