The third-quarter numbers of the Turkish enterprise ecosystem were announced at a Startups.watch event organized at Kolektifhouse Maslak 42. According to this data, which encompassed July, August and September of this year, e-commerce initiatives took the lion's share with 28 investment agreements. While investment agreements totaling $14 million were made in the Turkish enterprise ecosystem in three months, the total number reached $43 million in the first nine months of the year. Three venture and venture-fund companies that participated in the event had a chance to share their experiences. Apart from e-commerce, other investment agreements were formed through service, retail, restaurant and food sector initiatives.
21 early-stage investments ın 2018
In the first nine months of the year, a total of 65 initiatives managed to sign enterprise agreements, 21 of which were early-stage investments. Some 18 percent of the early-stage investments were made by institutions. While 2017 left other years behind in terms of investment amounts and numbers, the rate of institutions saw an increase in 2018. Growth Circuit and Gamer's Qube attracted quite a bit of attention with investment agreements in the pre-seed stage for some share-based investments. While Growth Circuit made pre-seed stage investments in seven initiatives with $25,000 for each, Gamer's Qube, which follows the game initiatives closely, preferred to invest $70,000 in two initiatives respectively. When the announced investment agreements are analyzed, the initiative numbers are found to have increased, even if the amount of investment per initiative decreased.
Turkey stıll in second league for ınvestment
The interest of countries in the enterprise ecosystem in Turkey continues to increase. It is expected that Turkey will increase its competitive power. Even if the $14 million in investments made in Turkey push it ahead of Austria, Czech Republic and Greece in European rankings, we are still behind Iceland. That is, Turkey is not in the position it deserves in proportion to its population and economy. The state and institutes should take bolder steps in terms of investments in technology initiatives. The increase in the number of initiatives that receive investments in their later stages on top of the early stages would boost the sector even further.
Investors, entrepreneurs share their experiences
At the Startups.watch third quarter event, three initiatives with investment agreements in that period and investors came together. The initiatives, sharing their own experiences, and investors presented clues about the working style that facilitates their agreements. The Fazla Gıda initiative, which puts the idea of a sharing economy and the internalization of saving concept received an investment from Ömer Akarca. Highlighting that the passion, accumulation and beliefs of entrepreneurs are as important as the ideas for the initiatives, Akarca implied that the entrepreneur's role grows even further after the investment agreement. Akarca continued: "I invest, listening to my inner voice. Surely, I also pay attention to the work plans and other values."
Investing in the Recontact initiative, which brings together art and games, Hande Enes said she was impressed by the initiative, which initially did not invite her to the investment tour. "Not only entrepreneurs but also investors should learn new things from initiatives. I continue to learn something from every one of them," Enes said.
Lastly, the founder of the Mutlubiev initiative, Tayga Baltacıoğlu, and his investor Collective Spark's Atıl Erken discussed the results of their investment agreement. Implying that the quickly changing lifestyle in cities enhanced the market for Mutlubiev, Baltacıoğlu noted that everyone has started to buy online as the traditional neighborhood relationships start to fade. Erken also remarked that they believed in the team, which plans to expand globally, and their ideas from the beginning.
E-commerce global competition area
There are some strong local competitors to Alibaba and Amazon. We talked with Barbaros Özbugutu, the founder of Iyzico, and Hepsiburada Sales Development Manager Ziya Kızıltan, who were at the e-commerce panel of Startups.watch. Telling that more small and medium-sized enterprises (SME) have been involved in e-commerce in the last 16 years, Kızıltan stated: "We saw that more SMEs started to sell abroad, getting involved in the game. The users overcame their trust issues. The local players were the ones who make the market in Turkey attractive for global players."
Reporting that all the substructures for the country's safe payment systems were developed in Turkey, Özbugutu indicated that the initial perception of users has changed over time. He continued: "When we started, users were afraid of being scammed during shopping. The enterprises, as I can describe as SMEs, focused on online sales. They are trying to use social media effectively nowadays. We closely follow the new experiences of users in line with the common evaluation of the team, not with the issues managers face. We are focusing on the safe shopping experience at this stage, becoming invisible."
Enterprises on stage at Startups.watch
Four enterprises in the gaming, imaging, education and health fields from four different acceleration programs presented at the Startups.watch event, explaining their enterprises to investors, journalists and other entrepreneurs in four-minute presentations.
Platform brings gamers together: The number of game initiatives is increasing, which is why new initiatives need to be extraordinarily talented. Playz, the pilot initiative of Türk Telekom's enterprise acceleration program, is an initiative that has caught the attention of game lovers and gamers alike. With its interactive meeting platform that brings players and game lovers together, Playz allows gamers to share their own content by socializing and finding gamer friends through interactions with influencers by following their videos.
An app for medical advice: Doktorderki, which takes place at Workup, the enterprise acceleration program of İş Bank, is a mobile application initiative where you can ask doctors questions. It makes it possible for shy, scared or busy people to ask a doctor basic medical questions quickly and anonymously. For doctors, the platform also means patients are able to ask honest and well thought out questions. The biggest motivation of Doktorderki is to prevent misinformation on the internet. The process is simple: Choose a doctor and start asking questions.
All screens become touch screens: After using our smartphones for the majority of our online interactions, touch screens are generally the preferred technology of most users. Wollox, the Turkcell Arı Kovanı initiative, is a solution which will turn every screen into a touch screen. The platform, which also features special solutions for education, guides students through an interactive board.
Learn while entertaining: While companies are preparing for a transformation, efforts should continuously be made for the education of workers. Graduating from Garaj, the Albarakatürk enterprise acceleration program Inooster, which also includes gamification scenarios, presents new-generation solutions to companies. It is software that presents performance and loyalty solutions that help companies reach their targets, increasing the motivation and productivity of workers with gamification.
Domestic smart fabric gets more efficient
Enterprises are looking for solutions to improve their efficiency. With their new smart gloves WIO, Thread in Motion - a domestic smart fabric producer - aims to increase the workforce efficiency of blue-collar employees. Following the launch of the world's first smart suit, Thread in Motion has introduced its first smart glove to the world. WIO, which offers the utmost ergonomic capacity to its users, helps factory workers become faster and more efficient by monitoring movements. Thread in Motion, which received an investment of $350,000 from StartersHub, Turkey's leading technology investor, Reisoğlu İplik and angel investor Ebru Dorman, will bring this new technology to the global market. The company opened offices in London and San Francisco in 2018 and will continue to grow by opening new offices around the world.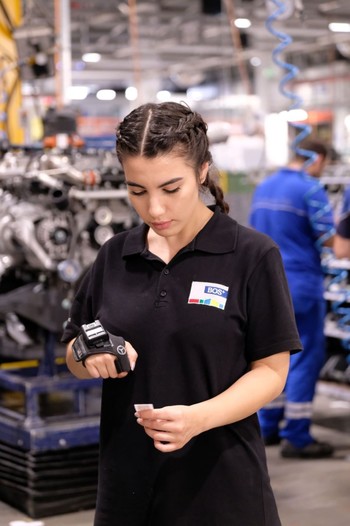 After gaining momentum in growth in the past year, Thread in Motion has been the first choice of many global producers in the industry. The company, which offers supplies to Mercedes-Benz, Renault, Tofaş, and Bridgestone-Lassa, owes its growth to being a leading force in the transition to Industry 4.0 and a strong R&D department. The company also helps other businesses to become more efficient by supplying them with products and technological solutions.
Kadir Demircioğlu, the co-founder of Thread in Motion, underlined the fact that WIO was developed by Turkish engineers as the world's first smart glove. Stating that the gloves have 32 sensors, Demircioğlu said they work without wires thanks to transmitting threads.