The second phase of Turkey's first fully automated subway system became operational Sunday on the Asian side of Istanbul with an opening ceremony attended by President Recep Tayyip Erdoğan and Istanbul Metropolitan Mayor Mevlüt Uysal.
With the addition of the Üsküdar-Çekmeköy subway line, the total length of lines in Istanbul has currently reached 170 kilometers and there are currently 169 stops, President Erdoğan said in the inaugural ceremony.
During the 11 months since the first line Üsküdar-Yamanevler started operating in December 2017, a total of 15 million passengers have been served.
The total length of the Üsküdar-Çekmeköy line is 20 kilometers long and has 16 stops, the president noted and it will take 27 minutes to reach Çekmeköy from Üsküdar.
Erdoğan stressed that construction of new metro lines with a length of 294 kilometers at 18 different locations continue. Next year, a metro line between Mecidiyeköy and Mahmutbey will be opened. The length of rail systems in Istanbul will reach 355 kilometers and when all the projects are finished it will exceed 1,000 kilometers.
As part of Turkey's 2023 vision which entails the accomplishment of mega projects, the government's aim is to put a 1,023-kilometer subway network in Istanbul, hence Istanbul will have a transportation system that is not attached to the city's heavy traffic.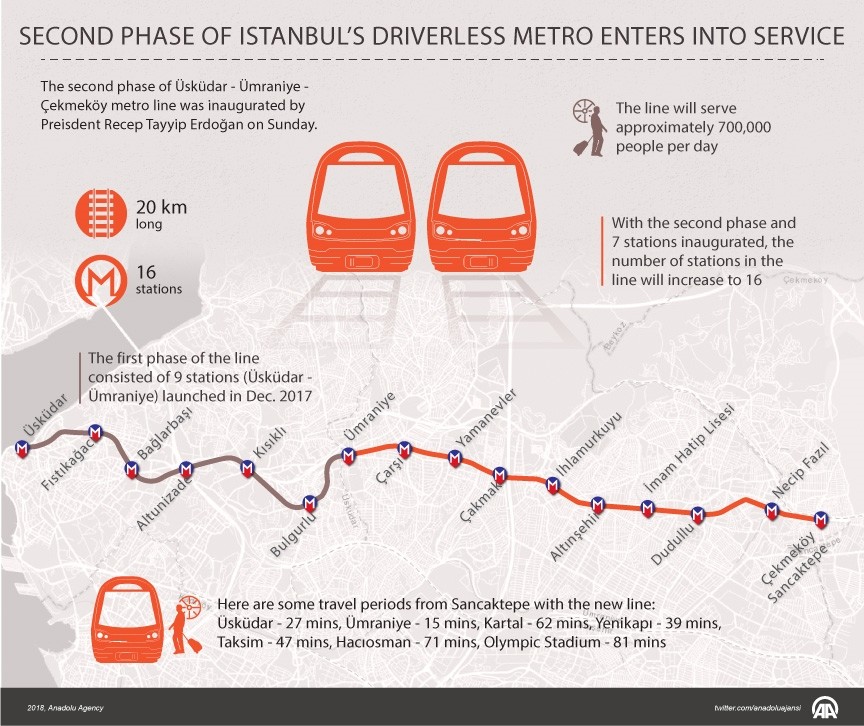 The Üsküdar-Çekmeköy line has twin tunnels and 2.7 kilometer-long connecting tunnel and two trains with six cars each. The subway line has a capacity to serve 65,000 passengers one way per hour.

According to estimates, a total of 15,424 vehicles will no longer be in traffic with this new line and the aim is to reduce carbon emissions annually by 77,246 tons.
The Üsküdar-Ümraniye-Çekmeköy-Sancaktepe metro line will be connected to other public transportation routes in the city. The line, integrated to the Marmaray, an intercontinental undersea subway that connects the Asian and European parts of the city, offers transportation facilities in connection with the Yenikapı-Hacıosman and other metro lines and the Metrobüs system (Rapid Bus Transit) in Altunizade.
In addition, the line will be integrated with both the Dudullu-Bostancı and Ümraniye-Ataşehir-Göztepe metro lines when they are completed. It will also serve in connection with the Çekmeköy-Sancaktepe-Sultanbeyli metro line which will come into service soon.
The 10.5-kilometer line, the first phase of which extends from Üsküdar to Yamanevler, opened in December 2015 and consists of nine stations. While the first section consists of Üsküdar, Fıstıkağacı, Bağlarbaşı, Altunizade, Kısıklı, Bulgurlu, Ümraniye, Çarşı and Yamanevler stations, the second phase includes seven stations. The 9.5-kilometer second phase is made up of the Çakmak, Ihlamurkuyu, Altınşehir, İmam Hatip Lisesi, Dudullu, Necip Fazıl and Çekmeköy stations.
All smart systems, which are considered to be an important step in the smart city concept, will be united in a center in the metro route and the transportation network will be integrated within itself. Thanks to this system, travel time will be reduced, passenger build-up will be prevented and waiting periods will decrease. Singapore, Barcelona, Copenhagen, Dubai, New York, Rome and Istanbul are the only cities in the world with self-driving metro lines.