With the rise of the Taliban and the civil war in Afghanistan,Abbas Mohammadi fled from his homeland Mazar-i-Sharif in 1998 with his family and crossed the Iranian border. At the age of 15, he settled in Mashhad. Following six years of training in filmmaking, Mohammadi made his first movie, "Anne" (Mother), portraying an Afghan woman's drama and the Soviet-Afghan War. Mohammadi's passion for cinema has continued since then.
Suffering from financial troubles, he came to Turkey with his six children two years ago. They rented a house in Trabzon's Erdoğdu neighborhood. One-and-a half years before, he started to shoot his second film "Sessiz Gözyaşları" (Silent Tears), which depicts Afghan refugees who first attempted to escape to Iran and then Europe along with the brutal face of human traffickers. Mohammadi, who is the producer, scriptwriter and actor of his second film, received great support from Afghan refugees in Trabzon and his family.
Muhammet Gül, the President of the Culture and Solidarity Foundation of Afghan Hazaras, undertook the task of gaining the necessary permission and bureaucratic requirements to shoot the film. The cast features 100 Afghan refugees. Mohammadi used only one camera while making his film. His cameraman and editor was his 20-year-old son Rouhollah, the lighting director was his wife Habibe, 35. Mohammadi's small daughter Freşte, six, was among the cast. His wife and other two daughters prepared meals for the film cast. Set in various places around Trabzon, the film was shot over a period of 18 months.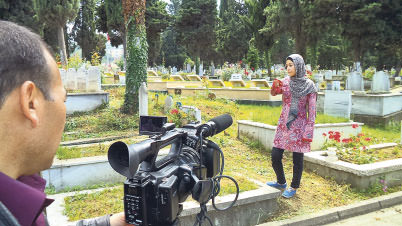 Mohammadi said that the film depicts Afghan refugees who have resorted to fleeing abroad from Afghanistan in the last 20 years. "We tried to show the tragedy of Afghan refugees who left their homes and their suffering on their journey, along with the ill-treatment they suffer at the hands of human traffickers and the stories of those who fell into the hands of international organ mafias and lost their organs when they did not give money to them," Mohammadi said. He said that the film depicts the general problems of Afghan families who had no choice but be a refugee. "I wanted to show their sufferings in a movie. I warn the Afghan people and ask them to think twice about leaving their home to go abroad and especially Europe. The film draws attention to possible problems on the road and the risk of falling into the trap of human traffickers," he said. Mohammadi said it took six months to write the film script and the shooting took a year. "The name of the film is inspired by the silent cries of refugees. On their dangerous journey, they hide their tears from other people," he said. "There is no professional actor in the cast. They are all refugees and I made the film with the support of my family and other refugees in Trabzon. Afghan refugees are considered as second or third-class citizens. Among them, there are orphans," he went on to say.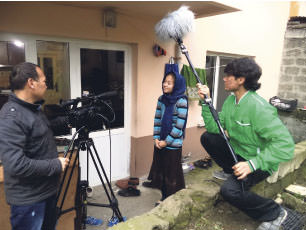 He said he did not receive any financial support and shot the film with his own efforts. "This is because it took a long time. I had only one camera and needed to capture a film scene from five or six different angles. It was a long process," he said. Mohammadi described human trafficking not as specific problem for Turkey but for the whole world. "Today, Afghans who want to go to Iran have to pay $2,000 first and then pay another $2,000 or $3,000 to get to Turkey. If they want to go Italy or Greece from Turkey, they pay a similar amount," he said. Mohammadi said most of them encounter undesirable incidents, while many die due to illness or lose their fingers on their journey. "They experience a real-life tragedy. What they suffer can be the subject of many other films. My film only shows Afghan refugees' journey to Turkey. I would like to make a second film that will portray the journey from Turkey to Europe. However, I need a significant budget. If I receive any financial support, I can tell their life story to others," he said. For him, the biggest problem is that human traffickers fool people into believing in a bright future in Europe or other countries. "They promise Afghan people a better life with better conditions, but the result is generally disappointment. This is what I say with this film. I advise them not to leave their home," he said. He expressed his gratitude to Turkish people and said that Turkey is the second homeland of Afghans and Hazaras. "There are numerous Afghans and Hazaras in Turkey. They continue their lives here as if they were in their homeland. Turkey tries to help everyone. They embraced Syrian refugees. We are all grateful for what Turkey and the Turkish authorities offered us," he concluded.