The duty of an actress is to bring to life a convincing character that we can relate to. The timid woman with a boisterous laugh, the brave woman that cried herself to sleep or the sassy woman that must wear her conservative clothes at work and suppress her inner wildness... Legendary Turkish actress Türkan Şoray brings to life the voice we silence with our daily routines. She puts a face to the spirit that is harbored in every woman who must wear a uniform along with her mask and play her role for society to function, and brings it to the big screen.
DİLA HANIM
Directed by Orhan Aksoy, this film was produced in 1977 with Türkan Şoray playing the lead role as "Dila Hanım" and Kadir İnanir as the supporting actor who plays the unfortunate role of "Karadağlı Rıza," the murderer.
This masterpiece is about Dila Hanım, who is the powerful wife of the village landlord who is obliged to restore her husband's honor by seeking revenge from his murderer, pursuing an eye for an eye. The young and graceful woman, who is bound to her husband only through the bonds of marriage, unknowingly falls in love with Karadağlı Rıza.
She wages a war, not only to restore justice and fulfill the laws of the land and village, but an internal war that is harder to conquer. She represents every woman that is battling with herself and every woman who is torn between what she is required to do versus her own unfulfilled desire. She depicts promises that are sworn and the sacrifices that are made to fulfill them. Şoray magnifies the conflict we live within ourselves without ever verbalizing her distress. Her pain roars in her silence. Perhaps representing the core of where her strength is derived.
Dila Hanım must choose her fate. Will she protect her husband's title and take revenge on her husband's killer, or will she die in the arms of the man she has fallen in love with? Dila Hanım's choice is one that is the ultimate sacrifice, a sacrifice that finally gives voice to her silence. She chooses her own death and with it vehemently states that she will no longer succumb to the forces that drive her to do anything more than what she wishes to do, wishing to opt out of the game.
SELVİ BOYLUM AL YAZMALIM
Kyrgyz writer, Cengiz Aytmatov's novel, which has been translated to many languages, was a first of its kind in Turkish cinema in the year 1977. In an era where all stories ended with a happily ever after, Aytmatov challenged this understanding and brought it new meaning. Once again, the leading lady is Şoray, who plays "Asya," with none other than İnanır as "İlyas" by her side.
Living in a remote village, oblivious not just to her own beauty but also to the world around her, we are introduced to an uneducated Asya, who is coached to fear men. An innocent little girl peers through the eyes of a beautiful woman until she meets İlyas. İlyas bursts into her life and Asya says: "I held his warm hand. It was as though I was holding his heart..." She surrenders herself to the warm and tender hand she calls love. We witness her lose her innocence as she is forced to face the brutality of deception with a child in her arms. By the end, there is no trace of the Asya we are initially introduced to. In her place is an exhausted mother who must face the callous act of betrayal. She meets Cemşit, who for years cares for the mother and child with tenderness. One day, out of the blue, Asya's son Samet refers to Cemşit as "dad," an abrupt act, which becomes a turning point for the devoted mother. She reaches a new level of awareness and chooses to prioritize her son's feelings over her own, saying: "Samet called him dad. He has chosen Cemşit as his father," and with that surrenders once again to her son's feelings. Şoray shows the ultimate sacrifice a woman often makes for the ones they love. Years pass and Asya's path once again crosses with İlyas's. Torn between her desire and loyalty to the promise she has made, Asya must choose either to be happy or make another happy. As far as fairy-tale happy endings go, we expect Asya to run in slow motion through a field of daisies, with the wind blowing through her hair and the sun shining on her delicate skin into the arms of the father of her son and love of her life, but this is a happy ending of an unorthodox kind. Asya asks herself once again what love is, and with wisdom replies: "Love is protection, a warm and friendly hand. Love is goodness, it is effort," and she makes a selfless choice with a heightened level of awareness.
Director Aytmatov introduces the brutal truth in Turkish cinema with this movie. He brings the truth. He focuses on the fundamentals of a relationship, trust and protection, and Türkan Şoray through the character of Asya plays the role on behalf of all women who make the ultimate sacrifice in the name of love.
SULTAN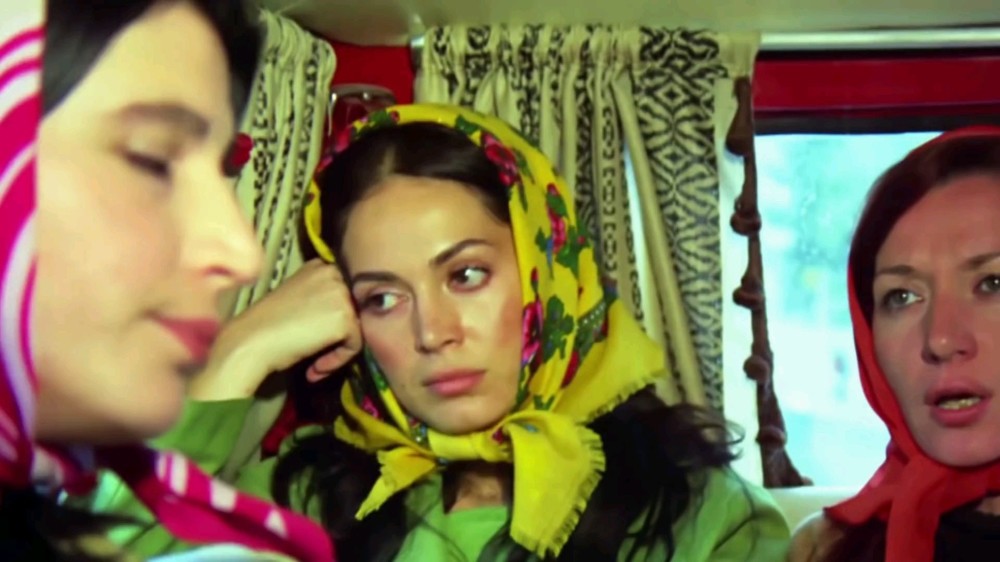 In "Sultan" Şoray plays a single mother with four children, living in the slums of Istanbul in the 1970s- a woman vulnerable to those who want to take advantage of her.
The film was directed by Kartal Tibet in 1978 starring Şoray and Bulut Aras. Şoray plays the character "Sultan," who epitomizes the fierce tiger that is buried in all of us. She is the voice that demands us to defend ourselves in the face of adversity. The voice that encourages us to punch that person in the face, the voice we often silence. Sultan however, allows this voice to dictate her actions, but in reality her actions are nothing more than a defense mechanism for her pain. She protects the soft and vulnerable parts of who she is by showing a hard exterior.
A single mother with four kids, residing in the slums of Istanbul in the 1970s, she is shown as a woman vulnerable to those who want to take advantage of her. Regardless of how tough Sultan seems, she falls weak to the charming ways of Kemal, whose only goal is to take advantage of her. The sensitive woman that Sultan often silences surfaces and believes in Kemal, only to pay the ultimate price with his betrayal. The woman that was synonymous for fighting with anyone that crossed her path is now in a battle with herself. Şoray, in her role as Sultan, clearly displays that the hardest fight is the one fought with oneself.
Şoray shines light on the many roles women play in society such as the ladylike Leyla, street tramp Naciye, a woman dedicated to her children, Döndü, the armed Laz Gülü and many more. Şoray presents the array of characters that woman play, she shows that women are truly capable of a multitude of tasks and the reasons why men are somewhat confused. Women cannot be characterized or boxed into a single type of style simply because they are female.