For a mother named Rosa and her physically disabled son Alfonso, life in the swamplands of La Cienaga Grande on the edge of the Atlantic Ocean is anything but picturesque. Comforted by only a small mirror and the unannounced visits of his beautiful childhood friend Giselle, the bed-ridden Alfonzo, who suffers from a degenerative muscular disease and is kept alive by a machine, relies on the sporadic visits of the girl he loves to experience some semblance of a real life.
Directed by Carlos del Castillo and written by the film's lead actor Manolo Cruz, "La Ciénega: Entre el Mar y la Tierra" (Between Land and Sea) takes the audience on an unforgettable journey that is as joyful as it is heart shattering.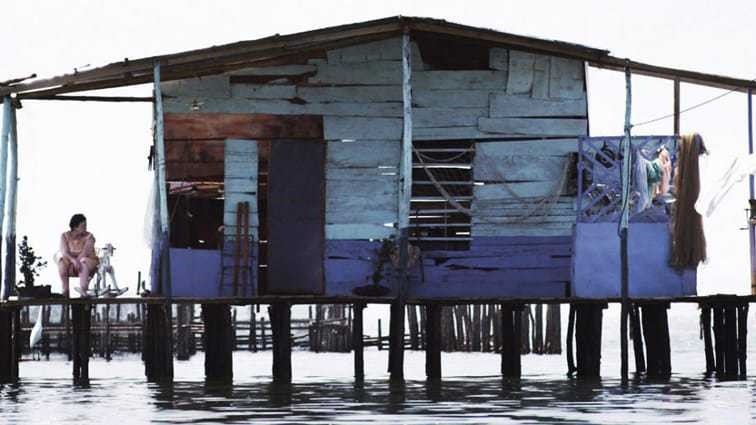 Alfonzo's burden is lightened only by his art, creating unique drawings that his mother hangs on the walls, all depicting the images conjured up in Alfonzo's mind of life on the outside which is slipping by him. While his dauntless mother Rosa struggles to support her son, she makes a living by fishing in the swamplands that surround their wooden shack. Burdened also by persistent heat and humidity, mother and son are only motivated by their love for each other, which keeps them going. Alfonzo's life is depicted as a rose-colored prison, in which he sits quietly while his mother showers him with pure love and affection and he waits for the beautiful Giselle to stop by his house and make his day. The two women are the center of his life and the light inside his prison.
After the debut screening of the film at the Migros Shopping Mall under the scope of the festival, the film's two leading actresses Vicky Hernandez and Viviana Serna participated in a panel, answering questions from audience members and reporters who were still grappling with the emotional impact of the film they had just seen. Giving inspiring and heartfelt answers at the panel, the veteran actress Hernandez and her young and equally talented co-star Serna said they were very pleased and honored for being a part of the festival, adding that they loved Antalya very much.
As a veteran actress who has spent nearly 50 years of her life in the industry, Hernandez said it is her moral duty to help young people and that she loves working with young actors in order to convey her experiences to them while contributing her talent to the Colombian film industry.
Fellow lead actress Serna echoed the sentiments of her costar saying that she wanted to work with Hernandez so much that she immediately accepted the role despite the low budget, saying: "When you love a script, you just go for it."
Panel participants expressed to Hernandez her exquisite portrayal of Rosa, asking the actress if anyone in her family has a disability. She stressed that her portrayal of Rosa came straight from her heart, noting that she is a woman and the mother of two children. "We have an ancestral memory. Women are the backbone of a family. Men tend to fight and kill whereas women have the survival instinct. Life is sustained by the strength, character and work of women," she said.
Regarding the challenges she faced in playing the role, Hernandez said: "Acting is the way I express my understanding of life. In this film, I helped Manolo Cruz write the final dialogues for the final script, so I know the character well, I know how she felt and how she acted in the story." She pointed out that in the world of acting, the most important point is to understand your character and make that character come to life. Noting that she had undergone back surgery prior to filming, Hernandez said that her condition did not stop her from accepting her role, saying that it was all worth it despite the occasional back pain she experienced while filming a challenging scene in which she carried her son to a beach with a handmade wheelchair. "You can put what is in your mind and body into your work. You can turn everything into an opportunity while acting," she said.
Actress Viviana Serna, who stars as Alfonzo's beautiful childhood friend Giselle, said the film's storyline was a difficult and painful topic to address but said that it was crucial for them as actors and actresses to work with the locals who participated in the filming, learning about their life experiences firsthand. When asked how she would feel to have a friend like Alfonzo in real life, Viviana said: "It would be hard and painful. I do not know if she loved him as a brother or as a lover. We wanted to leave that for the audience to decide. These were two childhood friends. She just wanted to be a part of his life."
Regarding the same question, Hernandez said that out of either curiosity, habit or pure trust, Alfonzo and Giselle grew up together like twins and for this reason Giselle did not want anything bad to happen to him, adding that "Their love was beyond physical attraction."
When asked what motivated them emotionally for the filming, Hernandez said she was inspired by the poems of Nazım Hikmet; especially those he wrote about his time in prison. Hernandez said: "I found Nazım Hikmet's works in the 1970s in which he writes about pain and freedom." Emphasizing that his poetry motivated her portrayal of Rosa, she said: "Because I have acted for many years, I have learned that the most important thing is to learn about everything that surrounds you: Smells, foods, senses, everything is internalized in a bank inside me for me to use later. You know the story and the character and being true to your role is the main priority. Now I am here in Antalya with you. Maybe this experience will become my source of inspiration for my next project," the actress concluded.
Recalling that they previously went on a tour around the world from New York to South Korea, the actresses said they were very surprised when they saw grown men crying their eyes out at the end of the film; especially in South Korea. "I was amazed by the fact that a local Colombian story could have such a profound effect on people living far removed from the culture," Viviana said.
Stressing that a majority of scenes were single takes with no repetition at all, Hernandez said the shooting of the last scene was problematic because there was no dialogue. "It was like ping-pong play. Our eyes were enough to make the scene come to life," Hernandez said.