"Scrabble," the movie fictionalized by award-winning director Merve Gezen on women's issues in Turkey, features four women whose lives are as socially and economically different as their fates and tragic ends.
Successful actresses Janset Paçal, Defne Halman, Kadriye Kenter and Özge Erdem star in Merve Gezen's new film, in which child actors such as Asyak Akınhay and Cemre Naz Derin also perform. Merve Gezen won the Atlas Award with her previous movie "Nerdesin Aşkım?" (Where Are You My Love?), the Human Rights Award at the Boston Film Festival and Best Foreign Short Film at the Canada International Film Festival.
The movie depicts four different women including a board executive, a countrywoman, a high school student and a prostitute, who share their stories with each other.
"A total of 1,135 women were killed in Turkey between 2010 and 2015. In the first 10 months of 2015, 26 women were murdered by men, 112 were raped, 157 were forced into prostitution, 319 were wounded and 79 women were harassed. Thirty-eight percent of women are exposed to violence and 36 women were killed in January alone. They have something in common: their fates. The majority of them are just young women who aren't even 35," Gezen said.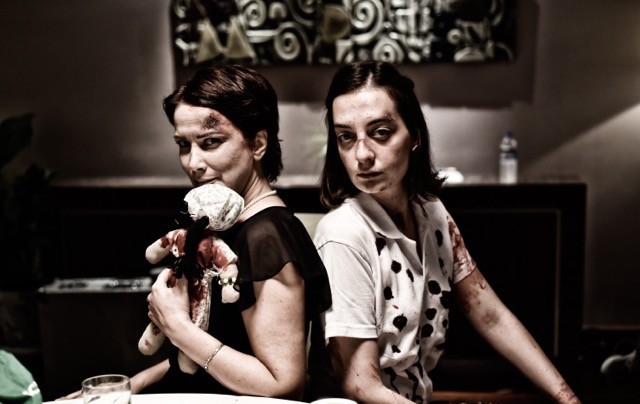 "I wanted to bring the tragedy of women, who have been killed or exposed to violence, into light in my movie 'Scrabble.' During the period in which I wrote the script, I composed lengthy news stories and articles about murdered women, the reasons why they were killed, how they were killed, and the place where the murders take place, and their ages or their family demographics of the last five years. Therefore, we can say that the script was written and inspired by real events. However, what exactly triggered me to write it was the atrocious murder of 19-year-old university student Özge Can Aslan in February 2015, who was killed on her way home," Gezen added.
In the movie, while four women and two children eat snacks, they mock their own fates that are based on terrible experiences and the social pressure they face in a tragicomic way by playing a word game. However, they have actually carried the burden of those words that they use in the word game. "As a woman, I believe femicide can be stopped only with good education policy and deterrent laws," Gezen said.
One of the actresses of the movie, Janset Paçal, said we should keep our hopes alive despite the problems we face: "We may not be the part of a solution but we still continue to talk and demonstrate, making our voices heard. It is not possible to expect a bright and hopeful future by ignoring women's happiness, hope and pride as they are the ones who are expected to shape the future and life itself," she said.
About Merve Gezen
Gezen completed her acting studies at the Paris National Superior Conservatory and studied theater and cinema at Paris Sorbonne University. She has performed in various theaters and shot her first short film "The Conversations of Loo" in 2011. Her second short film "Where Are You My Love?" won the Human Rights Award at the Boston Atlas Film Festival, the Award of Excellence for Foreign Film at the Canada International Film Festival and was selected as one of the Best 10 Newcomer Films in Australia's Color Tape Film Festival. "Scrabble" was filmed in June 2016.