Becoming one of the pioneering events in its field, the Akbank Short Film Festival, initiated with the aim of building a platform for short films in Turkey with the awareness of their effective role in the art of cinema, is being held for the 13th time from March 13 to March 23.
The festival offers a 10-day program with a wide range of workshops, interviews and competitions which will welcome both local and international guests. The festival aims to support short films in the scriptwriting stage with its newest addition "FORUM" and organize trainings for project development.
Applied by a total of 1,055 films from 52 countries, the 13th Akbank Short Film Festival consists of "Festival Shorts," "World Shorts," "Shorts to Feature," "Experiences," "Documentary Cinema," "Perspective," "Special Screening" and "Forum" sections.
At the festival, a total of 101 films from 37 countries, including many films that competed in the world's leading film festivals such as Cannes, Berlin, and Venice will be presented to audiences.
This year the festival focuses on films by Abbas Kiarostami, who passed away last year. While the famous director's documentary "10 on Ten" will be screened during the festival, there will also be talks on cinema.
One of Kiarostami's closest friends, director Seifollah Samadian will be the guest of the "Documentary" section. Samadian will meet with participants during the master class with "76 Minutes and 15 Seconds with Abbas Kiarostami," a documentary about the legendary filmmaker.
In addition, "Once Upon a Time in Marrakech" will also be screened in the "Documentary" section.
The "Experiences" section will feature Turkish director Aslı Özge's multi-award-winning film "Köprüdekiler" (Those on the Bridge) and her latest film "Ansızın" (All of a Sudden) along with a talk with the director on her experiences.
Additionally, this section will also host Krakow Film Festival director Krzysztof Gierat with a discussion on the international film festivals.
The festival's "Short to Feature" section will present "Dayım" (My Uncle), directed by Tayfun Pirselimoğlu and screened during the Venice Film Festival as well as his first feature film "Hiçbiryerde" (Innowhereland).
The "Special Screening" section, which will showcase films from the Balkan countries, will be hosting two directors this year, Istvan Kovacs and Andrei Gruzsniczki.
A few of the films to be shown at the festival are as follows:
Beyoğlu Cinema
Serhat and Yunus are street children who collect and sell empty bottles. One day, they see a poster of the movie "Ice Age" while they were passing by the Beyoğlu Cinema. Serhat admires the movie poster. He cannot sleep that night as he dreams about it until morning. The next day, he goes to see the movie poster again and begins to look for a way to see the movie.
Zemheri (Coldest Time in Winter)
"Zemheri" is the story of a woman who portrays a character away from the mainstream roles of a "ghassal," meaning someone who washes dead bodies. The film reflects on an unhappy marriage and not having any kids, resulting in a divorce.
Our Friend, The Moon
Hadji is a disabled young Hindu man who lives a humble life close to the Ganges River. After losing everything he has, which is very little, he is accepted as a disciple by a strange spiritual leader of Russian origin. This alliance will lead them to some bizarre episodes that will have consequences, through a synchronous series of incidents, in other parts of the West.
Ayny, My Second Eye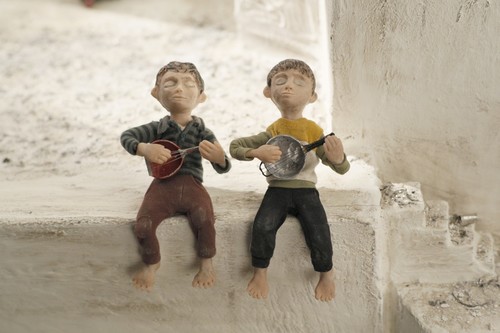 A cruel war has taken the home of two brothers. Their mother protects them and tries to foster the seeds of their new lives but the boys chase their dream to play a musicalinstrument they've fallen in love with.
Fata Morgana
A middle-aged couple from China arrives in the United States for the first time to organize the funeral of their only daughter. While dealing with the logisticsof the funeral and their overwhelming grief, they begin to recognize the fractures in their relationship and the uncertain future that lies ahead of them.
Apacheta
Chopo, an urban man, searches for a legacy buried under his old family ranch in the mountains. He builds "apachetas" as a reminder of what he looks for. Cut off from modern life, he finds a comfortable routine that is about to end when he gets what he sought.
"Schwerelos" (Weightless)
Originating in the Parisian suburbs, Parkour is a "kinetic" art form that involves jumping walls and other obstacles in urban environments. It also evokes the feeling of weightlessness inherent to big cities, which is gradually disappearing. "Schwerelos" follows a group of Parkour "tracers" from Vienna and slam artist Fatima Moumouni, who writes poems about the city and young people's attitude to life.
"El Ultimo Bus" (The Last Bus)
A girl misses the last bus back home. In the street, a man tries to steal her bag and during the struggle he stabs her. Angela is wounded in an alley, hidden behind some garbage cans, just 2 meters from a busy street as she discovers her only companion is the man who stabbed her.
A Man Returned


Reda is 26 years old. His dreams of escaping the Palestinian refugee camp of Ain El-Helweh ended in failure after three years trapped in Greece. He returns to life in a camp as a heroin addict. Against all odds, he decides to marry his childhood sweetheart.
Wintry Spring
Nour, a schoolgirl that lives with her father, goes through a crisis when puberty arrives unexpectedly. She is unable to communicate with her father creating tension between them, as he does not understand the changes that are occurring in her life.
Mostly Waiting
Three men from Zimbabwe go to Cape Town, South Africa in search of work and a better life, spending their days on the side of a street, hoping for a job. The film offers insight to what it is like to be a homeless refugee living on the streets of an afro-phobic country and the dreams that men have for their futures.
Tata
The film depicts the story of a single father, Marko, in the backdrop of the late 1990s in Belgrade, who struggles to survive in the post-war economic crisis. His main goal is to secure his daughter Azra's future and to buy her a dress for prom, the most important day of her young life. After several unsuccessful attempts to earn honest money, Marko is forced to admit to a devil's deal in order to make the ultimate sacrifice for Azra.