Only a few months ago, South Korean Director Bong Joon-Ho was on a government blacklist. Now, his big-budget movie "Okja" is being talked up as a contender for the Cannes Film Festival's prestigious top prize.
The mild-mannered filmmaker - whom Quentin Tarantino once compared to "Steven Spielberg in his prime" - was secretly targeted by the now ousted South Korean President Park Geun-hye, the daughter of a dictator.
Under her rule, authorities had blacklisted nearly 10,000 artists and writers who expressed "left-wing thoughts" - meaning those who criticized Park or her policies.
"It was a nightmarish few years that left many South Korean artists deeply traumatized," Bong told AFP.
"Many are still reeling from the trauma," said the director, whose $50-million Netflix feature about a little country girl who tries to save a genetically engineered beast from a greedy multinational company premiered Friday.
The blacklist was aimed at starving the artists of state subsidies, artists including Bong and Park Chan-Wook, whose erotic thriller "The Handmaiden" became an international hit after it premiered at Cannes last year.
Former President Park was impeached in March after a massive corruption scandal left millions protesting in the streets. She is now in custody awaiting trial for abuse of power, including her involvement with the blacklist.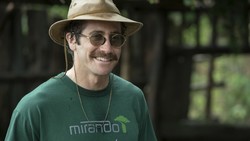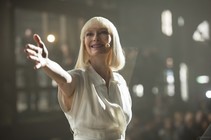 Jake Gyllenhaal (l) and Tilda Swinton took part in Bong's new film "Okja."
Bong, 47, made a name for himself with a series of satirical films based on South Korean society, including the crime-thriller "Memories of Murder" that portrays the country's repressive social atmosphere under army rule during the 1980s.
Hit with 'The Host'
Bong's 2006 monster blockbuster "The Host" portrays an incompetent government left helpless in the wake of a disaster. Eight years later, parallels were drawn between the film and the Sewol ferry disaster that killed 300 people, mostly schoolchildren.
After the nation watched the ship slowly sink on live television, the South Korean government of former President Park came under fire for its botched rescue efforts, with Bong among those who backed an inquiry.
"[It was] such a big, heartbreaking tragedy and a massively traumatizing experience for so many South Koreans, myself included," said a bespectacled sociology graduate.
Many artists who joined the call for an inquiry were included on the blacklist, with some placed under secret state surveillance.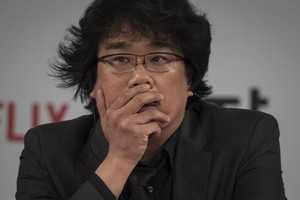 Bong said his prominence helped him secure private backing regardless of the list but others were not so lucky.
Park's former minister of culture ordered bulk ticket purchases for screenings of the Sewol documentary "Diving Bell" in a bid to prevent the public from seeing it.
Cinema Dal, the movie's distributor, had all of its state funding requests denied, pushing it to the brink of collapse, and its employees had their phones tapped.
Freedom of speech
Even Asia's biggest movie event, the Busan International Film Festival (BIFF), was hit with an unprecedented cut in state funding and a flurry of official probes into its organizers after the festival screened "Diving Bell" in 2014.
"Everyone in the film industry knew for years that something was gravely wrong. ...but we couldn't put a name on it back then," said Bong, the head of the Directors' Guild of South Korea.
"We finally came to know exactly why only a few months ago," he asserted.
Bong directed his first Hollywood film, "Snowpiercer," in 2012 starring Tilda Swinton and Chris Evans.
The success of the sci-fi story, seen as a metaphor for unhinged capitalism and inequality, led to "Okja," which
stars Swinton and Lily Collins.
The highly anticipated action-adventure is one of five South Korean films being screened at Cannes this year.
"It is essentially a love story between an animal and a little girl, but also looks at how our lives are inevitably shaped under the capitalist system, whether you are a human or an animal," Bong said.
This will be his first time competing at the festival after several other appearances.
"Okja is my sixth movie, but the moment you show your film to the whole world for the first time is always so unnerving," he said, adding that he was feeling "nervous, thrilled and a bit relieved" to have finished the high-profile project.
He is also relieved that last week's election of left-leaning former human rights lawyer Moon Jae-In could draw attention to the country's political turmoil.
The greater freedom of speech that South Korea has enjoyed since 1992 - when the country first elected a president without a military background - has been credited with helping to transform what was once an army-ruled backwater into a cultural powerhouse. This transformation has led to its vibrant entertainment industry taking Asia by storm.
"I believe the future will be brighter with the restoration of the freedom of expression," Bong said.