One of the most prestigious film festivals in Turkey, the 24th Adana Film Festival held an award ceremony last Saturday for various categories including National Feature Film, International Feature Film, Short Film and Student Film.
The festival, which began on Sept. 25, hosted film lovers who show keen interest in film, offering a rich, satisfactory line-up thanks to the efforts of the festival team.
Turkish movie buffs from various cities across the country traveled to Adana, where they had the chance to see many films that have already earned awards at international film festivals and are now premiering in Adana.
However, the award ceremony managed to let the audience down with the failure of the presenters, actress Meltem Cumbul and writer Ayşe Arman. Starting from the beginning of the night, these well-known female presenters seemed unprepared for what they had to announce. It looked like they had been recruited at the last minute.
They made many errors while presenting the awards and announcing the names of the films' directors, actors and actresses. They had no idea who directed one of the films that won an award, and they even failed to announce the award winners in the right order at one point.
In one incident, the presenter Meltem Cumbul wrongly announced the accomplished Russian director Andrey Zvyagintsev, whose surname she could not even pronounce correctly, for the wrong film, instead of for his film "Loveless."
The winner of the Best International Feature Film, Zvyagintsev had to wait for another director who came to collect his award before him. That director, whose name was hard to keep track of because the presenters did not even know his name, had to explain that he was not Zvyagintsev. He reacted kindly and thanked the organizers and the municipality.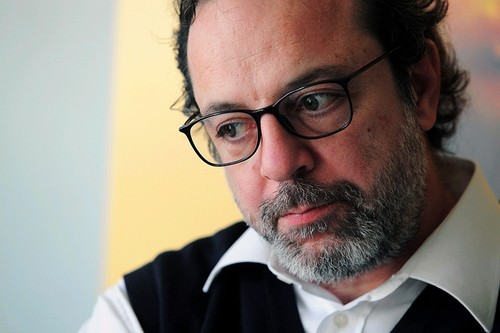 Embarrassingly however, Meltem Cumbul could not understand his words, translating them as "this gentleman who represents the director gives his greetings."
Many people in the audience could not detect the error because it was in English. However, as a journalist who cares very much about these types of international events, I was deeply saddened and ashamed on behalf of the presenters. Myself, along with every Turkish citizen, has the right to expect such a respectable festival to be presented by someone who can, at least, properly understand and speak English.
Unfortunately, that was not the worst part. Accomplished Turkish director Semih Kaplanoğlu, who won a Golden Bear award at the Berlin Film Festival for his film "Honey," is now acknowledged for his film "Grain."
In addition to his successful productions that have been screened at various festivals in Turkey and abroad, his film "Grain" was deemed eligible for the awards of Best Music and Best Art Director.
When he walked up onstage as the director of the film, Meltem Cumbul did not shake his hand and instead turned away from him. This behavior was not only inappropriate but it was also nowhere near the level of professional ethics for a presenter and an actress.
Kaplanoğlu tweeted about the incident, "After the rudeness directed to me at the Adana [film festival], thanks to the art lovers and friends who supported us."
Her improper gesture was met with heavy reactions from the public. Cumbul did not apologize and instead took it one step further. She released a statement yesterday morning saying, "I refuse to shake hands, which is a ritual of greeting and intimacy between equals, with those who marginalize people that are not like them or those who use the power of the rich against the poor, who side with the powerful and humiliate the weak. My eyes and hands cannot be friendly to those who are enemies of my heart and love."
Since then, the public has demanded further explanation as to why she associated such poor traits with Kaplanoğlu, who is a respected director and honorable man, whose name has never been mentioned in terms of any injustice or misconduct.
If Cumbul bases her allegations on his ideological or religious stance, where is the principle of respect for people's beliefs and political opinions? Her allegations undermine the principle of respecting the political inclinations and beliefs of people, which is unacceptable in terms of common sense.
This unpleasant incident shows once again that people of marginal political inclinations and actions can pose a threat to arts and artistic events that address the whole nation.
An executive from the Pink Organization Company, İsmail Timuçin, has told Daily Sabah that Cumbul's behavior was solely personal, adding that they could not imagine that she would behave like that. He noted that she was chosen because of her reputation as a widely known actress, even though her actions were non-professional.