Mike Downey, the artistic director of the 54th Antalya Film Festival, which will be held from Oct. 21 to Oct. 27 this year with films from around the world, announced the 13 films that will appear in the official festival selection on Thursday. With 13 films from around the wold in the official selection of the festival, 10 films will compete for awards. There are six full-length films directed by women in the selection.
"Never Leave Me," by Aida Begic will be the opening film of the official selection and the festival will close with "Loving Vincent," directed by Dorota Kobiela and Hugh Welchman.
The festival promises to bring a wide range of cinema with dramas, comedies and creative documentaries produced by famous moviemakers who deal with current issues with their own cinematic approaches.
Turkish-Bosnian co-production "Never Leave Me," which was all shot in Turkey, is among the new films that will appear on the festival screen. The film tells the story of Syrian orphan boys who try to escape their traumatic past in Turkey's Şanlıurfa province and search for the meaning of their lives. It bears the signature of one of the most respectable female directors in the world, Bosnian director Aida Begic. As a film that will bring an original and genuine perspective to the global immigration crisis, "Never Leave Me" will open the Antalya Film Festival on Oct. 21, and define the agenda of this year's festival. Another of Begic's films, "Children of Sarajevo," was nominated as Bosnia-Herzegovina's Best Foreign Language Film in the 85th Academy Awards and was deemed worthy of a Special Distinction Award at Un Certain Regard section of the Cannes Film Festival.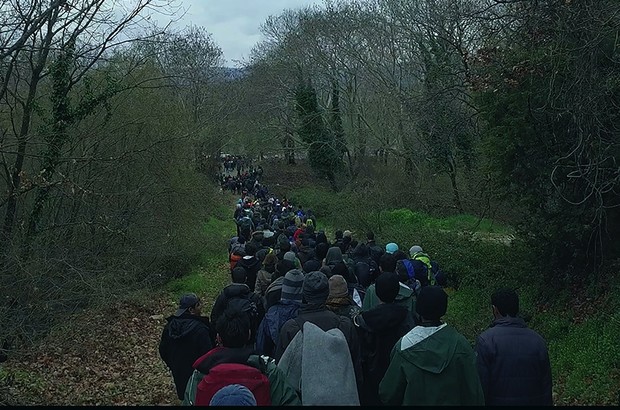 Image from Ai Wei Wei's "Human Flow"
Other films of the selection are Un Certain Regard's Special Distinction Award-winning "April's Daughter" by Mexican director Michel Franco, which tells of the relationship between a young girl and her mother who has not seen her for a long time and enters her life only to find out her daughter was pregnant when 17; "Redoubtable" by Academy Award-winning French director Michel Haznavicius, which tells the relationship between Jean-Luc Godard and young actress Anne Wiazemsky; the first Turkish-Jordanian co-production "The Guest" by Turkish director Andaç Haznedaroğlu, which tells the story of a Syrian woman escaping a city devastated during the war; Un Certain Regard-winning "A Man of Integrity" by Iranian director Mohammad Rasoulof, which is based on the themes of corruption and injustice; "The Florida Project" by American director Sean Baker, which tells the story of a 6 year old set over one summer and made by Baker after his award-winning film "Tangerine;" "Human Flow" by Ai Weiwei, which deals with the global immigration crisis; "Angels Wear White" by Chinese director Vivian Qu, which is about two female students who are attacked by a middle-aged man in a hotel; "Radiance" by Naomi Kawase, which won the Ecumenical Jury Prize at the 2017 Cannes Film Festival and tells the story of a photographer who is losing his vision; "Scary Mother" by Georgian director Ana Urushadze, which is about a woman who has to make a choice between family life and her passion to write; and "Ugly Duckling" by Ender Özkahraman, which is a family drama about a woman who tries to change her appearance.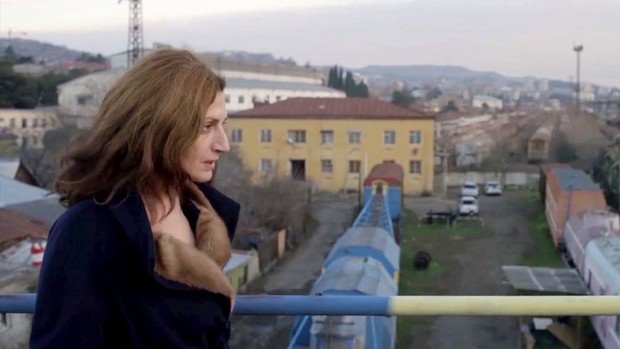 A still from the film "Scary Mother"
Finnish director Aki Kaurismaki's comedy-drama "The Other Side of Hope," which looks at the refugee crisis from the eyes of a restaurant owner and former traveling salesman, and won a Silver Bear at the 2017 Berlin Film Festival, will be screened out of the contest. The festival, which will last for seven days will end on Oct. 27 with "Loving Vincent," an animation film directed by Dorota Kobiela and Hugh Welchman and tells the life and mysterious death of post-impressionist Dutch painter Vincent van Gogh. The film won the Audience Award at this year's Annecy Film Festival.
Over 30 films will be shown at five locations in Antalya during the festival that will host panels, meetings and whose cinema-training programs are expected to attract a record audience.
HIGHLIGHTS OF THE SELECTION
Never Leave Me
"Never Leave Me" is a story about pain, the search for meaning in life and friendship among orphan kids. Three Syrian boys named Isa, Ahmed and Muataz, lead a difficult life as refugees in the Turkish city of Şanlıurfa. Trying to recover from their traumatic past, the three children will cross the path from destructiveness and hostility to meaningfulness and love. By finding friendships in each other, the boys will find their inner peace.
April's Daughter
Valeria, who lives in Puerto Vallarta with her half-sister, Clara gets pregnant at 17. Even though she does not want to see her long-absent mother, April, to find out about her pregnancy, she decides to call her mother due to the economic problems and the overwhelming responsibility of having a baby in the house. April enters her daughters' life again but we soon understand why Valeria had wanted her to stay away.
The Guest
The first Turkish-Jordanian co-production film, "The Guest" received support from the Culture and Tourism Ministry like "Never Leave Me." An 8-year-old girl, Lena, who lost her family in a war, wends her way with her little sister and their neighbor Meryem and other immigrants.
The Florida Project
Set over one summer, the story follows precocious 6-year-old Moonee as she courts mischief and adventure with her playmates and bonds with her rebellious but caring mother and her life passing in the shadows of Disney World.
Human Flow
Ai Weiwei is a brave artist who responds to all sorts of oppression and cruelty in the most caring, passionate and creative ways. As the most famous international artist of China, Ai is one of the leading figures who has a critical point of view for current international issues. In "Human Flow," Weiwei explores the global refugee crisis. After its world premiere at the Venice Film Festival, North American premiere at the Telluride Film Festival and gala at the Toronto Film Festival, "Human Flow's" next destination is Antalya.
Angels Wear White
Two schoolgirls are assaulted by a middle-aged man in a hotel in a small seaside town. Mia, a teenager who was working on reception that night, is the only witness. For fear of losing her job, she says nothing. Meanwhile, one of the victims, 12-year-old Wen finds out that her troubles have only just begun. Trapped in an unsafe world, Mia and Wen will have to find their own way out.
The Other Side of Hope
A poker-playing restaurant owner and former traveling salesman become friends with a group of refugees who newly arrived to Finland.
Scary Mother
Manana is a 50-year-old housewife who has to make a choice between her family life and her passion to write, which she had repressed for years. Manana, who decides to follow her passion and plunges herself into writing, sacrifices herself to it mentally and physically.