Secret Superstar
Written and directed by Advait Chandan, "Secret Superstar" opens this week. Starring Bollywood stars Aamir Khan, Zaira Wasim and Meher Vij, the Indian drama tells the adventure of a young girl named Insu who wants to fulfill her dream of becoming a singer.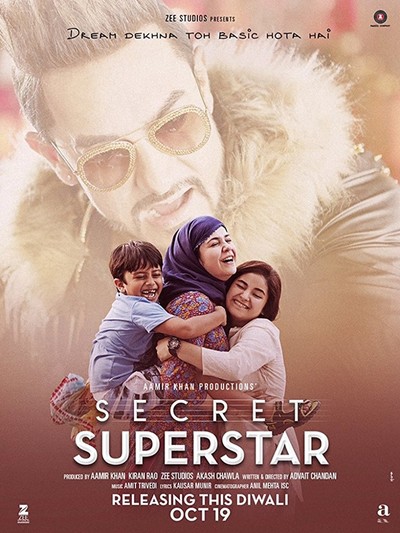 Good Time
Starring Robert Pattinson, Benny Safdie, Jennifer Jason Leigh and Barkhad Abdi, "Good Time" is directed by Josh Safdie and Benny Safdie. Premiering at Cannes Film Festival, the crime drama tells the story of two brothers who try and fail to commit robbery.
Geostorm
Starring Gerard Butler, "Geostorm" tells the story of the disasters that occur after a network of satellites designed to control the global climate become dangerous. Directed by Dean Devlin, the film also features Abbie Cornish, Ed Harris, Talitha Eliana Bateman, Jim Sturgess, Andy Garcia and Robert Sheehan. The scenario of the 3D film was written by Dean Devlin and Paul Guyot.
Bölük (Division)
Written and directed by Aytaç Ağırlar, "Bölük" tells the story of soldiers in a military division. Director Aytaç Ağırlar has detailed his own military experience through three characters in this film starring Kaan Yıldırım, Hakan Kurtaş, Alina Boz, Aykut Akdere, Mehmet Selim Akgül, Mustafa Uğur Civaner, Salih Usta and Avni Yalçın.
İlk Öpücük (The First Kiss)
Starring Murat Yıldırım and Özge Gürel, "İlk Öpücük" tells the story of Bahar and Hakan. Bahar has short-term memory loss, and Hakan tries to win her heart every day. Directed by Murat Onbul, the film features Beyti Engin, Hayrettin, Sadi Celil Cengiz, Gamze Karaduman and Cezmi Baskın. Written by Çağlar Yurt, the soundtrack of the production was prepared by Yıldıray Gürgen.
Damat Takımı (The Groom's Team)

Directed by Doğa Can Anafarta, "Damat Takımı" details the funny series of events after one of five close friends, who have known each other since high school, decides to marry.
Written by Anafarta, the film features Furkan Andıç, Özgürcan Çevik, Pelin Akil, Açelya Topaloğlu, Sarp Can Köroğlu, Ozan Osmanpaşaoğlu, Özgün Aydın, Sadi Celil Cengiz, Ceyda Kasabalı and Beyza Şekerci.
A Stork's Journey
Directed by Toby Genkel and Reza Memari, the animated film, "A Stork's Journey," also known as "Richard, the Stork," tells the story of Richard, a sparrow who thinks of himself as a stork, and his adventure to Africa to prove himself to a stork family.