Pera Film is celebrating Halloween with the Unusual Vampires program starting from today until Nov. 29. The selection focuses on the vampire concept found in many cultures for centuries and includes local and unique stories in each geography. The program includes 10 movies, including Jim Jarmush's "Only Lovers Stay Alive" and David Cronenberg's "Rabid."
The selection also includes Czechoslovak Jaromil Jires's "Valeri and Her Week of Wonders," adapted for the big screen from poet Vitezslav Nezval, is about a girl on the verge of becoming a woman who meets the world of vampires, witches and other threats. A weird and mysterious day dream, the movie is a fairytale that does not progress linearly set in an atmosphere like the Medieval Ages. This phantasmagoria of Jires with daunting images and impressive music is one of the most beautiful weirdnessess of Czechoslovakian New Wave.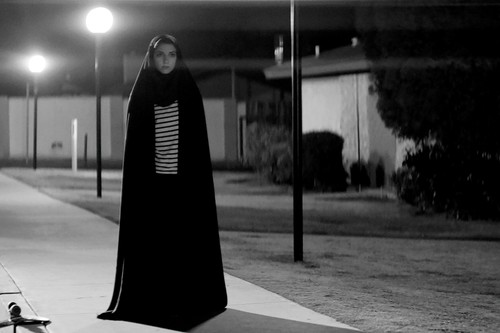 Still from "A Girl Walks Home Alone at Night."
The sequel to "Shivers," "Rabid," from David Cronenberg, is about Rose, played by Marilyn Chambers, who is ripped apart in a car accident and finds herself on Dr. Dan Keloid's operation table in a coma. She undergoes a rapid plastic surgery and while she survives, there are two side effects: A folic needle in her armpit and a constant yearn for blood. While there are similar themes to "Rabid," such as sexual concerns, mutation and illness, Cronenberg sets this movie in a wider Canadian setting and not the claustrophobic atmosphere. Rose hunts her victims from Quebec to Montreal and spreads a disease that drives people mad with blood thirst to various crowds on her way.
Before Bella was dreaming of Edward, Kathryn Bigelow had determined the standards of adolescent vampire love movies, however, this favorite and many times imitated second movie of hers, "Near Dark," can be claimed to be a Western at first. With sun-filled images, a cowboy, played by Adrian Pasdar is in love with Jenny Wright, who looks nice and innocent at first but soon he discovers the very bad circle of her friends. Her friends, meaning bloodsucking bandits, who drive around in a van with black windows, use careless cowboys for satisfying their blood thirst and reign death upon everyone that was at the wrong time and the wrong place. Bigelow creates unforgettable images of violence but adds compassion and appeal to the center of this slaughter.
Guillermo del Toro plays with the idea of immortality in "Cronos," his debut movie. A hopeful and daring story, "Cronos" features Jesus Gris, a kind antique dealer who obtains a golden piece in the shape of a dung beetle. He soon becomes both the owner and the victim of the evil and addictive powers of this object and at the same time, becomes the target of a mysterious American named Angel. With striking makeup effects and imagery, which earned him worldwide success, "Cronos" is a visually rich, dark and emotionally challenging story.
"Let the Right One In," from Tomas Alfredson, is a story of both growth and vampires and is quietly eerie with a basic narration. Alfredson treats fantastic materials as if they are ordinary everyday parts of our lives. While there are bloody scenes, the simplicity and plainness renders these unforgettable. Even though, in the end, it is a dark movie, "Let the Right One In" focuses on the relationship of two young actors, Oskar and Eli, who keep their natural innocence in a depressing story, revealing a sense of permanent hopelessness.
Neil Jordan started his exploration on vampirism in the 1996 movie "Interview with a Vampire." In "Byzantium," featuring two great actresses, Saoirse Ronan and Gemma Arterton, he lures us into a world full of violence and terrors in this traditional gothic movie, which does not follow the traditional rules of vampirism. He combines social history with the realistic side of dealing with physical pain. Jordan created a bloody, ridiculous yet interesting melodrama of the undead. Adapted for the big screen from Moira Buffini's "A Vampire Story," the movie has traces of Jordan's taste for the eccentric combined with darkness, making it one of the most impressive movies he has shot. Neil Jordon depicts an enticing story weaving in love, gothic and blood.
"Only Lovers Left Alive" is about two soul mates, Detroit and Tanca, an underground musician who is depressed from the actions of humans and his stubborn and mysterious girlfriend, who reunite in this tale of love and old age, music and survival in the midst of eternity. Their love affair has lasted at least for a few centuries but their happiness is soon shattered due to a wild and uncontrollable sister. Will these two fragile souls be able to survive while the modern world around them collapses?
Spaghetti Westerns, 1950s outcast youth movies, car movies, adolescent rom-coms and Iranian New Wave are all can be found in "A Girl Walks Home Alone at Night." Directed by Ana Lily Amirpour, the movie is set in a warped and black-and-white version of Iran, even though it was shot in California and combines these eclectic effects and esthetics of the West and the East, thus becoming the "first Iranian vampire Western." The film is considered a woman-empowering vampire movie.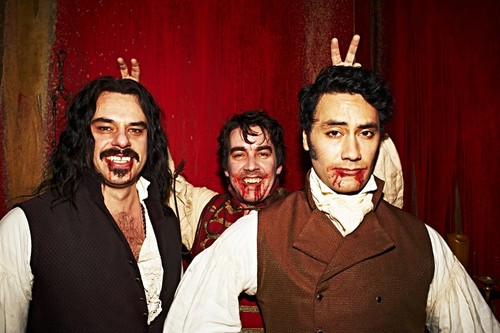 Still from "What We Do in the Shadows."
Shooting a movie can turn into an adventure from time to time. For example, if you want to shoot a documentary on vampires, it might be best to make them promise that they won't suck your blood. You may want to consider carrying a cross as well. Viago, Deacon and Vladislav are three vampires who live in their own secluded house with Petry, who is in a coma and who has definitely seen better days. Some of them are 400 years old though they are like teenagers in terms of morals and caprice. They are also worried that no one invites them to nightclubs. Yet, their new friend, Stu might be able to help them. They allow him to remain human. The movie on the history and limitless imagination of vampire legends adapts hundreds of years of old news to today with a humorous take creating both a situational comedy and cultural referrals. Drinking blood might get messy but even after hundreds of years, it is still a popular activity as can be seen in "What We Do in the Shadows."
Two mermaids wash ashore at a nightclub in Warsaw. Polish director Agnieszka Smoczynska's retake on her own youth is described as her "first cigarette, first heartache and love," while she grew up in her mother's nightclub. "The Lure" is a new re-adaptation of Hans Christian Andersen's "Little Mermaid."