Prepared by Başka Sinema and Arter, "Movies from Mount Qaf" brings eight movies to accompany the personal exhibition of CANAN at Arter Gallery. The movies focus on themes like "women, legends, fairytales, subconscious, surrealism, and search for heaven, facing our fears and finding the cure in nature" and will be at Beyoğlu Cinema and SineBu until Nov. 17. Canan's exhibition at Arter runs until Dec. 24.
Directed by Robert Eggers, "The Witch" focuses on witch hunts in New England, one of the darkest times in the history of humanity. Esteemed theater director Eggers's first film takes place in 1630. William and Katherine, who are deeply connected to Christianity, live on the slopes of a mountain with their five children. When their newborn son disappears and their crops wither, they are filled with superstition, fear and anxiety. When they start blaming each other, they become the target of evil that is beyond their fears. "The Witch" will be shown at SineBU on Nov. 16.
"Kosmos," directed by Reha Erdem, can be viewed at Beyoğlu Cinema today and at SineBu on Nov. 16. Erdem takes us on a journey of a traveler finding himself in a new fairytale in a new town named Kosmos, which he almost takes shelter in. In this town, time and location don't matter. Only people matter as everyone knows each other well. The miracles of Kosmos can even bring back dead children. However, people soon start to want more, like a cure for illnesses or love. In time, Kosmos becomes a town of unfortunate events. With magnificent views of Kars, "Kosmos" tells the grift story of good and bad.
In "Mad Max: Fury Road," directed by George Miller and shot in 2015, an apocalyptic story takes place in the future where the world has turned into a desert and humanity is in ruins. Two rebels may help the situation. Max, a man trying to survive after the death of his wife and child, and Furiosa, a strong woman who believes that if she can cross the desert and return to her homeland, she can save those who follow her and reach a heaven on earth. The movie will be at Beyoğlu Cinema on Nov. 16.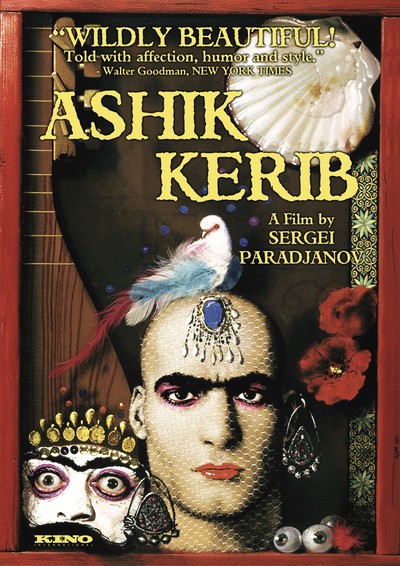 "Ashik Kerib" and "Wild," directed by Sergei Parajanov and Nicolette Krebitz, respectively, will be screened tomorrow at Beyoğlu Cinema together."Ashik Kerib" is about a traveling poet who falls in love with the daughter of a merchant who fires him and condemns him to travel around the world for a thousand nights. However, he makes the merchant promise that he will not marry his daughter to anyone else until he returns. It is a fairytale that features Parajanov's unique visuals.
"Wild" is about Ania's routine life, which changes when she encounters a wolf on her way to work. This wild animal becomes an obsession for the young woman. First, she tries to communicate with him, and then she captures him and locks him in the house. As she starts sharing her life with the wolf, Ania becomes wild as well, and she moves away from her social circle. This third feature film by Krebitz is about an anarchist woman who decides to end her relationship with civilization and tries to guarantee a life without hypocrisy via a wolf.
Japanese master Hayao Miyazaki's masterpiece "Spirited Away" can be seen tomorrow at SineBu. The movie is about Chihiro, who is unhappy because she is moving to a new town with her mother and father. They enter a magical realm when they are on their way to their new town, and her parents turn into pigs. A boy named Haku says he will help panicking Chihiro. She finds out that the only way to return to the normal world is to work at the bathhouse there. She will have to face many difficulties, yet make friends. She will find a way to help her parents, improve her personality and grow.
"Aahh Belinda" from veteran Turkish director Atıf Yılmaz is about Serap, a theater actress who rebels against social roles imposed on her. A modern woman, Belinda agrees to play the part of a normal housewife named Naciye in a shampoo add. But she will suddenly find herself in Naciye's shoes.