Last year, Pera Film presented the program "Tales of Tails: Dogs on Screen," full of heart-warming stories about our furry friends. This year's program is a salute to cats, one of the most intriguing and mystical of domestic creatures, taking place until Feb. 8.
Even though cats were domesticated thousands of years ago in Egypt, fascination with them has no end, and legends about cats continue around the world. In times past in a few regions of Europe, for a pregnant woman to pick up a cat or let it sit on her lap, especially fury ones, was ill-advised. Cats were believed to cause warts or moles if they touched a baby. In England, babies were thought to be born with birthmarks or with cat faces. In the Middle Ages, people believed that cats were the Devil's private messengers and carried souls to hell. To the Japanese, cats are lucky animals and "maneki neko" (beckoning cat) is a talisman that is thought to bring good luck, generally in forms of cash, while a Buddhist belief says that cats with dark coats bring gold and ones with lighter coats bring silver to their owners. And the stories go on. Pera Film's "Cat Got Your Tongue?" program brings together the latest movies shining a light on stories and legends from France, Turkey, Japan, the U.S. and elsewhere, and this selection chases these magical and surprising animals.
A Cat in Paris
Directed by Jean-Loup Felicioli and Alain Gagnol, Le Monde describes "A Cat in Paris" as "symphony of music and color," and it is a heart-warming animation that salutes the Pink Panther series. The hero of the movie is Dino, who leads a double life hanging out with his owner, police officer Zoe, during the day and with the legendary thief Nico on the dark back alleys of Paris. However, Dino's separate lives are about to collide. When Zoe decides to go out with Dino one night, they come across the menacing Victor Costa and a deadly hunt is about to begin on the Paris rooftops. Inspired by film noir, the movie premiered at the Berlin Film Festival.
The Future
Miranda July follows her acclaimed "Me, You and Others" with a cosmic love story. Played by July, 30-something Sophie and her husband Jason are at a crossroads in their lives. They decide to adopt a terminally ill cat, Pati Pati, which requires nearly 24-hour care. However, even before the cat arrives, they quit their jobs, as they are scared of the responsibilities that come along with adopting such a cat and, also from fear of losing their freedom. They want to fully enjoy their last free days, but what might the future hold for them? The movie follows a couple that wants to gain a new perspective on life, and it is full of magical realism and uses elements of humor.
Rent-A-Cat
Did you know that cats are a remedy for loneliness, and empty or broken hearts? Knowing this very well, Sayoko decides to get in a weird line of business: She walks on the river bank with a handcart and rents cats to lonely people. This young woman, who also suffers from loneliness after losing her grandmother, finds solace in cats and decides to share the love that springs from these furry creatures. All is well until a familiar face from the past arrives and turns her world upside down. "Rent-A-Cat," from Japan, proves that cats evoke similar emotions in people all around the world.
The Strange Little Cat
"The Strange Little Cat" opens with a soft, lovely, sunny Sunday in an apartment in Berlin. There is rush in the kitchen before dinner, bringing three generations together - two 20-something siblings who came home for this dinner, a little girl who is screaming and running around with her remote-control helicopter, the mother, father, uncle, aunts, cousins, neighbors and a tawny cat in the middle of everything. Director Ramon Zürcher manages to create side stories for each character, while incredibly portraying this ordinary afternoon, which justifies him being compared to the likes of Bresson and Tati since his debut. With serene minimalism that does not attempt to provide ambitious solutions, "The Strange Little Cat," with all its clever details, is an example of humanity's absurdity with all its mundaneness.
Cat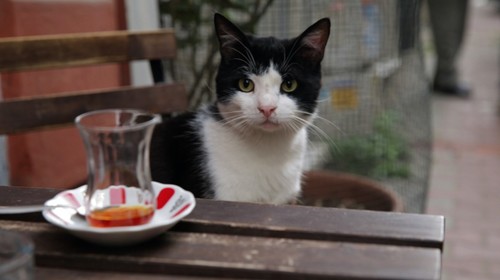 Ceyda Torun's movie about Istanbul's stray cats quickly became a phenomenon around the world. Cats, who have wandered in and out of people's lives for thousands of years, are a major part of this city's rich texture. These free cats living neither as wild nor domesticated animals bring joy to the residents of Istanbul. Not just in Istanbul, cats are a reflection of our lives all around the country and enrich people's lives in so many ways. Both critics and viewers agree that while you fall in love with the cats of Istanbul, "Cat" will gain itself a warm little spot in your heart.
She's Allergic to Cats
Michael Pinkney, a dog groomer in Hollywood, dreams of becoming much more than a groomer and is a man who struggles in life because of his low earning, degrading life. His house has been infested with rats many times, and his mind wanders in low-quality dream sequences reflecting his analog video experiments. This routine spins out of control when he meets the woman of his dreams, Dora. From their first date, as their journey progresses through the dark and crooked roads leading to surreal chaos, Michael's deepest hopes and deepest fears are realized. The boundaries of reality, fantasy, art, romantic comedy and fear are intertwined in an explosion of deformed video art and madness.
Samurai Cat
"Samurai Cat" answers the question, what if we combined the two culture icons of Japan, samurais and cats. The answer is one of the most delightful and cute comedies to have recently come out of Japan. "Samurai Cat" follows a dog loving group that hires penniless Madareme, who is to assassinate the prize-winning white cat of the cat-loving group, which whom they have been clashing for years. However, as soon as Madareme sees the cat, his heart melts and he quits the scheme and kidnaps the cat. Now, both groups are looking for revenge from the samurai and the imminent reckoning will test the new cat lover.
Neko Ninja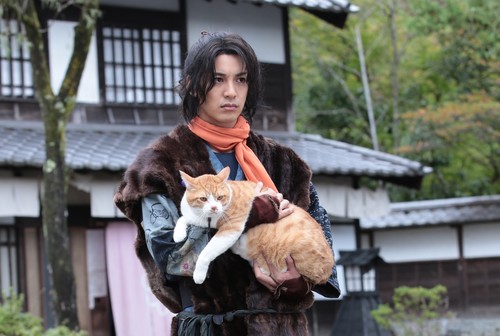 The team of the world's first feature-length ninja cat action movie, "Samurai Cat," has created "Neko Ninja." Kagerota is a young ninja preparing for his first mission to steal a goldfish from a rich samurai. He completes his mission, but a mysterious fat cat starts to follow him. The distinct red nose of this cat causes Kagerota to believe that it is a reincarnation of his legendary ninja father, who abandoned him when he was 10 years old.