Rampage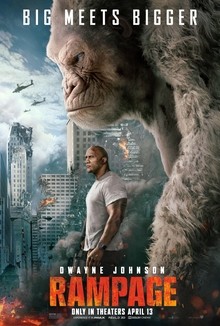 Directed by Brad Peyton, "Rampage" stars Dwayne Johnson, Naomie Harris, Jeffrey Dean Morgan, Malin Akerman, Joe Manganiello and Will Yun Lee.
The sci-fi action film is inspired by the namesake video game. It tells the story of when three different animals become infected with a dangerous pathogen, a primatologist and a geneticist team up to stop them from destroying Chicago.
The movie was written by Ryan Engle, Carlton Cuse, Ryan J. Condal and Adam Sztykiel.
Hostiles
"Hostiles," which features Oscar-winning famous actor Christian Bale, Rosamund Pike, Wes Studi, Jesse Plemons, Rory Cochrane, Adam Beach and Stephen Lang, was directed by Scott Cooper.
The drama and action film is set in 1892, when a legendary army captain reluctantly agrees to escort a Cheyenne chief and his family through dangerous territory.
Rubezh
Directed by Dmitriy Tyurin, "Rubezh" (Frontier) is a Russian sci-fi action film. Featuring Stanislav Duzhnikov, Kristina Brodskaya and Alexander Korshunov, the film tells the story of Michael, whose life changes dramatically when he discovers a portal which allows him to travel back in time. He travels back to World War II to go through the quest of time and find his one and only beloved.
A Quiet Place
A modern horror-thriller film, "A Quiet Place" revolves around the story of a family forced to live in silences while hiding from mysterious creatures that hunt by sound.
Starring and directed by John Krasinski, the film stars Emily Blunt, Noah Jupe and Millicent Simmonds.
Una Mujer Fantastica
Written and directed by Sebastian Lelio, "Una Mujer Fantastica" (A Fantastic Woman) was chosen as the Best Foreign Language Film of the Year at the Oscars. The film follows Marina, a transgender woman who lives and works as a waitress and moonlights as a nightclub singer, after the death of her older boyfriend.
Early Man
Directed by Oscar-winning director Nick Park, "Early Man" is the animation film of the week. The film focuses on the story of a hero who tries to save his tribe.
Kardeşim İçin Der'a
Directed by Murat Onbul, "Kardeşim İçin Der'a" (Daraa, for My Sibling) tells the story of Ali, who is against the regime in Syria and leaves the country, coming back years later to be with his family. Ali finds that his little brother is also against the regime and very angry at it, so he tries to keep him under control so he doesn't go through the same things he did.
Written by Halis Cahit Kurutlu, Vahit Taha Kurutlu and Fatih Mutlu, the film features İlker Kızmaz, Cem Uçan, Mehmet Çevik, Berna Koraltürk, Umut Karadağ and Safa Tabur.
Arada
Starring Burak Deniz and Büşra Develi in the leading roles, "Arada" (In Between) tells the story of two young people who make punk music in Istanbul and dream of realeasing an album in the U.S. Written and directed by Mu Tunç, the film reflects the journey of these two trying to find a ticket for a ship going to California.