Pera Film is offering a striking selection of movies and videos by Barbara Hammer, a leading artist in American experimental cinema, until May 25. The "Barbara Hammer: Body Politics" program will be featuring 10 works of Hammer focusing on body im- age, identity and social gender. A lecturer at European Graduate School in Switzerland, Hammer's works have been featured in exhibitions of some of the most important art institutions of the world, including MoMa, Tate Modern, London and Jeu de Paume, Paris.
This program about Hammer includes "Dyketactics," her debut movie, a revolutionary movie in terms of so- cial gender and identity in 1974, her trilogy "Nitrate Kisses" (1992), "Tender Fictions" (1995), "History Lessons" (2000) and "Resisting Paradise," which focuses on the artistic works of painters Henri Matisse and Pierre Bonnard during World War II through the eyes of Matisse's family.
Also included in the program: The documentary "Lover/Other," which was produced in 2006 about surrealist artists of the 1920s Claude Cahun and Marcel Moore; "Generations" (2010) about how experimental filmmaking may be passed onto new generations;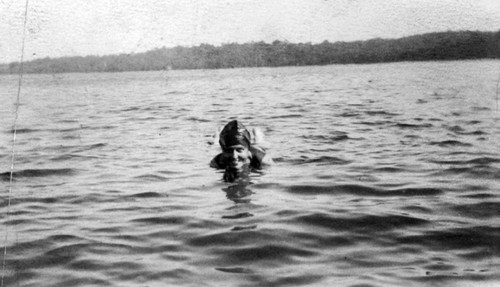 An image from "Welcome to This House."
"Maya Deren's Sink" (2011), reimagining the concepts of time and space in Maya Deren's movies in the 1940s, and "Welcome to This House," telling the story of Pulitzer prize winner American poet Elizabeth Bishop Finally and "Evidentiary Bodies," (2017) a multi-video installation, which premiered at this year's Berlin Film Festival. A single-channel work will also be introduced at the program. These movies all offer unique stories from the artist's subjective experiences on social gender, body politics and identity.
Born in 1939 in Hollywood, California, Hammer has produced more than 80 movies and videos as well as performances, installations, photographs, collages and compositions. She won the Guggenheim Fellowship with "Welcome to This House" in 2013 focusing on poet Elizabeth Bishop. "Optic Nerve" (1985), "Endangered" (1988) and "Nitrate Kisses" (1993) were selected for the Whitney Biennale. She currently lives and works in New York. Here is a short selection of her films on body, gender and identity.
Evidentiary Bodies
In this age, when lies are publicly announced as truth, we are alienated from each other due to fear, being different has been defeated by the disease of xenophobia and cruelty is excused as a spectacle, our only hope in finding mercy, understanding and generosity quietly is through empathy.
Welcome to This House
"Welcome to This House" is a docu- mentary about the homes and loves of poet Elizabeth Bishop (1911-1979), a life spent immersed in the shadow and anxiety of making art while partially keeping your identity hidden. Hammer shoots Bishop's beloved houses in the U.S., Canada and Brazil, which reveals the notion that buildings and landscape can bear cultural memories. Bishop's intimate poetry is read impressively by Kathleen Chalfant and with Joan La Barbara's creative music, Bishop touches our lives with new truths and unexpect- ed details.
Maya Deren's Sink
"Maya Deren's Sink" scrutinizes Deren's concepts of space, time and form through visits to her houses in Los Angeles and New York and scenes shot there. This project began after Hammer found a sink belonging to Deren at Anthology Film Archives and evolves into homage to "The Mother of Experimental American Cinema." Hammer visits locations Deren shot in 1940s and re-discovers these locations that inspired Deren on this journey to the past.
Generations
"Generations" is about how per- sonal experimental filmmaking can be passed on to future generations and the relationship between a master and an apprentice. Barbara Hammer passes the camera to Gina Carducci, a young filmmaker. During shooting at Coney Island in New York in the last days of Astroland, these filmmakers find the echoes of inevitable aging in both the architecture of the amusement park and also on film material. Inspired by Shirley Clarke's "Bridges Go Around," the filmmakers edited sound and picture separately and joined their films in the middle to create a truly intergeneration- al experiment.
Resisting Paradise
Barbara Hammer examines the artist's and individual's role in times of conflict in this touching and in-depth work. "Resisting Paradise" focuses on artistic works carried out by Henri Matisse and Pierre Bonnard in South France during World War II and showcases the experiences of Matisse's family and other individuals who witnessed the French Resistance.