Zorlu Performing Art Center (PSM), one of the new meeting points of music lovers in the summer season, will host Yeşilçam film screenings at 8 p.m. on Wednesday evenings from July 25 to Sept. 12. The program includes cult films of Turkish cinema such as "Neşeli Günler," (Happy Days), "Çöpçüler Kralı" (The King of the Street Cleaners), "Mavi Boncuk" (Blue Beads) and "Hababam Sınıfı" (Class of Chaos). The free screenings will offer a wind of nostalgia at Zorlu PSM.
NEŞELİ GÜNLER
Neşeli Günler will be screened at PSM on July 25. The great cast of Münir Özkul, Adile Naşit, Şener Şen, Ahmet Sezerel, Oya Aydoğan, Ayşen Gruda star in the film, which is about a couple named Saadet and Kazım, who are in the pickle business but have a quarrel and divorce. Three of their children remain with the father and three remain with the mother. The children grow up not knowing each other for years. Then, the siblings meet and the whole family comes together in this movie directed by Orhan Aksoy and produced by Ertem Eğilmez.
GÜLEN GÖZLER
Directed by Ertem Eğilmez, Gülen Gözler will be screened on Aug. 1. Starring a great cast of Münir Özkul, Adile Naşit, Halit Akçatepe, Müjde Ar, Itır Esen and Ayşen Gruda, the film features the tough but funny adventure of a carpenter master, who has five daughters at the age of marriage with bodacious groom candidates and a crazy wife.
SÜT KARDEŞLER
​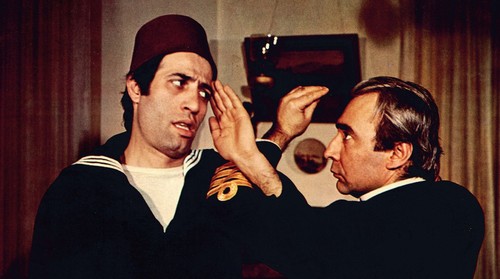 Directed by Ertem Eğilmez, Süt Kardeşler will meet spectators on Aug. 8. The film features Mrs. Melek, who owns a mansion that she's been trying to sell for years. She accidentally takes home Ramazan, a friend of his foster son Şaban. She introduces Ramazan as her father-in-law Bayram to her angry brother Hüsamettin. Things get complicated when the real Şaban and Bayram arrive at the mansion. Şaban, who falls in love with Bayram's sister Bihter keeps following her around. Things get even more complicated when Bayram's father brings a monster named Gulyabani to the house.
MAVİ BONCUK
Mavi Boncuk, which will be at PSM on Aug. 15, stars Emel Sayın, Tarık Akan, Kemal Sunal, Zeki Alasya, Metin Akpınar and Halit Akçatepe in the leading roles. Directed by the doyen Turkish director, Ertem Eğilmez, the film conveys the story of six friends who visit the club Emel Sayın works at. They think that the money in their wallets will be enough for the bill. But things do not go as planned and they object to the high bill and are mistreated. They decide to kidnap Emel Sayın to get revenge from the owner of the club. The friends, who have successfully implemented their plan, hide Emel Sayın on the roof of the Baba Yaşar's house. In time, Emel Sayın and the kidnappers get closer. The boss of the club pays the ransom money but Emel Sayin does not want to leave the house. The team will have to hand over Emel Sayın by wrapping her in a bag.
ÇÖPÇÜLER KRALI
Çöpçüler Kralı will be at PSM on Aug. 29. A police officer puts a great deal of pressure on shopkeepers and the garbage man. Hacer, who lives in the same neighborhood, is a cleaner. The police officer falls in love with Hacer and faces her mother. The garbage man of the neighborhood Apti is also in love with Hacer but he does not have money. However, a casino he accidentally entered will change his bad luck suddenly. The movie is directed by Zeki Ökten and stars Kemal Sunal, Şener Şen, Ayşen Gruda, İhsan Yüce, Erdal Özyağcılar and Türker Tekin.
HABABAM SINIFI
Hababam Sınıfı, another masterpiece of director Ertem Eğilmez, will be screened on Sept. 5. The film has a great cast of Münir Özkul, Tarık Akan, Kemal Sunal, Halit Akçatepe, Adile Naşit and Sıtkı Akçatepe. It focuses on the efforts of new assistant principle and history teacher, Mahmut Hoca, who is transferred to the private Çamlıca High School to discipline the Literature 6-B class (aka the class of chaos). The class is full of the students who skip periods and make fun of the teachers who have interesting discipline methods. In addition to the students' mischief, serious events also take place.
SEV KARDEŞİM
Featuring Hülya Koçyiğit, Tarık Akan, Münir Özkul, Adile Naşit, Turgut Boralı, Halit Akçatepe, Sev Kardeşim will be at PSM on Sept. 12. The film follows Ferit, a heartthrob. All the girls at his job are in love with Ferit, who does not respond to them. Alev, one of those girls, makes a bet with her colleagues that she can make Ferit fall in love with her. She impresses Ferit by telling lies about herself and her family but soon, the truth is revealed. Things get complicated when the families of these youngsters get involved. ISTANBUL / DAILY SABAH