The state-run Yunus Emre Institute (YEE), which carries out works on Turkish culture and language all over the world, organized a Turkish Summer School Project in collaboration with Istanbul Şehir University and the General Directorate of Cinema under the Ministry of Culture and Tourism. Other than hosting 1,000 students in Turkey, YEE also held a Turkish Cinema Summer School (TCSS), for the first time, for 23 cinema students and young employees from 20 countries. Proving that Turkey is a colorful bridge that has huge potential to bind all cultures in peace, TCSS showed that art is a great opportunity for cultures to enrich each other. In this respect, YEE carried out a huge mission that captured hearts.
Between July 30 and Aug. 12, the participants of TCSS attended classes by renowned Turkish directors, such as Derviş Zaim, Reis Çelik and Atalay Taşdiken along with producers and academicians. They learned about Turkish cinema, film analysis and comparative studies on movies and documentary filmmaking. Besides, workshops, screening of Turkish classical movies and visits to many places, including the Mimar Sinan University Department of Cinema and Television, Türker İnanoğlu Foundation Cinema and Theater Museum and SEKA Film Studios, took place. The participants met with Turkish movie stars, like Türkan Şoray and Ediz Hun. They also visited historical places in Istanbul.
It can be said that YEE not only give them a chance to discover Turkey and to improve their Turkish, but also trained promising directors, produces, actors/actresses and filmmakers.
Fascinating adventure in Gazİantep
​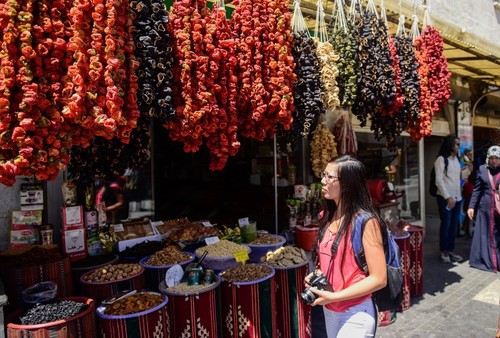 Gaziantep's colorful bazaars were one of the destinations of TCSS.
As part of the project, the participants visited Gaziantep, a south-eastern city in Turkey which is home to 500,000 Syrians living in peace with local residents. Gaziantep, the history of which dates back to 5600 B.C., was registered in the UNESCO Creative Cities Network List in the gastronomy category. The participants discovered that Gaziantep carries traces from Palaeolithic, Neolithic, Chalcolithic, Bronze ages and from Hittites, Assyrians, Persians, Mamluks, Seleucid Kingdom, Roman, Byzantine, Seljuk and Ottoman Empires.
Their visit started with a workshop at the Culinary Arts Center, the first culinary museum in Turkey. They cooked puf böreği (fried pastry with cheese and parsley filling) and peynirli helva (chewy semolina halva with pistachios), which are among the special tastes of Gaziantep. Under the shadow of the Gaziantep Castle, which was built by the Hittite Empire and developed by Byzantines and Ottomans, they saw the Historical Bath House of the city, colorful bazaars full of spices, jewelry, handwork and beautiful mosques constructed with white and black stones used in the traditional architecture of the city. After observing traditional artisans like coppersmiths, forging and the city's cuisine culture, they visited Zeugma Mosaic Museum, showcasing superb mosaics unearthed at the Roman site of Belkıs-Zeugma before the Birecik Dam flooded most of the site.
After finishing this special program, some of the participants shared their impressions about the TCSS, the Yunus Emre Institute and Turkey with Daily Sabah.
Instructor Amirata Joolaee from Iran said that meeting people from all around the world and getting familiar with the traditions of Turkey and Turkish cinema were the highlight of this program. Joolaee stated, "Without these kinds of events, we cannot come together with people of cinema from all around the world. Cinema is about mixture of culture and traditions. Turkish actors and actresses like Türkan Şoray and Ediz Hun were very popular in Iran in the 70s. Nuri Bilge Ceylan, Semih, Kaplanoğlu, Yılmaz Güney, Fatih Akın, Ferzan Özpetek and Derviş Zaim are among my favorite Turkish directors."
Amalia Popa, who came from Romania, said that they met famous actors and directors in Turkey through this program. Noting she was happy to visit Istanbul and Gaziantep, which has one of the richest cuisines in the world, actress and film editor Popa stressed, "I am very thankful to YEE and to the entire team which organized the TCSS for being so kind to us. I'm looking forward to coming here again."
Hlabangani Mtshali was another participant who is from South Africa. A writer and scholar, Mtshali mentioned that the TCSS is a good way for film filmmakers to compare how the film industry works in other parts of the world. Talking about the acculturation aspect of the program, Mtshali indicated that he was thinking Turkish people would not be tolerant of a black person from Africa. However, when he came to Turkey, he found something different from what he had initially thought. Now he says that they are friendly, kind, generous and welcoming people.
Documentary filmmaker Fatima Mouhammou stated that YEE gave her a wonderful experience. She said the first Turkish movie that she watched was "Yol" by Turkish director Yılmaz Güney, Mouhammou added, "I had a lot of information about Turkish culture thanks to YEE in Morocco. I totally agree with Napoleon's saying, "If the world was only one country, Istanbul would be its capital!" The Moroccan filmmaker plans to shoot a documentary about Turkey.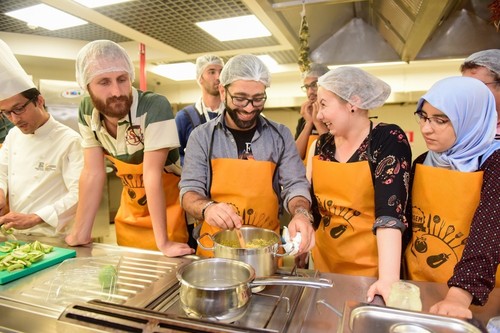 The participants of TCSS cooked up special dishes during their visit to Gaziantep.
Director and photographer Leyla Ahadi from Iran thinks that Turkey pays great attention to art. She said, "We were from 20 countries and formed a friendly family. We forgot boundaries in this new family, feeling like our own home was Turkey. We discovered Turkey's cinema, history and culture. We learned a lot from great professors. In fact breaking down geographical boundaries YEE gave us the opportunity of a great experience that will play a crucial role in our professional progress."
Prizes in four categories
The YEE gave prizes to the participants of TCSS in four categories, holding a short movie contest as part of the program, as well.
Mouhammou took the "Best Video to Promote YEE" prize. Lebanese cameraman and video editor Mohamed Eskandarani received the "Best Video of TCSS" prize. Eskandarani said that he was very happy to be involved in such a program and it was an honor for him to have this prize. Noting TCSS is one of the greatest programs that could ever happen to filmmakers and students, he said that Turkish culture is one of the oldest in the world, and Istanbul is one of the most beautiful cities.
"The Best Short Film Script to Promote YEE Abroad" prize went to Alessandro Marzullo from Italy while Popa won the "Best Photo-Story of TCSS" prize. The winners of the competition were given flight tickets along with a Macbook Pro and iPhone 8.