The 55th International Film Festival started on Saturday with the screening of Iranian director Asghar Farhadi's latest film "Todos Lo Saben" (Everybody Knows). Born in Isfahan in 1972, Farhadi has gained worldwide fame with Academy Awards for Best Foreign Language Film for his "A Separation" in 2012. The same year, he was enlisted as one of the most influential 100 people in Time magazine. In 2016, he became a sensation by winning the same award with "The Salesman," making him one of the rare directors who has won the award twice.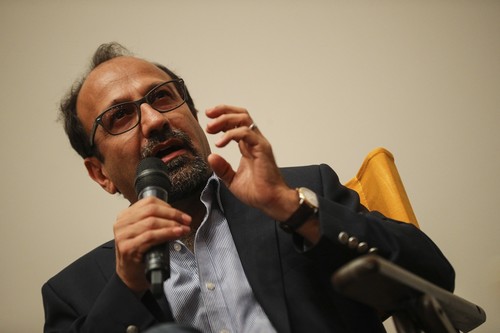 After the screening of "Everybody Knows" at the festival, Asghar Farhadi answered questions from the audience.
In recent years, his films have been enthusiastically anticipated by cinema lovers and movie buffs in festivals around the world. Following in the legendary footsteps of Iranian directors like Majid Majidi and late Abbas Kiarostami, who drew global attention to Iranian cinema and culture, Asghar Farhadi has created a new horizon with his films, where he offers unvarnished, plain profiles of ordinary people in their daily lives. Most of the time, his stories revolve around personal problems, and the films open doors into the lives of people somehow related to the smooth flow of his narration.
One of his greatest attributes is his extraordinary away of exaggerating Middle Eastern characters, as expected from a Middle Eastern director. He artfully refutes the orientalist mindset with his characters who sometimes live in European cities, sometimes Iranian cities, leading ordinary, urban lives. While he saves the audience from orientalist stereotypes, he never overlooks the cultural values that shape a nation's emotional, social and mental character. In that manner, he is an accomplished scriptwriter and a director who has opened a perspective into Iranian people's daily struggles.
However, in his latest film "Everybody Knows," he surprises the audience with a story that passes among Spanish locals in a Spanish town, proving his well-earned title as a universal director who analyses common human feelings and experiences while masterfully reflecting them on the silver screen.
Starring world-famous actress Penelope Cruz and actor Javier Bardem, the film centers around a kidnapping and characters who relate to each other through old stories, love or neighborhoods.
It is obvious that Farhadi meticulously tried to offer a Spanish film that is not too Spanish and not too far away from being Spanish either, but just in the right consistency. Here again, Farhadi skillfully saves his cinema from stereotypes. The secret to this achievement lies behind consulting his stars and crew at every step. After the screening, he said that he collaborated with Cruz and Bardem in his search to understand how the Spanish react to particular situations, and he spends a lot of time portraying scenes in the most realistic and genuine way as an outsider to Spanish society.
The film is the fruit of five years of consultations and observations meant to get a better understanding of society and culture.
Same feelings, different expressions
Although Farhadi thinks that emotions like love, hate and revenge are experienced the same around the world, the ways of expressing them may differ. "For instance, Japanese people do not touch each other much, while Turks, Iranians and Spanish tend to hug and kiss more. I wanted to learn more about the Spanish way of expression," he explained.
As a natural outcome of his keen observation, Farhadi came up with the idea of shooting the Spanish kidnapping story while he was on vacation in Spain with his family, he noted. His daughter was curious about the newspaper clippings about a missing girl, hung in various spots, and Farhadi decided to shoot a similar story. When he explained his idea to accomplished director and co-director Pedro Almodovar, he also liked the idea and said jokingly that he would himself shoot it if Farhadi did not.
About the inclusion of Cruz and Bardem in the cast, Farhadi said he had wanted to work with Cruz for a long time. He said, on top of her superb acting skills, he also respected her ability to learn a language for a recent French film. In the film, she speaks with an Argentinian accent and with a Spanish accent with her family. "We are like a family with Bardem and Cruz. They are very smart and open. They do not want to do only American films," he noted.
When it came to creating the characters, Farhadi gave the stars the foundations that would give a wider opinion of what they were going to play. For Bardem, he created a character like "a 10-year-old boy in a 45-year-old's body." A childish, naive and simple person in a complicated situation. And for Cruz, she is like a female wolf that has lost her pup. "She is very sad, always crying, but at the same time she is not passive. When she sits on her bed, she looks like a wolf," Farhadi said.
'Theater is more pure'
Farhadi often speaks like a theater director when describing his character-building process and narration. Performances shine bright in the building of the story.
"My background is theater and I wish one day I go back to theater both in my country and abroad. For me, theater is more pure. But I cannot say this film was like a theater, in specific. I believe theater audiences are more precise than cinema audiences. In saying this, I mean they watch all details, they think about it. In cinema, maybe because they also watch TV series, they do not tend to think. They follow the flow. Each five minutes, a new situation happens. But in theater, they have time to think on the story," he remarked.
Inspiring childhood
Farhadi noted his first film was a short one when he was 13 and it won acting prizes. "I maybe got it from my grandfather. Those times, I remember my best time was listening to him. He was a very good storyteller," he said and added, "When I start to write a story, I do not ask myself what I am going to tell. I am not telling anything to people. I rather prefer to describe a situation. I believe that we do not have anything new to tell people. And this is good, not bad. Nowadays, in cinema and books there is a tendency to describe and it gives you the freedom to think. Formerly, they would give you all information. You would not think about anything. You would just get a lot of information and take it home."
Turkish officer a potential story
Often inspired by his childhood, he thinks his subconscious directs him to create characters.
"It comes from ordinary life. When you see things in your daily life, you do not think. You are not sure if you are going to make a story out of it. For example, two days ago I was at Antalya airport and lost my luggage. I went down to find help and there was a guy sitting on chair, reading messages and searching social media on his phone. I talked about my problems and I was thinking he was listening to me. He did not do anything, he did not even look. And I got angry. Once more, I explained my problem and he did not do anything again. I went close to him and waved my hand before his face. Then I realized he could not speak. He could not hear. I had made a wrong judgment about him. He was a very good guy and helped me a lot. Two days ago, I did not think I would use this scene but now I am thinking that that person was very kind and maybe in 10 years, I can use it in a scene," he concluded.