The Accessible Film Festival, organized for the sixth time to provide equal access to cultural events regardless of disabilities, will again be held in Istanbul, Eskişehir and Ankara provinces.
The festival, which screens nearly 40 films - the best examples of Turkish and world cinema - with access for visually and hearing-impaired cinema lovers, also offers many other events for disabled audiences.
The festival took place in Istanbul Oct. 8-10 and will now be held in Eskişehir Oct. 12-14 and in Ankara Oct. 17-21. The program consists of seven parts: "Competition Without Barriers" with local productions from 2017, "Turkish Cinema" with prominent Turkish films, "From the World" with award-winning recent films of world cinema, "Films Without Barriers" that encourage us to think about our perception of disability, "From the History of Cinema" with Turkish and world classics, "For Children" to inspire a new generation filmmakers to imagine and "The Long & Short of It" for lovers of short films.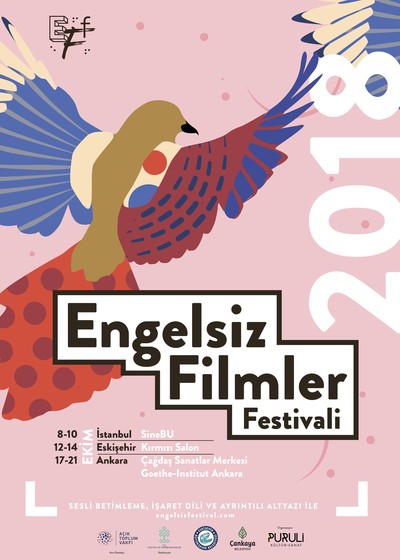 The program also hosts the Animation of Heroes Workshop for children ages 9-12, Autism Friendly Screening for children and youth on the autism spectrum, a Virtual Reality Experience, held for the first time last year, and conversations with film guests after the films.
All the films will be screened with audio descriptions for visually impaired people and with sign language and detailed subtitles for the hearing impaired prepared by the Audio Description Foundation. All film screenings and other events are free of charge.
Daily Sabah conducted an interview with the festival's program coordinator, Ezgi Yalınalp, who gave insight about the aim, screening program, special events and facilities for disabled audiences.
The festival was born in 2013 with the aim of meeting a real need. "The idea of the Accessible Film Festival emerged in 2013. As a team that has been involved in the organization of various film festivals over the year, we wanted to make a festival that has character and that meets a real need. We also wanted this festival to be an event that will continue for many years, not just a one off. We started to ponder whether we can make a festival that can be accessed by the visually and hearing impaired. When we realized that it was technically possible, we set up a project, found funds and organized the first festival in Ankara in 2013," Yalınalp noted.
PARTICIPATION IN CULTURAL LIFE
The team set off to help disabled audiences participate in the cultural life that, most of the time, is not available for them. "The Accessible Film Festival is based on the right of "participation in cultural life," which is a basic human right. We are carrying out all our screenings and side events at locations that have an accessible structure for those who cannot hear or see, and we offer them the chance to follow current cinema. We aim to help visually and hearing impaired individuals follow cinema and for everyone, disabled or not, to be able to follow the latest productions together. This emphasis on togetherness is the most important focus of our festival. We believe that participation in culture and arts events is not a luxury but a right and therefore, we designed and realized a festival that can be followed by everyone," she continued.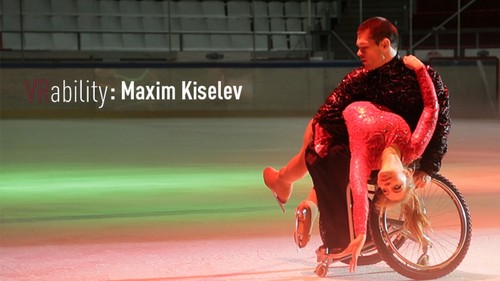 "VRability: Maxim Kiselev" gives audiences the chance to look at the world from the point of view of Maxi Kiselev, the only athlete in the world who skates in a wheel chair.
Many individuals, universities and cultural institutions have supported the festival with various contributions. "The main supporter of this year's Accessible Film Festival organized by Puruli Culture Art is the Open Society Foundation. The festival is organized by the Culture and Tourism Ministry and is also supported by the European Union Turkey Delegation, the U.S. embassy, the Austrian embassy, Austria Culture Office, the British Council and the French Cultural Center in Ankara, the Goethe-Institut in Ankara, the U.K. embassy and the Irish embassy," she informed.
The accessible venues of the festival are provided by Boğaziçi University, Eskişehir Metropolitan Municipality, Çankaya Municipality and the Goethe-Institut in Ankara. Fil Bilişim, 26-45 Yapım, the Boğaziçi University Visually Impaired Technology and Education Laboratory (GETEM), Moire Graphics-Video-Sound, Notte Otel, Sesli Betimleme Derneği and SineBU are the main sponsors of the festival.
Festival partners are Klappe Auf! Short Film Festival and Oska Bright Film Festival.
RICH SELECTION OF FILMS
The movie selection is prepared by the festival team. "We have created a few thematic titles for the program and picked our movie selection according to these titles," she explained.
"Competition Without Borders, "Turkish Cinema," "From World," "Films Without Barriers," "The Long & Short of It," "For Children" and "From History of Cinema" are the permanent sections of our program.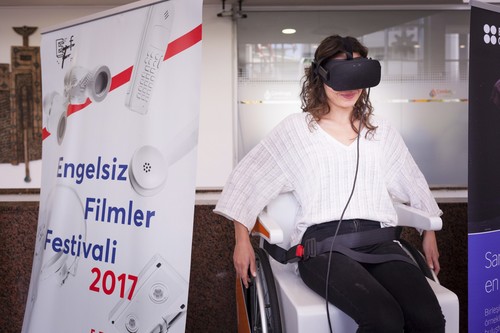 Viewers will be able to experience what the disabled go through via VR glasses in the foyers of three different VR venues.
"We are bringing together a total of 38 movies, which are the best examples of Turkish and world cinema this year. 'İşe Yarar Bir Şey' ('Something Useful'), 'Kar' ('Snow'), 'Kelebekler' ('Butterflies'), 'Sofra Sırları' ('Serial Cook') and 'Yol Kenarı' ('Sideway'), included in the 'Competition without Borders' section will compete for the Best Film, Best Director, Best Screenplay and Audience Special awards this year. The winners will be announced at the awards ceremony to take place on Oct. 20. We will be watching the most talked about productions of recent years in Turkey in the 'Turkish Cinema' section while award-winning examples of world cinema will be screened in the 'From the World' section. 'Films without Barriers' includes movies that make us question our perceptions about disability. The 'Long & Short of It' includes short movies produced in Turkey and 'For Children' will host animations for children and 'From History of Cinema' will include cult movies that have left their mark on the history of cinema," she said, offering a brief about what awaits the audience.
FILMS WITHOUT BARRIERS
This selection consists of movies that question our perceptions of disability. "We select movies with characters or creative teams or those dealing with the issue of disability from Turkish and international cinema," Yalınalp said.
FACILITIES FOR THE DISABLED
All the movies are screened with audio description for the visually impaired and with sign language and detailed subtitles for the hearing impaired. "There are sign language translators at our events for chats with film crews, workshops and the award ceremony. We also pay attention to our venues to be accessible for orthopedically handicapped," she added.
SPECIAL SECTION FOR AUTISM
Undoubtedly, people with autism are much more sensitive to light and noise. The festival has taken steps to make their experience at the festival fun and stress free. "Since 2015, we have been organizing a special session titled 'Autism Friendly Screening.' People with autism are unable to go to the movies since they are sensitive to loud noises and bright lights. When you minimize these stimuli, people with autism can also watch movies comfortably. Within the scope of 'Autism Friendly Screening,' we have children watch the movies in a dim hall at a low volume. No promotional movies or advertisements are shown. The audience can bring food and drinks to the hall and act as they wish," Yalınalp explained.
A CHANCE TO SOCIALIZE
Ezgi Yalınalp stressed that since even going out might be a problem for people with disabilities, that participation may be low. "The percentage of viewers who cannot see, hear or are orthopedically handicapped is around 30 percent. But since the people with and without disabilities can come together and follow the festival, its effect is crucial for both sides. They have the opportunity to communicate and understand each other better. We get very positive feedback from our audience. We receive this feedback both when we come together during the festival and also from the questionnaires we conduct with the audience. The feedback we receive is both our source of motivation and a chance for us the correct the shortcomings we are not aware of," she highlighted.
VIRTUAL REALITY & ANIMATION
The festival also offers a special virtual reality (VR) experience for participants to get a better understanding of how a particular disability feels. "Our Virtual Reality Experience, organized for the first time last year, continues this year as well. Within the scope of this section, which we have expanded the scope of, viewers will be able to experience three different VR venues. Thus, we will focus on personal the experiences of people from different disability groups. 'Unrest VR' focuses on a young women with chronic fatigue syndrome; 'Party VR' features 16-year-old Layla with autism; while 'VRability: Maxim Kiselev' gives us the chance to look at the world from the point of view of Maxi Kiselev, the only athlete in the world skating with a wheelchair.
"The animation movie workshop, which we have been organizing since the first year of the festival, was one of our side events this year. Animator Işık Dikmen will act as the trainer in this one-day workshop and teach hearing-impaired children to learn how to express themselves with animation," she said.