With its latest program, "Brand New Films from Germany - Decades," Istanbul Modern Cinema offers spectators the leading films of the contemporary German cinema from today until Nov. 11.
Organized together with Goethe-Institut, the program consists of 10 productions corresponding to different decades in the 20th century.
Having completed its 10th year, the Decades program comprises of the historical periods starting from 1920s and coming up until today via fiction films and documentaries.
Last 10 years of German cinema in Q&A
Istanbul Modern cinema will host a Q&A session about the last 10 years of cinema in Germany with a focus on the previous anthologies of "Brand New Films from Germany" on Thursday, Nov. 1, at 7 p.m. Director Rüdiger Suchsland and film critics Müge Turan and Engin Ertan will participate in the session.
Director of 'Hitler's Hollywood' to meet cinephiles
Competing for the Golden Bear at Berlinale and sweeping 7 Lolas including "Best Film," "Best Director" and "Best Actress," "3 Tage in Quiberon" ("3 Days in Quiberon") will be also on the screening list on Nov. 1.
"Hitler's Hollywood," an analysis of propaganda films shot in Nazi Era, directed by film critic Rüdiger Suchsland, is one of the popular documentaries of the program.
Rüdiger Suchsland will attend film screenings and Q&A sessions on Nov. 1 and Nov. 3.
RICH PROGRAM
'Shut Up and Play the Piano'
Canadian musician Jason Charles Beck, better known by his stage name Chilly Gonzales, became famous with his heedless performances and musical style that harmonizes electronic music and hip-hop. Changing his style in the aftermath, Gonzales worked with so many famous musicians and bands including Peaches, Feist, Jarvis Cocker and Daft Punk. "Shut Up and Play the Piano," which presents one of the most unique vocals of Indie Music in accompany with interviews, archive images and concert records, is a dynamic and enjoying documentary worthy of Chilly Gonzales. As well as the fans of the pianist, first-time listeners will also enjoy the film directed by Philipp Jedicke.
'In Den Gangen' ('In the Aisles')
Focusing on ordinary people and their daily lives, "In den Gangen," directed by Thomas Stuber, is a romantic comedy and drama that amazes spectators with original surprises and captures them with a sense of humor. Christian gets a job at a supermarket in the suburbs. Throughout the trial period, he will learn the details of the job from Bruno who works at the drink section. Trying to stay away from his old friends and the problematic life he left behind, Christian falls in love with Marion who works in the desserts section. Unfortunately Marion is married. Starring Franz Rogowski and Sandra Hüller, who portray a romantic couple with their unforgettable performance, "In den Gangen" took credit by critics especially with its scenario.
'3 Tage in Quiberon' ('3 Days in Quiberon')
Emily Atef's new film that competed at Berlinale for the Golden Bear, tells about the making process of a legendary interview published in Stern (a German magazine) in 1981. Settling down to a hot spring in Quiberon, famous actress Romy Schneider accepts the interview proposal by Stern in spite of the bad experiences she had with the German press. Actually, her consent was somehow related to the fact that the photographs for the interview would be taken by Robert Lebeck, whom she knew and trusted in for a long time. At the same period with the young journalist Michael Jürgs and Robert Lebeck, her closest friend Hilde also arrives at Quiberon to visit Schneider. The interview, which focused on the fluctuations of her career in the recent years and the artist's personal problems, drives Schneider to melancholy again. In the film, which perfectly reflects the elegancy and melancholic mood of Romy Schneider with the help of black-white visuals, Marie Baumer, who strikingly resembles the famous actress, delivers a perfect performance.
'Sommerhauser' ('The Garden')
Eva and her husband visit Grandmother Sophie's summer house along with their children in the summer of 1976. Meeting to spend the holiday every year is an old family tradition. However, this time things are a bit different. Grandmother Sophie has died a short time ago. On the other hand, lightning overturns the centuries-old tree in the garden of the summer house. While the children play games and enjoy their time, the adults fall out with each other day by day. All the corners of the house are captured by uneasiness; however no one talks about the situation. News about a little girl who got lost nearby gives a way to turn the weak family bliss upside down. Screened at Munich Film Festival last year, director Sonja Maria Kröner's "Sommerhauser" won "Best Production" and "Best Director" in the category of German cinema.
'Sympathisanten: Unser Deutscher Herbst' ('Symphatizers')
Sympathizers: That's what people who appreciated the ideology and justifications of leftist vawe terrorism were called in 1970s Germany. So many renowned writers, musicians, academics, directors and publishers including Nobel Prize writer from Cologne, Heinrich Böll were examples of them. They openly expressed their sympathy for the "struggle of political liberation" for a long time. Then, the struggle transformed into a movement with guns, hostage-takings, guerilla movements and people started to lose their lives. The Red Army Faction (RAF) went underground. By using the talks he made with his mother Margarethe von Trotta, a renowned director, and father-in law Volker Schlöndorff, in addition to his personal documents, director Felix Moller tells the story both of his family and a period rich in strong emotions.
'Hitler's Hollywood'


What does cinema know that we do not? "Hitler's Hollywood" tells the story of National Socialism period cinema, which is one of the most dramatic periods in German cinema.
Nazi cinema once aspired to be the world's greatest cinema and tried to serve as a German dream factory.
With this, a new cinema emerged. This directly state-led cinema, working under the effect of a deep censorship, had its own star system. Trying to be democrat, it was assertive and manipulative. So few of the films were openly propaganda films, however, they were not amusement films either.
Nazi cinema was perfect in technical terms. It was arousing nostalgia and presenting new worlds to take shelter in. Great masses thought that Nazi cinema appreciated them. In "Hitler's Hollywood," Rüdiger Suchsland examines films shot between 1933 and 1945, and how these films served to the aims of the system.
'Von Caligari Zu Hitler: Das Deutsche Kino Im Zeitalter Der Massen' ('From Caligari to Hitler: German Cinema in the Age of the Masses')
In this film, Rüdiger Suchsland follows the traces of cinema of Weimar Republic Period between the years of 1918 and 1933. While doing this, he follows the steps of a classic titled, "The Psychological History of German Cinema." The period is super hectic and wild. It bears the traces of political conflicts, economic crisis and cultural brightness.
In the most important period of German cinema, some aesthetical bases and genres developed to affect world cinema. Most of the Weimer-period directors are still legends today. Stars such as Marlene Dietrich, Louise Brooks and Emil Jannings are still fresh in the minds. Focusing especially on the films by Fritz Lang, Suchsland analyzes how the fears and passions of the society are reflected on the works. He looks for an answer on whether these films can tell us anything about the critical developments that played role in Adolf Hitler's rise to power.
'Die Unsichtbaren: Wir Wollen Leben' ('The Invisibles: We Want to Live')
In Berlin in 1943, The Third Reich officially announces that Berlin, the capital, is "free from Jews." However, some young Jews succeeded to become invisible within the anonymous structure of Berlin. They hide, arrange different identities for themselves or pass underground. Most of the time it is just their luck or lightheartedness coming up with the young ages what saved them from the clutches of Gestapo. Just a few people know their genuine identities. Director Claus Rafle offers interviews with the living witnesses of the period between the scenes. Hence, the sweeping stories of the four main characters are closely related to what was experienced in the real life. While telling what gallant heroes experienced, the film focuses on the lesser-knowns of "Jewish disobedience."
'The Cleaners'
In Manila, the capital of the Philippines, hundreds of women and men sit in front of computer screens in offices located in dull buildings. Even the workers' families don't have any idea about their work. They tell people they are say "content moderators" if asked about their occupation.
Scanning various social media pages, including Facebook, YouTube and Twitter, in 10-hour shifts, the "cleaners" identify unsettling photos and videos. They decide on which can stay and which are not suitable within the rules of Silicon Valley.
The mercilessness coming up with this traumatic job and the heavy burdens it brings, affect the perception and personality of content moderators. Fabricated news and online censorship transforms global internet utopia into a nightmare. While portraying the annihilation of utopic social media dream, directors Hans Block and Moritz Riesewieck inquire the limits of internet channels.
'303'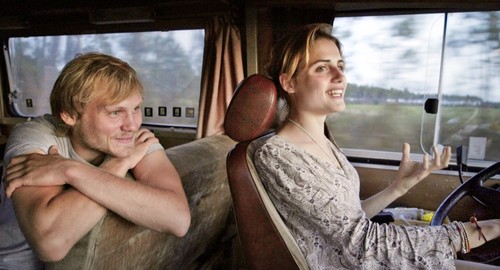 Jan is sure about the idea that humans are innately selfish. Hence, he never gets shocked when the person, with whom he was dealt to travel from Berlin, left him high and dry.
Jule, on the other hand, believes that humans are prone to empathy and cooperation in their hearts and invites Jan to her crock trailer "303." They both want to go to the Atlantic shores. Jan's destination is Spain, where he wants to meet his real father. Jule, on the other hand, is on the way to Portugal where her boyfriend is.
No matter how they decide to first travel to Cologne, they start to find their world more and more interesting with every kilometer they leave behind. Is capitalism transforming humans into Neanderthals? Could people decide on whom to fall in love with? They first arrive in France, then Spain. The conversation between the two gets deeper within time and not falling in love becomes virtually impossible. The film is directed by Hans Weingartner.