Pera Film is offering a selection by Israeli actress, scriptwriter and director Ronit Elkabetz by paying homage to the artist. Entitled "Beyond Boundaries," the program will be presented to cinephiles starting today and continuing until Nov. 28. The selection consists of Elkabetz's works, through which she triggered a transformation both in the cinemas of Israel and Europe.
The selection presents films that facilitated a widespread transformation in cinema thanks to unforgettable characters inspired by women fighting for their freedom against families, traditions and institutional impositions by their states.
Offering nine films that were significant in Elkabetz's career, "Beyond Boundaries" will present the artist both as an actress and director.
As the eldest daughter of a family who migrated to Israel from Morocco, Ronit Elkabetz was born in Be'er Sheva in 1964. A talented cinema, stage and TV actress, Elkabetz was also an awarded scriptwriter and director. With her brother Shlomi Elkabetz, she wrote the path-breaking and awarded trilogy "To Take A Wife," "7 Days" and "Gett: The Trial of Viviane Amsalem" between the years of 2004 and 2014. At the same time, she acted the character of Viviane Amsalem. Elkabetz took part in 27 films, three TV movies and four TV dramas between the years of 1989 and 2016. Presented with dozens of awards for her studies in the film sector, Elkabetz won an Ophir Prize (an Israeli Oscar) for the category of Best Actress three times. She was also presented lifetime achievement awards in New York, Paris and Tel Aviv. After a long battle with cancer, Elkabetz passed away in 2016.
'Sh' Chur' ('White Magic')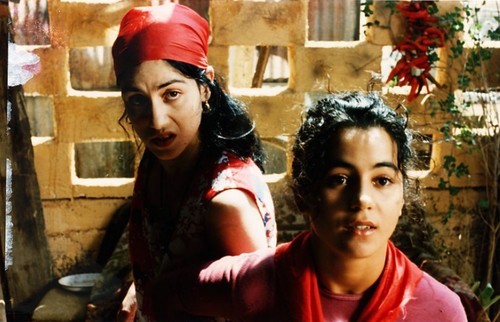 Directed by Shmuel Hasfari, "Sh' Chur" focuses on the colorful and passionate culture of Moroccans living in Israel. The film tells the story of 13-year-old Rachel, a Westernized Sabra girl, as she tries to understand and come to terms with the white magic that is regularly practiced by her family members. This mystic world full of spirits and demons takes over Rachel's older sister Pnina.
'Hatuna Meuheret' ('Late Marriage')
Yasha and Lily want their 32-year-old son, Zaza, to marry. Every night, they look for and observe potential brides. Zaza charms all the candidates his parents find, however, none of them is the one he is looking for as he is desperately in love with Judith, who is older than him. A mother of a 6-year-old daughter, Judith is a single, independent and charming woman of Moroccan descent. In many ways, she is the exact opposite of his family's traditions. Zaza's family learns about Judith and a family crisis ensues. The film is directed by Dover Kosashvili.
'Or' ('My Treasure')
Or is a young girl who tries to take on the responsibilities of her sex worker mother, Ruthie. The responsibilities Or takes over at home uncover the wild side of her personality. The situation goes from bad to worse after her boyfriend's mother rejects their relationship. In the meantime, Ruthie tries to work as an underpaid cleaner per Or's request; however, she is unable to stay away from streets. The film is directed by Keren Yedaya.
'Ve'Lakhta Lehe' ('To Take a Wife')
Directed by Ronit Elkabetz and Shlomi Elkabetz, the film is set in Haifa in 1979. In the aftermath of nonstop quarrels, the members of the Ohayon family try to reunite Viviane, played by Ronit Elkabetz, and Eliahou, played by Simon Abkarian, who have nothing in common other than their shared religious-cultural roots and four children. Viviane and Eliahou have a heated fight about tradition, love, fears and improvement for a few days. "Ve'Lakhta Lehe" is the first film of the trilogy by Ronit and Shlomi Elkabetz that consists of "The Seven Days" and "Gett: The Trial of Viviane Amsalem" (2014).
'Bikur Ha-Tizmoret' ('The Band's Visit')
An Egyptian police band visits Israel to give a concert at an opening ceremony; however, the band members get stuck at the airport due to bureaucratic red tape and bad luck. Although they get manage to get out of the airport, they find themselves at a small, almost forlorn Israeli town in the middle of the desert. The lost band is in the lost town. It is not remembered by many. The film is directed by Eran Kolirin.
'Shiva' ('The Seven Days')
It's 1991, Israel is being pelted by daily missile attacks in the midst of the Gulf War. However, the Ohayon family is struck by a more domestic problem. Maurice, one of the nine children of the family, suddenly dies. The family gathers to conduct the traditional mourning (Shiva) practices. It is forbidden to leave home until the process of Shiva ends. This intense experience they have uncovers aspects that reach beyond moral support and common grief. Jealousy, gossip, old competitions and financial problems become apparent. Each sibling has to face their own disappointments. The film is directed by Ronit Elkabetz and Shlomi Elkabetz.
'Jaffa'
Run as a family business, Reuven has a garage in the heart of Jaffa that was nicknamed "the bride of the sea" by Israelis. Reuven's daughter Mali and his son Meir, Palestinian young Toufik and his father Hassan work with Reuven. None of them are aware of the relationship between Mali and Toufik, who have been in love with each other for years.
While the couple secretly prepares to marry, the tension between Meir and Toufik skyrocket. The film is directed by Keren Yedaya.
'Mabul' ('The Flood')
Yoni's life is complicated. He is a smart child and almost 13; however, he seems younger physically. He is an object of ridicule for his classmates. On the other hand, his parents hardly ever speak to each other.
To make matters worse, his 17-year-old brother with autism returns from the facility where he stays just before his Bar Mitzvah ceremony. Hidden secrets get unearthed and the "Noah and the Flood" section from Torah that he will recite at his Bar Mitzvah transforms into a metaphor that describes the touchy and dull existence of his family. The film is directed by Guy Nattiv.
'Gett: The Trial of Viviane Amsalem'
In Israel, there is neither civil marriage nor civil divorce. The only authority that can join together or divorce married couples are rabbis; however, the husband must consent to end the marriage. As such, husbands are more important in the act than rabbis. Vivian Amsalem tries to get divorced for three years, but her husband, Elisha, refuses to give his consent.
As a result of his intransigence and the cold attitude of her husband, Viviane's determination to gain her freedom and the ambiguity of the judges' effectiveness, a tragic circle of drama ensues where everything but the main issue, the divorce request, is judged. The film is directed by Ronit Elkabetz and Shlomi Elkabetz.